Our love knows no bounds
Couple It's been tough but rewarding – hubby's mom
It is a quintessential case of marriage made in heaven. Or how does one explain the union of a man who is rendered lame and a woman who has the autism challenge? While the wife helps her husband who sprawls on the floor to a seat, the man smiles back in steadied admiration whenever his wife jabbers barely comprehensible speeches, apparently shortened in her effort to express herself.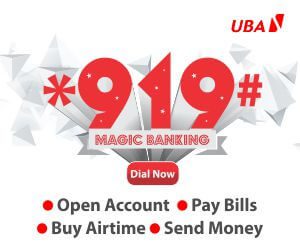 Welcome to the world of 50-yearold Deinde Aina, a man crippled by the polio disease, and Tope, his 45-year-old autistic wife. The unusual marriage, which has lasted for more than 15 years, has not been without trying times. But the couple, from all indications, are enjoying the union their own way even though the burden of maintaining the family, financially, emotionally and healthwise, falls squarely on the shoulders of Deinde's mother, Mrs. Sola Aina.
IN THE BEGINNING
It was not easy getting Deinde's mother to speak on her son's marriage. But she finally did with the permission of Reverend Father Israel Ekpo. Father Ekpo, now based in the South South region of Nigeria, used to be the priest at Saint Dennis Catholic Church, Akoka. With that go-ahead, Madam Aina began the emotional story by revealing that Deinde had been on the wheelchair since the age of five, when he had a polio attack.
She said, "He was a student at Modupe Cole School where he met Tope, who was also a student in the school. Unexpectedly, Deinde impregnated Tope and the school had to expel them.
"The two of them were 'dropped' in my house. At that time, the Nigerian Television Authority crew came around to interview us because there was an outcry from people, who wondered why the school had to expel them since they had sexual intercourse within the school premises."
Madam Aina recalled that Tope had been abandoned in the school by her parents long before she was impregnated.
"So, there was no one to of the wide publicity the matter attracted, nobody came for her," she explained.
PREGNANCY, DELIVERY AND CHALLENGES
Recalling the challenges associated with Tope's pregnancy and delivery was a painful task for Madam Aina. In tears, she said, "I am ever grateful to God Almighty for what He has been doing for these two (Deinde and Tope). Medical experts believed that Tope would not be able to deliver the baby without medical support.
"Many people had to intervene – the then First Lady, late Mrs. Stella Obasanjo; wife of the former Vice- President, Mrs. Titi Abubakar; the former Lagos State First Lady, Senator Oluremi Tinubu; my church people, the parish priest, Father Ekpo; and some other people intervened."
She added, "We were told that we would need about N300,000 as at that……
For the concluding part of this story and others, grab your copy of The Point from your nearest vendor