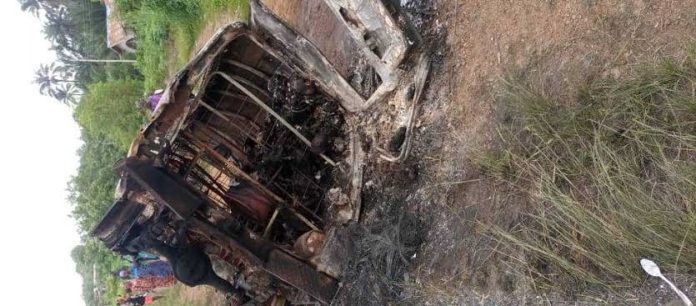 About 16 people were said to have been burnt to death in a road accident that occurred in Odeomu, Osun State, on Friday.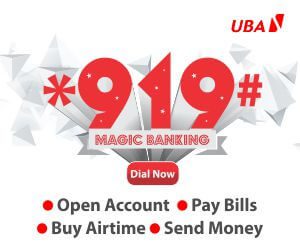 A resident of Odeomu, Fatai Lasisi, who was close to the scene of the accident, said the two vehicles involved had a collision.
Lasisi said a commercial Mazda bus coming from Osogbo had a collision with a private vehicle coming from Ikorodu, Lagos State and heading to Osogbo.
According to him, the commercial bus which had a gas cylinder in its trunk, lost control immediately it was hit by the Lexus vehicle, and swerved into a bush where it caught fire.
Also while giving an account of the accident, Kareem Isau, a former chairman National Union of Road Transport Workers, Odeomu Branch, said he arrived at the scene after the affected bus was already on fire.
He said 16 corpses including five children were removed from the burnt vehicle, while three passengers and the driver of the affected bus escaped death.
Isau said, "I arrived at the scene of the accident around 7pm on Friday. People I met there told me a Lexus vehicle coming from the Ibadan end hit a commercial Mazda bus coming from Osogbo going to Ibadan. The bus lost control and entered the bush. Immediately that happened, the bus caught fire because a gas cylinder was kept in the trunk of the vehicle.
"I saw the gas cylinder when it was brought out. The vehicle was already burning when I arrived at the scene around 7pm. I was told the accident occurred earlier. The Mazda bus left the Aregbesola area in Osogbo going to Ibadan.
"Four people escaped, the driver of the vehicle, a security agent, a corps member and a lady. One of the four that survived, a lady, told us that the bus with 18-passenger capacity left Aregbesola Area on Friday for Ibadan.
"She also said some of the passengers were nursing mothers who carried their babies, while some passengers sat on each other's lap. When we were removing the corpses from the vehicle, five children were packed together. In all we removed 16 corpses from the vehicle."
When contacted on Saturday for reaction, Agnes Ogungbemi, the Osun Sector Public Education Officer of the Federal Road Safety Corps, said official casualty figures were not available yet.
She said, "No details for now because we have not been able to ascertain the dead, but the injured have been taken to the hospital. One of the vehicles carried gas, it exploded and caused the fire outbreak."