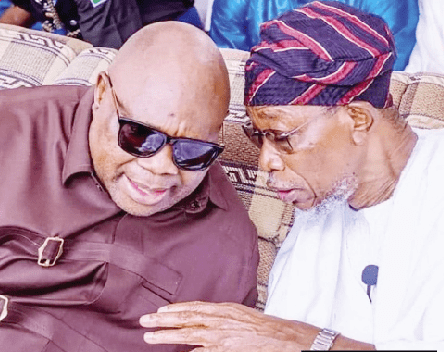 BY TIMOTHY AGBOR, OSOGBO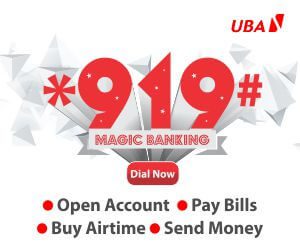 The popular saying that "there are no permanent enemies and no permanent friends in politics, but only permanent interests," was on full display on Tuesday when former governor of Osun State and incumbent Minister of Interior, Rauf Aregbesola, and the Governor of Osun State, Ademola Adeleke, met in Ilesa.
The Adelekes had fallen apart with Aregbesola since the demise of their elder brother, Isiaka Adeleke, in controversial circumstances on April 23, 2017. The late Adeleke, the first governor of the state, was rumoured to have been poisoned at a social function he attended a day before his death because of his governorship ambition.
Aregbesola, who was the governor at that time, had set up a coroner's inquest to look into the circumstances that led to Adeleke's death. After the coroner held that Isiaka Adeleke died of drug overdose, his family accused the Aregbesola led government of cover up. As a result of this, the Adelekes, including Ademola, stormed out of Aregbesola's party, the All Progressives Congress and defected to the People's Democratic Party.
Following that development, Aregbesola and the Adelekes have been enmeshed in a deep family rift. When Aregbesola and his successor, Gboyega Oyetola became 'political enemies', it was speculated that the minister asked his supporters, under the aegis of The Osun Progressives (TOP) to vote for Ademola Adeleke in the July 16, 2022 governorship poll. However, this has been denied by both Aregbesola's camp and Adeleke's.
Meanwhile, the meeting between Aregbesola and Governor Adeleke has set tongues wagging in and out of the state as many have described it as a political realignment in the state and a move to send Oyetola into complete political oblivion in Osun State. Aside this, supporters of Oyetola have reopened the old wounds between the hitherto political foes and have questioned the rationale behind their joyful meeting in Ilesa despite the fact that the Adelekes once fingered Aregbesola in their brother's death.
Last Tuesday, Aregbesola visited Ilesa, his hometown, to commission a Passport Production Centre and Passport Front at Nigerian Immigration Service (NIS), Ilesa East Local Government Area of the state. Governor Adeleke, in a move that many described as "unexpected" because of the rift between him and the minister and their different political platforms, stormed the event with his deputy, Kola Adewusi, and other top functionaries in his government.
Upon arrival at the venue of the commissioning, Adeleke, shocked the guests as he embraced Aregbesola so affectionately, danced with him and hailed his personality and achievements in the state. The governor didn't stop at that, he assured the Minister of Interior that he is protected whenever he comes to the state saying he would be issuing an Executive Order to that effect.
He said he was meeting with Aregbesola face-to-face for the first time, adding that the former governor has done so much for the development of the state. The governor, while addressing Aregbesola, said, "No matter the party you are, a progressive is a progressive. If you are doing what the people want, you are a progressive. When Aregbesola was the governor, he loved Osun, he loved his people. All the projects he did for his people were abandoned and I promised during the election campaign that I will complete them. I have started doing that.
"No matter the party you belong to, when you see progressives, you must key into them. Aregbesola is the man of the people and I will continue with the abandoned projects.
"To see Aregbesola and Adeleke dancing in Ilesa speaks volume and the people of Osun know the meaning. What happened in Ilesa is evidence that there is no permanent enemy in politics, no permanent friend, only permanent interest and that permanent interest in Adeleke and Aregbesola is the progress and welfare of the people of Osun State. Nobody took Aregbesola to court for killing Serubawon. That was gossip"
"I am assuring you (Aregbesola) that this is your state, I am issuing an Executive Order, this is your state, and nobody can chase you away.
You are welcome at any time. Very soon, I will move to Government House but I am going to fix it up a little bit. The magnificent building that you started, I am going to complete it and you will do the commissioning and be the first person to pass the night there."
Adeleke further said, "I have been looking forward to the day I will see my egbon, Minister of Interior face to face. You are making us proud as the Minister of Interior."
Earlier in his address, the Minister said he only recorded the presence of his successor (Oyetola) at his official events just once, adding that Adeleke attended the commissioning without receiving any phone call or official invitation directly from him.
Aregbesola had said, "I only recorded one presence of the governor that succeeded me and that was during commissioning of an edifice in Osogbo. But, a governor of another party, this is my first official ceremony since he assumed office. I didn't make any private calls to him.
The governor is here with everybody in his office and administration."
After the event, Adeleke further cemented his new found friendship in Aregbesola, one of the pillars in Osun APC, by showing concern to one of the minister's loyalists. Adeleke paid a courtesy visit to Wale Adedoyin Eyiyato in Ilesa.
Some keen political observers said Adeleke might only be displaying his Omoluabi ethos while others said he was trying to win Aregbesola and his loyalists' support in order to permanently retire Oyetola in the state.

Many of Oyetola's supporters have been castigating Adeleke and the PDP for reuniting with Aregbesola. They said it was an act of hypocrisy for Adeleke who had accused the APC government of incurring high debt profile to the state and also accused Aregbesola of covering up his elder brother's death, to now turn and make friends with him.
For the PDP family, the alignment was proof that there are no permanent friends or enemies in politics and that there are only permanent interests.
Reacting to the development, a former Special Adviser to former Governor Oyetola on Education, Jamiu Olawumi, said there was nothing new in the Adeleke and Aregbesola's meeting, saying he was not losing any sleep over it. He said Adeleke's family would no longer see Aregbesola as being involved in Isiaka Adeleke's demise.
Olawumi said, "If Ogbeni (Aregbesola) were to be in Oyo State, he would do the same thing to Seyi Makinde. Ogbeni is a serving minister and a chieftain of the APC. He has come to his state to commission a project, the governor, from whichever party he might have come from, must receive that minister. There is nothing exceptional about what has happened in Ilesa. He has not done something that we will lose sleep over.
"The Adeleke's family will no longer see Aregbesola as being responsible for the death of their elder brother, former governor Adeleke, because what was in town then was that Aregbesola was responsible for the death of Adetunji Adeleke. If they are now re-aligning, that would be off our mouth. It means they have found the killers of their brother elsewhere, not Aregbesola again. So, if there is realignment, perhaps, they have realised that it's a great mistake to have accused him of being responsible for the death of the former governor."
In his reaction, a former Deputy National Publicity Secretary of the PDP, Diran Odeyemi, who is also a close associate of Governor Adeleke, said the romance between Adeleke and the minister was a pointer to the fact that the governor won the July 16 governorship election fair and square. He added that the newly found interest between the duo is for the welfare and development of the state.
Odeyemi said, "The issue of killing Serubawon (Isiaka Adeleke) is totally irrelevant and out of the event. What you saw in Ilesa was the height of politics in Osun State simply because we won this election and it was very clear and evident. I said that as APC, you cannot go into an election with a divided house and expect to win. It takes a candidate who is formidable, who is loved, and who assembles professionals to handle the election and everything. I told former governor Oyetola in my letter that losing that election was not strange, he lost it for a purpose.
"To see Aregbesola and Adeleke dancing in Ilesa speaks volume and the people of Osun know the meaning. What happened in Ilesa is evidence that there is no permanent enemy in politics, no permanent friend, only permanent interest and that permanent interest in Adeleke and Aregbesola is the progress and welfare of the people of Osun State. Nobody took Aregbesola to court for killing Serubawon. That was gossip."
Asked if there was a time the PDP and Adeleke met with Aregbesola to jointly defeat Oyetola, he said, "The enemy of my enemy is my friend. And that's politics. I am a stakeholder in Osun politics and I am saying that there was no time that we sat down and entered into an agreement with Ogbeni Rauf Aregbesola to defeat Oyetola and the Aregbesola that we know will never do that.
"Aregbesola's instruction to his people in Osun State who perhaps were shut out of Oyetola's government was that he was opting out. Some of them went back to APC, while some came to the PDP. So, if we had a whole agreement with Aregbesola, all of them would have come to the PDP but that wasn't the scenario. So, I am confirming to you as a stakeholder that we didn't have any agreement with Aregbesola either written or verbal but we benefited from the crisis within the APC," Odeyemi noted.
Findings by The Point revealed that the new relationship between Aregbesola and Adeleke is already unsettling Oyetola's camp and the entire APC structure loyal to the former governor in the state as some have been passing blames and accusing some political leaders in the party of working against Oyetola's reelection bid.
When Adeleke entered into the Ilesa commissioning event which was highly populated by APC members loyal to Aregbesola, the governor was massively hailed by the opposition members. Also, some strong APC chieftains were seen celebrating the victory of PDP National and State Assembly candidates after the winners received their certificates of return from the Independent National Electoral Commission recently.
Gbenga Ogunkanmi of the APC from Aiyedire State Constituency was sighted celebrating the victory of the PDP candidate on collection of his Certificate of Returns.
Rising from the general elections where APC lost all the three Senatorial and nine House of Representatives seats to the PDP, and that of the State House of Assembly where APC only got one out of the 26 seats, leaving PDP to win 25, some aggrieved APC members in the state have called for sanctions for some leaders, whom they claimed, sold out the party to their adversary.
With this newly found love between Aregbesola and Adeleke, a fresh twist has been introduced into the political game of Osun State and analysts have said more drama would soon unfold in the state.