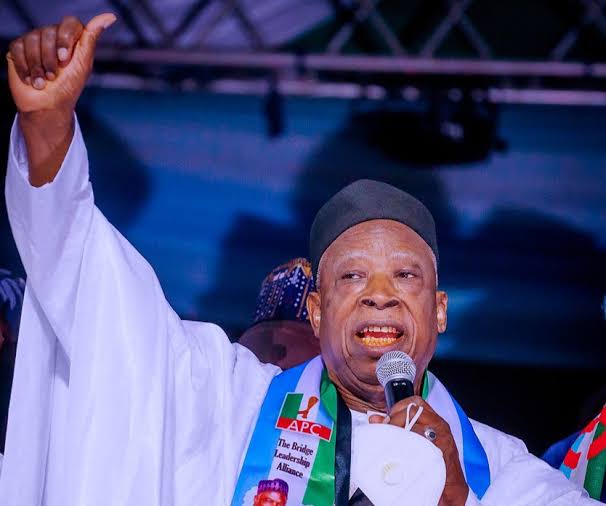 Urges Tinubu to prepare to shoulder demands of leading Nigeria
Declares South South battle ground in

2023
BY TIMOTHY AGBOR AND BENEDICT NWACHUKWU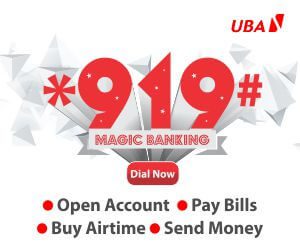 Chairman of the All Progressives Congress, Abdullahi Adamu has told the party's presidential candidate, Bola Ahmed Tinubu, to get ready to assume the presidency of Nigeria from May 29, 2023.
Adamu, who spoke emphatically at a Town Hall meeting on Thursday in Lafia, Nasarawa State between the APC candidate and stakeholders in the mining sector, said he was merely echoing President Muhammadu Buhari's statement.
"Except God, President Buhari is the highest authority in Nigeria today. Buhari has said it and it shall come to pass," Adamu stated.
Urging Tinubu to stand and the audience to also join him, Adamu declared that Tinubu will be the next president.
He urged voters not only in Nasarawa State, but also in the adjoining states to vote massively for the party and its candidate.
He urged Tinubu to get ready for the task to shoulder the demands of leading Nigeria.
His statement drew a wild applause for minutes in the Banquet Hall of the Government House in Lafia.
The hall which had Governors Simon Lalong, Babagana Zulum and Aminu Masari, Speaker of the House of Representatives in attendance was rented with the shouts of Jagaban of Nigeria.
Adamu later prayed for God's victory for the party so that APC will hand over to APC next year.
The host governor, Abdullahi Sule, similarly envisioned a Tinubu victory and called him several times in his speech as 'Nigeria's next President'.
Sule gave a comprehensive overview of the mineral deposits in the state, including marble, lithium, barite and others.
Tinubu in his response promised that help is on the way to industrialize the state for prosperity. A statement by Bayo Onanuga, Director, Media & Publicity APC Presidential Campaign Council, disclosed that Tanko Al-Makura, a former governor of the state, who also welcomed Tinubu, later presented a crafted gift to Tinubu in appreciation of being a media friendly politician.
Similarly, the South South Presidential Campaign Council for Tinubu/Shettima presidency has vowed to fight the People's Democratic Party to finish in the forthcoming general elections in the zone to make sure their candidate wins convincingly.
The Director, Directorate of Contact and Mobilization (South South), O'tega Emerhor, while inaugurating the members in Abuja on Thursday regretted that the zone has been under the misrule of the PDP since 1999 but warned that the APC which failed in the previous elections in 2015 and 2019 to win the zone has re-strategized and is confident of a clean sweep this time around.
He said, "It is evident to all of us that our zone, the South-South, is a peculiarly difficult one with respect to our party. As we are aware, APC only has one state/governor out of the six states in the region while PDP has the remaining five. PDP has retained dominance in this region since 1999 and indeed produced a President of Nigeria from 2009 to 2015.
"While the PDP governors have squandered most of the federally allocated resources to this region, they have managed to continue to pass the blame of the underdevelopment of the region to the Federal Government. Indeed, our South-South is a battleground zone. It is therefore clear that for us to deliver for our candidate, we must work twice as hard as other regions and devise smart and practical strategies to deliver our mandate.
"While we express gratitude to our principal and candidate for this important appointment, let me also remind each of us that we were uniquely appointed to this directorate in recognition of our individual political experiences and acknowledged capacities. As such, to whom much is given, much more is expected. This appointment, therefore, comes with huge responsibilities. Indeed, it is a call to action, action to work assiduously to deliver our candidate. It therefore, behooves us, as we celebrate our gathering today, to acknowledge and accept the challenge ahead of us and to commit to justify the confidence reposed on us."

He stated that the clear mandate and terms of reference of the Directorate include engaging and mobilizing all interest groups within the South South Zone, responsible for compiling details and contacting all individuals and groups of interest in the zone and securing their participation and managing voter education activities to secure the sympathy of the electorate to our candidate.
"In summary, as the name implies, it is our responsibility to contact all and mobilize all to support and elect our principal."
According to Emerhor, "Being aware of what must be done; the leadership of your Directorate has been working to put a draft strategy document in place that will outline how we are to confront our zone in order to deliver results. Fortunately, our principals, Tinubu/Shettima, are good products to sell. Their achievements and their manifesto make our job easy. Our strategy document will be presented in the course of this meeting.
"We will be seeking further inputs from members during the interactive session in the course of the meeting in order to have a final document. The leadership of your directorate has also decided to set up a decentralized structure that will ensure we deliver the results. As you know, crisscrossing the terrain of our region is difficult and costly. To this end, most of our programmes and activities shall be state- based instead of region based. Only very few activities shall require the entire region converging in one location.
"In this regard we are to set up state directorates in each of the six states. These directorates shall have state directors and other complimentary officers mirroring the central directorate. The state directorates shall be sufficiently empowered and supported by the leadership in order to achieve the mandate of the directorate. The state directorates shall be set up by the members of the leadership from each state.
"Olorogun Emerhor shall handle Delta State; Chief David Lyon, Bayelsa State; Dr. Dakuku Peterside, Rivers; Hon Samson Osagie, Edo; Senator Enoh/ Chief Orim, Cross River and Prince Effiong Akpan, Akwa Ibom. We are also to expand our membership on a state-by-state basis co-opting people with capacity in our states that can assist us in our assignment. The leadership in each state will anchor this effort consistent with the guidelines that shall be provided. I as Director shall ensure that such members receive PCC approval and appointment.
"Accordingly, after this meeting, state leadership is expected to hold urgent state-by-state meetings in their respective states to put in place the state directorates as urgently as possible. The work starts now.
"The strategy document shall identify what programmes and activities shall be central activity or state activity. All activities organized by states, shall receive the support and participation of the central leadership. And as much as possible, neighbouring states shall be encouraged to support each other in successful delivery of activities," he stated.