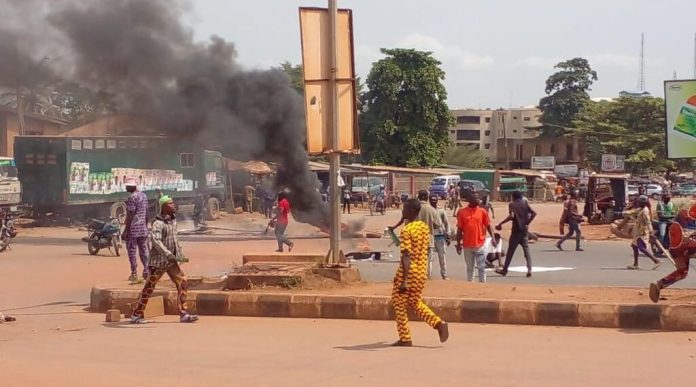 Naira swap/cashless policy may affect troops in the fields – NSA
Commercial banks refused to open for business on Thursday in Abeokuta, Ogun State to avoid further attacks by protesters.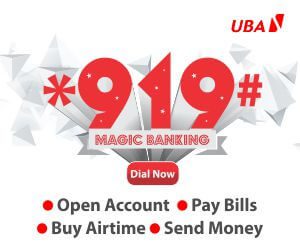 Angry residents had taken to the streets to protest a scarcity of naira banknotes and a hike in the pump price of petrol.
The protests, which escalated on Tuesday, featured shootings and vandalisation of public and private properties.
Banks became the target of attacks across the state capital as protesters destroyed automated teller machines at different points
One person was shot during an attempt by hoodlums to rob a branch of First Bank in Sapon, even as protesters engaged the police in a showdown in the area.
The mayhem reduced on Wednesday, allowing many banks to offer skeletal services.
But on Thursday, virtually all the banks in Abeokuta shut their gates while long queues remained at their ATM points.
Many customers said they were only standing in queues in hope that the machines would start dispensing cash.
A bank official who asked that her name not be mentioned for fear of reprimand, said: "We are also going through a lot, even as bankers. We shouldn't be the target of any protest. As I speak with you now, all of us are in our houses until further notice and that is how it will remain because this sit-at-home order is an indefinite one by our management.
"Even if we are asked to resume at a time that I find not safe, I will rather resign."
Residents of the state capital now face hardship as they have no means of getting cash.
During a visit to a campus of the Moshood Abiola Polytechnic, it was observed that attendance by students was scanty.
The Mass Communication Department of the school, which is usually bustling, had very few people.
A student of the department, Abimbola Sadia, said students were already returning to their homes as it had become difficult to feed on campus.
"Many of my friends have gone back to their houses, there is no money to feed. While many of us have money in our bank accounts and could not withdraw, others do not have money anywhere.
"For me, I only have N2,500 and I came to school today to submit an assignment and I am going straight to Lagos from here. Let me go to my parents, they will feed me."
The President of the Student Union Government of the school, Adelola Hezekiah, said students were facing hardship on two fronts.
"Students have been going through a lot. Before now, cab and bus drivers have been complaining about the deplorable state of the road leading to our campus and this has forced most of them to stop plying our route.

"Now fuel scarcity and pricing are the problem, while some can trek, a lot of students have stayed away from the school. We appeal to the government to intervene in this shortage of naira and fuel crisis."
Meanwhile, the National Security Adviser, retired Maj.-Gen. Babagana Monguno, has warned that the change of currency and cashless policy of the Central Bank of Nigeria, if not well thought out, may affect operations of troops in the field.
Monguno made the observation when he appeared before an Ad hoc Committee of the House of Representatives on change of currency and cashless policy on Thursday in Abuja.
Represented by the Head of Defence Unit, Rear Admiral Abubakar Mustapha, the NSA said that even in advanced countries, such policies could affect operations of troops if not well implemented.
Because of the sensitivity of some of this information that will come and bordering on security, there are things we cannot say in the media.
"Globally, military operations, even in first world countries, such policies, if not well thought out, will affect some certain operations.
"Some of our soldiers are deployed in places where they cannot actually access digital means of paying for their daily subsistence; that is the main issue that NSA has been talking about.
"It is important that this committee sits down and articulates better ways of actually addressing these issues," he said.
Earlier, the Chairman of the committee, Ado Doguwa (APc-Kano) said that the committee was interested in the implications of the policy on national security.
He said that the committee would interface with major stakeholders to determine the effect of the policy on the economy.
Doguwa said that from what the committee had so far gathered, the policy posed a challenge to agriculture, economy and security.
According to him, it is unpopular among the people, it has caused hardship and it may affect the forthcoming elections.
Doguwa adjourned the meeting to February 10 for the committee to meet with the Minister of Finance and the leadership of Printing and Minting as well as the INEC boss.