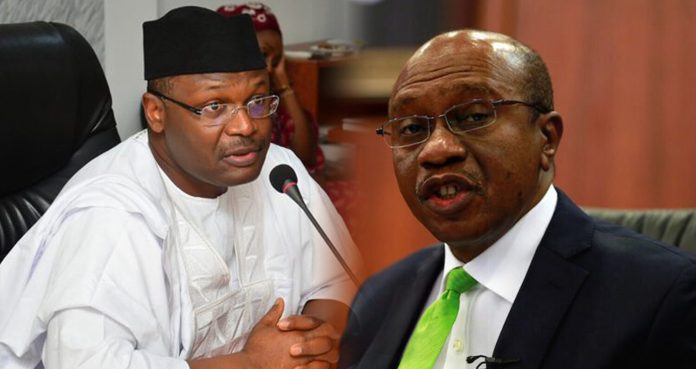 BY BENEDICT NWACHUKWU, ABUJA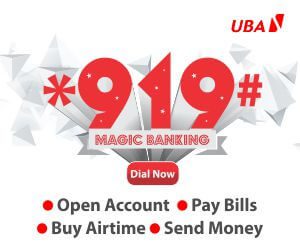 The Governor of the Central Bank of Nigeria, Godwin Emefiele, has assured the Independent National Electoral Commission and Nigerians that the apex bank will not allow itself to be seen as an agent that will frustrate the positive outcome of the 2023 general elections.
Emefiele gave the assurances on Tuesday during a visit by the INEC Chairman and his top management staff to finalize plans for the conduct of free, fair, transparent and credible elections this year.
Speaking during the visit, Emefiele said "The relationship between the Central Bank of Nigeria dates back to even before I became the Central Bank Governor and that relationship, I will say borders purely on trust and confidence.
"And we appreciate and truly do appreciate the fact the INEC supported by the Nigerian populace have the trust and confidence in the ability of the Central Bank in playing the roles that we have played for you, on or through you to the Nigerian populace to ensure that our elections hold without any hitches and I will be very specific. Before now, we've been involved in the storage of INEC election materials and involved using our armoured bullion van in transporting electoral materials.
"We are happy that in the course of this relationship, we have not disappointed you and that is the reason you have called me again this time.
Recalling his visit to the INEC headquarters and the fruitful deliberations they had for the success of the forthcoming elections, he said, "I know that just a few months ago, I visited your office and you raised the issue of how foreign exchange can be procured to you to import BVAS and other forms of election materials that need to be imported. And I gave you my word that foreign exchange will be provided for that purpose. I stand here to confirm that as of today, all dollars that are needed to import those items have been provided and those items have been imported.
"So, it's all part of our commitment. Now this issue of paying and logistics for people who are going to be transporting election materials, certainly, the assurance I give to you is that because we regarded INEC project as a topmost or an urgent national assignment, it cannot fail and the Central Bank would not allow itself either to be used or to be seen as an agent that frustrated a positive outcome of that election.
"So I sit here to give you that commitment. You have been responsible in the past anyway. It's not just about cash, you've done electronic payments before and if in this case after making your electronic payments, you require some money to pay transporters in cash, the assurance I give to you is that we will make it available, so it's nothing to worry about."
Speaking earlier, the INEC Chairman said, "We proposed this meeting only yesterday and the Governor accepted. We are encouraged by the continuing willingness of the apex bank to support the Commission's determination to deliver credible elections on 25th February 2023 and 11th March 2023, particularly the facilitation of activities necessary for the success of the elections in an area where the Central Bank of Nigeria has exclusive responsibility.
"The Nigerian election is a huge and complex undertaking. It requires the engagement of critical services. In line with the provisions of extant laws and regulations, service providers are generally paid by means of electronic transfer to their accounts. However, there are equally critical areas such as transportation and human support services that have to be immediately remunerated either partially or in full before services are rendered.
"In addition, emergency situations may arise requiring immediate cash payments. Some of the critical service providers are unbanked. Over the years, we have worked with the CBN and commercial banks to pay for such services seamlessly during general elections as well as off-cycle and bye-elections. Over the years, the Commission has also migrated all its accounts at national and state levels to the CBN and this arrangement has worked without encumbrances to our activities.
"In view of the recent policy involving the redesign of some denominations of our national currency, and the limits placed on cash withdrawals, we consider this meeting important in addressing some of the areas of concern with just 17 days until the 2023 general election.
"We are confident that arising from this meeting, we can assuage the anxiety expressed by some of our service providers. We are determined to make the 2023 general elections one of the best organised elections in Nigeria but we cannot do it alone. That is why the Commission is mobilising every critical national institution for the success of the election. This meeting is part of this effort."
Meanwhile, the Labour Party presidential candidate, Peter Obi on Tuesday, bemoaned the hardship that Nigeria has endured and vowed to improve things if elected to lead the country in 2023.
Obi charged his followers to show more commitment as the election draws near, warning that the country's future would be unpredictable if Nigerians missed the chance to choose a competent president in the next general election which is 17 days away.
The LP standard bearer spoke at the launch of his book titled: "Peter Obi: Many voices, one perspectives" in Abuja.
He said: "I have told all the supporters, various groups supporting me that we need people, we need all of you to support us, especially these final days to reach the end of this race.

"Nigeria has suffered a lot, this is a great country and it can be turned around. But we cannot succeed without your intervention, so as you launch this book, please be part of what we are doing to Nigeria.
"This is an existential election. I will urge all of you to be involved. If we get it wrong, nobody can tell what next. All I know is that I always wish Nigeria the best and I know you people do. And in doing that, I urge you to be part of a new Nigeria that Datti and I are fighting for."
Professor Okay Ikechukwu, while reviewing the book, said the 969 page publication was at best a biographical testimonial with a historical focus.
"The subject matter is Peter Obi and that is the point. The central point we are making here and that lies in the central point of the work is that if people keep saying the same thing about a person for a long time, it must mean that there are bases for whatever they are saying. It must also mean that they are making verifiable claims. It must mean that the man is real, he is authentic and it must mean that he represents what is presented today. Peter Obi is a man with community consciousness," he stated.