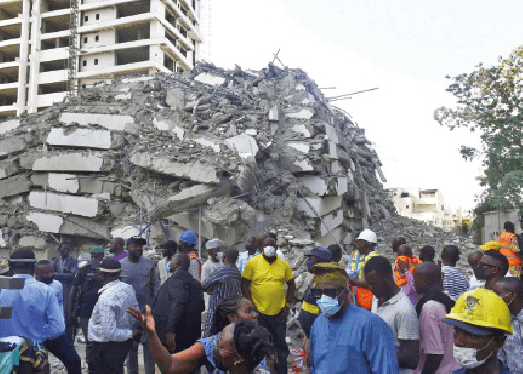 Ask builders to pay attention to lifespan of structures
BY TIMOTHY AGBOR, OSOGBO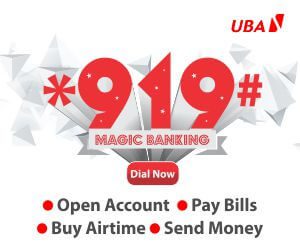 Although, building collapse is not a new phenomenon in Nigeria, experts have revealed that more cases of building collapse will be recorded before the end of the current raining season.
These building experts expressed worry that many buildings currently under construction in some Nigerian cities were being built with substandard materials and others handled by those who were not professionals.
According to them, with the recent weather forecast for 2023 released by the Nigeria Meteorological Agency,which warned of massive unpleasant changes in the onset of rainfall in most parts of the country, many defective buildings, especially those still under construction, are at the risk of collapse.
Reports show that a total of 541 cases of building collapse have been recorded in the country between 1974 and 2022. Last year alone, the Building Collapse Prevention Guild said 62 buildings collapsed, either fully or partially. However, the group further revealed that in the last 10 years, 271 building collapses were recorded, of which at least 531 persons have died, as the menace of crumbling structures continues to plague the nation's building industry.
Lagos State tops the list of fatalities in this alarming events as 115 cases, out of the 271 collapses recorded in the past decade, were witnessed in the state which serves as the nation's commercial nerve centre.
Most tragic and perhaps notable of the cases was the collapse of a part of a multiple-storey building inside the Synagogue Church of All Nations, which left more than 80 worshipers dead, while several others were critically injured. The structure, which reportedly collapsed at 12.45 pm on September 12, 2014, served as a guest house for foreigners, who usually thronged the church in search of miracles.
Also worthy of note was the Lekki Garden building collapse, which occurred on March 8, 2016. The event, which occurred at Horizon 1, Ikate in the Lekki area of Lagos State, claimed 35 lives while many others were left in critical condition. Investigations that followed weeks after the event revealed that the construction project did not have the necessary approval from regulatory authorities.
On November 1, 2021, yet another calamity struck after a high-rise block of luxury flats under construction in the neighbourhood of Ikoyi in Lagos, collapsed. At least 45 people perished beneath the rubble of the collapsed structure.
Other cities, including Abuja, Akwa Ibom, Anambra, among others, have witnessed several cases of building collapse. One of them was the tragedy at the Reigners Bible Church building in Uyo, Akwa Ibom State, in which 50 lives were lost.
In February this year, in Abuja, at least two people were confirmed dead after a two-storey building collapsed. The building was under construction before it collapsed on dozens of workers working on the site. The list of this tragic trend is endless.
The National Bureau of Statistics data shows that about 71.4 per cent of households in Nigeria do not have a certificate of occupancy, 13.2 per cent do not have title deed, and only 8.1 per cent have certificates. Another alarming aspect of the data is that 33.9 per cent of households have ownership certificates in Lagos state.
Many people blamed the incidents on Lagos' large population, which buoys high demand for housing, leading to estate developers cutting corners in their bid to match supply with demand. According to building experts,buildings fail when there is weakness in the materials used or when the building is not stable. But there are also cases of using substandard materials; lack of or poor soil tests, poor supervision and corruption by government agencies; lack of building professionals on site among others.
In an interview, a building expert, Enyi Ben Eboh, said many buildings failed because they had existed beyond their lifespan while others collapsed because of poor or substandard materials used in building them.
Eboh, who is the National President of the Nigerian Institute of Architects, said more cases of building collapse might occur, especially as the raining season was ongoing, if developers would not desist from engaging quacks and also contravening construction guidelines.
The architect averred that the menace would rescind maximally when developers engaged services of relevant professionals to handle their projects, desist from using substandard materials and implement building codes that would be verified and approved by incorruptible government agents.
He said, "Majority of Nigerians who want to build think they are smart by engaging quacks. You can now see the results as building have been collapsing in rising rates every year. Currently, many buildings have been found defective by governments and they have been demolished and others marked for demolition. We can see this in Alaba market and in Onitsha, Anambra State. If we continue to be shady, buildings will keep collapsing, especially now that we are in raining season.
"Buildings like human beings have lifespan and once they reach their lifespan, they die and fall off. Buildings that are under construction collapse easily when substandard materials are used while others that are old fall flat easily.
"We are worried that buildings collapse during construction. This is caused by human factor, people who don't have business designing buildings found themselves in the industry. The agencies that should check these things are culpable, I mean the physical planning authorities. Some of them collect money from these developers, then turn blind eyes to the dangers these defective buildings will contribute to the society."

"Some materials that are substandard are imported into the country and these are the things many buy to build. It will shock you to know that people re-bag cement to make profit in the market," Eboh added.
"The industry is regulated only at the top. But, very little is done at the lower rung of the industry and that's where things are wrong. The lower rung of the industry should be regulated. People go and do carpentry in technical colleges and other schools to be trained but you will see some people that will tell you that training is not needed for one to be a carpenter or a bricklayer," the expert further submitted.
In order to find a solution to frequent rates of building collapse in the country, Eboh said the NIA would be partnering with government "because the responsibility for physical development lies in the state and if states can employ relevant professionals and prevent the corrupt practices, then we may avoid these usual catastrophe. Nigerians are also to blame because they are the ones who bribe their way into having faulty buildings. Some people side step regulatory authorities by building at night; it's that bad," he noted.
Eboh stated, "The building collapse in Ikoyi, the enforcement agency came there a lot of times to give the developers stop work notice but police will stop enforcers from entering the site. In the local areas, we have instances where thugs beat up regulatory enforcers and this is one of the problems of monitoring.
"We must take the issue of our development very serious. Developers need to consult an architect that will look at their survey plan and ensure that the approvable standards within the neighbourhood is followed before building because every area should have a master plan. So, if you want to build a residence in an area that is designated for industries, the architect may warn you and guide you aright."
Another architect, Goke Omigbodun, agreed that cases of building collapse were caused by quacks and urged Nigerians to hire professionals for their building projects.
Meanwhile, to avoid structure collapse, some state governments have demolished some buildings said to have been defective. The Lagos State Government had demolished some buildings at Alaba International market.
In March, the state government released a publication showing the locations of 349 "distressed" buildings in the state.
In Anambra State, the Onitsha South Local Government Authority has informed over 150 traders of Progress Market Extension, trading at Haruna, Niger and Ifejika Streets, Odoakpu Onitsha, of its decision to demolish buildings in the affected areas for having defects.