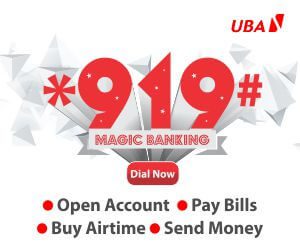 BY BAMIDELE FAMOOFO
With the recovery of N141.03billion hitherto moribund loan from Atlantic Energy, FBN Holdings was able to boost its Profit after Tax (PAT) by almost 100 percent in the financial year ended December 31, 2021.
Consequently, the Holdco recorded Earnings per Share (EPS) from continuing operations of N4.17 or 102.4 percent increase year-on-year compared to N2.06 per share in 2020.
Proposed a final dividend of 35kobo per share to shareholders as against 45 kobo in the preceding financial year 2020, translating to a dividend yield of 3.3 percent based on the last closing price of N10.55 on May 25, 2022.
Interest income declined by 4.1 percent y/y to N369.05 billion, driven by the lower income from investment securities (-36.1% y/y) and loans and advances to banks (-11.1% y/y).
The declines across these lines overshadowed the higher interest income from loans and advances to customers (+12.4% y/y), which was supported by increased risk assets creation (+30.0% y/y to N2.88 trillion).
Interest expense inched higher by 5.7 percent y/y to N140.81 billion, reflective of the growth in deposits from customers (+19.5% y/y to N5.85 trillion). Notably, the bank recorded an increase in CASA (low-cost deposits: current and savings accounts) mix to 82.8% (2020FY: 80.8%).
Meanwhile, the expense on interest-bearing borrowings increased significantly by 102.2 percent y/y to N31.37 billion, in line with the expansion in the interest-bearing liabilities (+6.8% to N405.30 billion).
Non-interest income grew significantly by 95.4 percent y/y to N364.31 billion, underpinned by the surge in other operating income (+705.4% y/y to 155.68 billion) which was predominantly driven by loan recoveries of N149.42 billion compared to N11.23 billion in 2020FY.
Nonetheless, expansions across other major lines, including FX revaluation (+382.5% y/y to N7.04 billion), FX trading (+125.7% y/y to N53.66 billion), and net fees and commission income (+24.4% y/y to N116.64 billion) were observed. The growth across these income lines were enough to offset the decline in gains from investment securities (-34.9% y/y to N31.30 billion).
Operating expenses expanded by 14.2 percent y/y to N334.18 billion, with the most pressure exerted by NDIC insurance premium (+40.0% y/y to NGN3.18 billion) and personnel expenses (+28.0% y/y to N128.77 billion).
However, given the higher increase in operating income (+35.5% y/y), the cost-to-income ratio (after accounting for LLEs) settled lower at 66.7 percent (relative to 77.8% in 2020FY).
Overall, profitability was impressive, with profit-before-tax surging by 99.1 percent year-on-year.
Despite the higher income tax expense (+91.3% y/y N15.52 billion), profit-after-tax rose by 99.9% y/y.