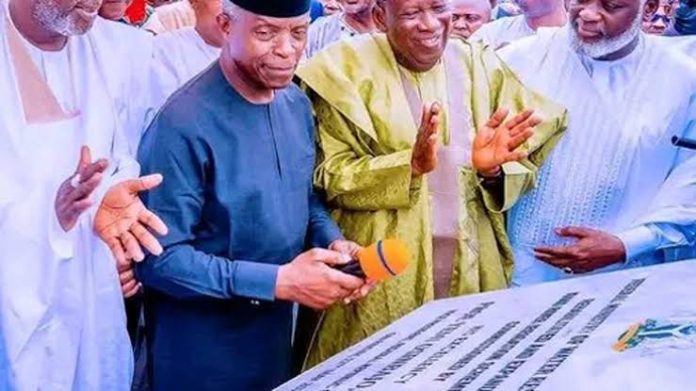 The Federal Government, on Friday, commissioned the N27 billion World Bank-assisted Kano River Irrigation Scheme to enhance the productivity of farmers in the area.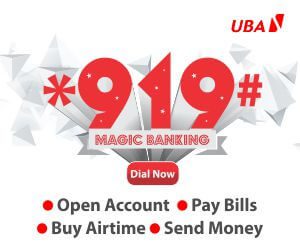 Vice-President Yemi Osibanjo, who performed the ceremony on behalf of President Muhammadu Buhari, said the project would benefit about 140,000 farmers and one million people directly.
He described the project as one of the success stories of the Federal Government under the Buhari administration.
The Vice President acknowledged the efforts of the first governor of Kano State, Audu Bako, who initiated the project that culminated into KRIS.
Speaking at the event, Governor Abdullahi Ganduje applauded the Federal Government for commissioning the project, saying it has taken the state to the next level.
According to him, the Buhari administration has contributed tremendously to the improvement of the lives of Kano people and stamping Kano city as the commercial hub of Nigeria.
The KRIS is located 30 kilometres south of Kano, the capital city of Kano State. It is divided into two phases. The first was designed with a capacity of 22,000ha of land.
The crop planted in the area is mainly rice, complemented by other crops such as maize, millet and tomatoes.
The project area is divided into the East and West branch by Shimar River, which together with the Kano River drains the scheme.
The major components of KRIS include Tiga Dam, the Ruwan Kenya Reservoir, Gayere Branch canal, the East Branch canal, West Branch canal, Drainage system and the main canal.
The project was executed by the Federal Government in collaboration with the World Bank through the Transforming Irrigation Management in Nigeria (TRIMiNG) project.
The Minister of Water Resources, Suleiman Adamu, an engineer, in his welcome address, said the project would boost food production in Nigeria through the expansion of institutionalised capacity of farmers and water users.
The National Coordinator of TRIMiNG, Peter Yakubu, also an engineer, explained that the execution of the project became necessary because agriculture is a major contributor to Nigeria's economy, accounting for 30 per cent of the GDP, as well as being a major rural activity.
KRIS is the third major irrigation project commissioned by the Federal Government in about three months.
In February, the President commissioned Hadejia Valley Irrigation Scheme located in Jigawa State, which is one of the major irrigation projects under the Hadejia Jamaare River Basin Development Authority (HJRBDA) with a storage capacity of 11.4 million cubic metres of water, while its potential irrigable area is 25,000 hectares.
The Bakolori Irrigation Scheme (BIS), located in Zamfara State, was rehabilitated and also commissioned during the period.