For close to two decades, the Chief Responsibility Officer of Ruff 'n' Tumble, a popular fashion outfit in Nigeria, Adenike Ogunlesi, has remained a model to the business world, with her unique children clothing line. Ogunlesi is one of the very few entrepreneurs that have succeeded in maintaining a high customer traffic across her business outlets in major cities of Nigeria.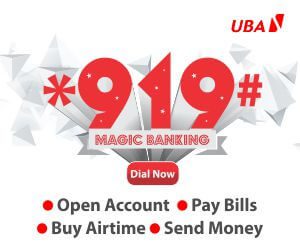 Sharing her experience with The Point, she said, "One of the things I learnt very early in my life was never to see a challenge as a problem. When I look at it only as a challenge, my whole countenance changes; and I begin to think of a solution. A problem focuses on something that is negative, while a challenge focuses on an outcome that is positive."
As a Law student of the Ahmadu Bello University, Zaria, Kaduna State, Ogunlesi had reluctantly accepted her mother's invitation to work in her women's Afrocentric clothing business, popularly known as 'Betty O' in Ibadan, Oyo State. But that was the beginning of her success story.
"I think one of the greatest gifts my mother gave me was the love of Nigeria, to love my country and to be the best I could be. My mother taught me the value of hard work. I remember I was about 17 and I was sleeping on a Saturday morning at about 8 o'clock, and my mother came in to knock at the door of my room only to find me still in bed.
"She said, 'no, you can't be sleeping at 8 o'clock in the morning; it is not my business if you went to a party. There is work to be done; so you will get up and do the work.' From a very early age, I was taught to know the value of work. So, I have the power within me to decide who I choose to be."
Ogunlesi's mood, however, changed when it was time to assess her father. "I don't talk a lot about my father because he was polygamous. But what I got from my dad is, 'your name, don't spoil it. If you spoil your name, nothing else has a meaning in your life.'"
On Ruff 'n' Tumble, Ogunlesi said her success story would not be complete without acknowledging the invaluable role her husband, Adegbola Ogunlesi, played.
"My husband is actually one of my greatest supporters. He is my greatest champion from way back when I started and I can say that I am extremely lucky to have married a man that allows me to be the best that I can be," she said. According to the frontline entrepreneur, success has a very broad definition.
"Success to you may not be success to me and I always like to clarify that. I think each individual has the right to define what success means to them," she said. Besides the hustle and bustle of business transactions, she explains that she is not in any way left out in the service of God.
Ogunlesi says she does not joke with the roles she plays in the church where she is a marriage counsellor. She said, "I am a marriage and family life counsellor, and I understand a lot of challenges some marriages have, stemming from communication, a lack of it or poor communication. It is something that we teach in the marriage classes in my church. I have what I call 'courageous communication or difficult conversation.'
"You are helpless but you don't want to talk about it; well, sometimes, you have to talk, because marriage is hard work. The third party in your marriage must be God, not anybody, not your mother-in-law, not your father-inlaw, not your sister-in-law, not your brother- in-law, not 'anybody in-law."
Looking around her office, one would easily notice the many awards for the uniqueness of the Ruff n Tumble fame. Instead of claiming the glory alone, however, she said,
"There are almost 200 people working with the organisation, not in this building but all over the country. And this business is being built on their shoulders. So those awards actually belong to all of us. I just happen to have founded the company. "I tell them, 'I'm not Ruff 'n' Tumble; we are a community of people who have come together because we have shared values and we have a common purpose. We are driven by excellence, and we want success. So, if you don't want success, you can't survive here.