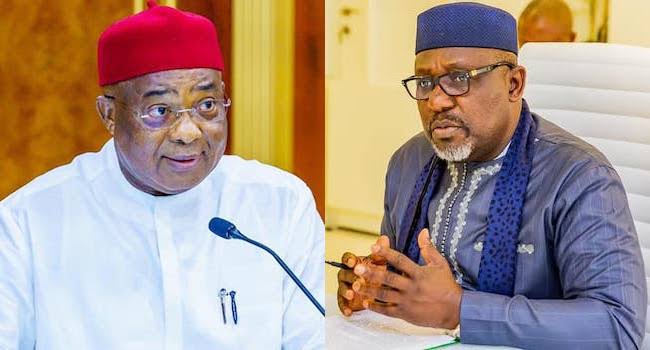 The national chairman of the All Progressives Congress, Abdullahi Ganduje, is in search of lasting peace between the Governor of Imo State, Hope Uzodinma, and one of his predecessors, Rochas Okorocha.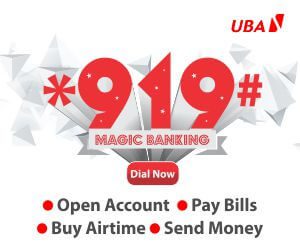 The two Imo State politicians have been at daggers drawn since Uzodimma became the governor in 2020.
Ganduje, Uzodimma and Okorocha were at the Presidential Villa, Abuja on Thursday to see President Bola Tinubu.
Uzodimma and Okorocha, who have been political adversaries in recent years, were sighted at the Villa around 6:07 pm with Ganduje.
However, in less than five minutes, they all came out in company of the Governor of Lagos State, Babajide Sanwo-Olu.
It was however gathered that the President had already left the office before their arrival.
They also went to Vice President Kashim Shettima's office.
A presidential source said Ganduje may take Uzodimma, who is the Chairman of the Progressive Governors Forum, his estranged party man, Okorocha and Governor Sanwo-Olu to the President's residence.
Although the agenda of the meeting was not made public, it may not be unconnected with the face-off between Uzodimma and Okorocha, who was Imo Governor between 2011 and 2019.
The Committee set up by Imo State Government for the recovery of land belonging to Alvan Ikoku Federal College of Education submitted its report to Uzodimma on Tuesday, recommending the recovery of the Shell Camp land from Okorocha and his associates within six months and hand the same over to AIFCE.
The report which was signed by the Chairman, Prof Vitalis Ajumbe and the Secretary, B F Anyanwu, regretted that Okorocha, as governor, used brute force including the military and hoodlums to snatch the land from the college after which he allocated or sold same to his top associates.
Those who allegedly benefited from the bazaar and have been similarly asked to vacate the land include two of Okorocha's in-laws, Uzoma Anwuka and Kingsley Uju.
Apart from Okorocha"s inlaws , a former speaker, Acho Ihim, Charles Orie, Charles Amadi and Ugochukwu Hillary also benefited from the illegal acquisition.
The Committee regretted that Okorocha ordered the demolition of 101 buildings belonging to staff of the college and thereafter confiscated their property.
It therefore urged the Imo State Executive Council" to direct the recovery of all the lands belonging to AIFCE, which are now illegally in the hands of individuals and institutions."
It further asked the state government to ensure the recovery of the land within six months and thereafter issue a certificate of occupancy to the college.
"AIFCE should take full possession of the vacated land and properties immediately upon recovery while the Commissioner for Lands and OCDA should recover the land within six months," the committee recommended.