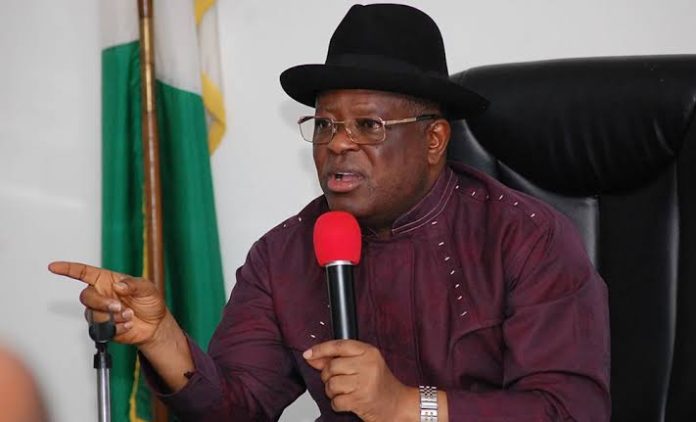 DAVID NWANKWO, ABAKALIKI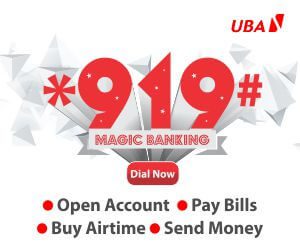 Governor David Umahi of Ebonyi State said he had ordered security operatives to arrest and prosecute PoS operators collecting excessive charges in the state.
Umahi who warned the PoS operators to desist, said they have badly added to the pains being experienced by Nigerians over the naira swap policy.
He spoke during a broadcast to the people of the on issues of peace and security in the state, on Friday.
"Point of Sale agents (POS), and operators are hereby warned to desist from excessive charges which is inflicting more pains on the citizentry. I have also directed security agents to arrest and prosecute anyone colleting above the normal charges."
He thanked the security agencies for prempting attempted protest and violent disruption of the peace of Ebonyi State especially at the Central Bank premises and at other commercial banks by some angry residents of the state.
He, however,. expressed confidence, that President Muhammadu Buhari, the Supreme Court and the state governors would definitely find amicable settlement to resolve the problems arising from the naira swap policy.
Umahi said: "I am very confident that the present hardship will not continue as Mr. President and the Supreme Court will definitely find amicable settlement and indeed the governors to resolve these problems so that our people will have to smile again.
"I must continue to commend Mr. President for his good heart and for good intentions for the people of Nigeria.
However, every leader when policies are intended for good must review it and that is what Mr. President is doing and we appeal to him to do more until an average Nigerian will go to the bank and withdraw money even if it is in lower denominations to meet his/her needs, the pains will always continue to be there, so let me use the opportunity to appeal to Mr. President to please do more and to canvass for out of Court settlement.
"Let me thank the security agencies who prempted what would have been protest and violent disruption of the peace of Ebonyi State especially at the Central Bank premises and at other commercial banks. My dear brothers and sisters of Ebonyi State, I am aware of the policy of the new naira redesign and I am aware of the challenges such decision are posing especially to Ebonyi State where we have over eighty percent of bankable small business owners.
"However, we must state that Mr. President has very good intentions and he is already aware of the hardship that this policy is presently posing to the wellbeing of our people, however, the implementation may have far-reaching implications on the average Nigerians and by extension Ebonyi people and so, I appeal to everyone especially the market women and men who are very badly affected, knowing that our markets have been closed down for sometimes now in terms of the level of activities.
"I am aware that some people that went there to buy tomatoes they insisted that they must have cash, such cash are not available, so I want to appeal to CBN, to treat us like other states because these new monies are not in Ebonyi State, people go to queue, some have queued in the various banks for 72 hours, some go there by 1am. This is not palatable for us, we should be better treated.
"While we do so, I appeal to our people to shun any form of violence and I have directed the CP and other security chiefs to station permanently in all the financial institutions and CBN in particular and to deal decisively with anybody who wants to tamper with the personnel of these banks or the infrastructure, the way to go about it is not by violent protests.
"I have heard your cries and I have rolled out a number of policies: I have approved the request of the Local Government chairmen to use the Federal Government Social Security Register to assist Ebonyi people in terms of relief materials both in transfer to their accounts and also to buy materials for them, this must be done on nonpartisan basis and must reach most of the religious and nonreligious leaders, market men and women, Ebonyians and where the social security register can be expanded, please expand it and assist our people.
"The Exco, the House of Assembly have approved to you such requests and so you have to do that, at the State level, the Exco has also approved that that should be done, however, it may not be possible that it should get to over 4 million Ebonyians but as much as we can reach, we should do that and that must be continued from now and it must stop by the 23rd of this month so that it doesn't interfere with our elections and we also resume and stop at the 9th of the month of March so that it doesn't interfere with our elections and then we resume again and we will stop at 30th of April, this has to be done.
"It must be noted that since 2015, we have been rolling out palliatives running into multibillions and this is not the first time we are going to do that.
"I have directed that locking of shops for non-payment of rents and purchase of shops at the international market and all markets and parks should henceforth be suspended till further notice, this is to further alleviate the sufferings of our people, we are also waiving taxes for the next 30 days to our small business owners, this is in addition to alleviate their problems.
"We have directed the State Government officials to do everything possible including giving assistance to petroleum marketers to ensure that they have enough fuel in the state, these are all we are doing to alleviate the sufferings of our people.

"I hereby order the re-opening of the Scrap Market. However, I appeal to the operators to please stop buying ad selling excavated cables, rods and other materials vandalized and stolen from government infrastructure and installations."