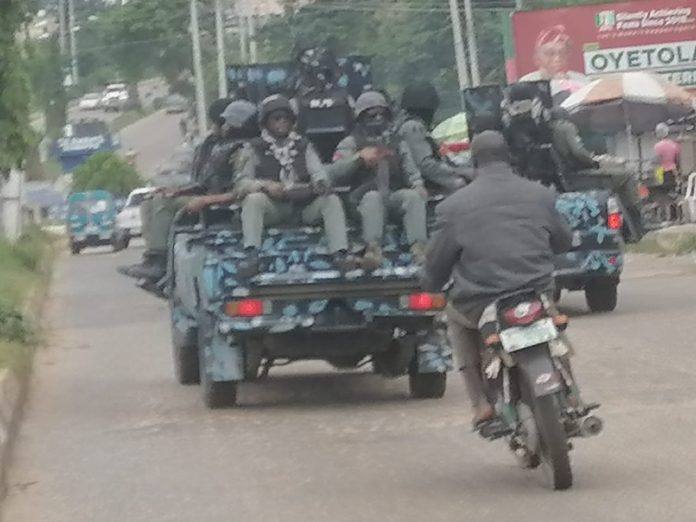 …Security agents intensify patrol of Osun flashpoints as soldiers, thugs exchange gunfire

… Observers warn against vote trading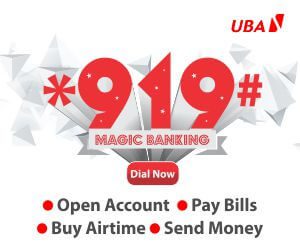 BY TIMOTHY AGBOR, OSOGBO
The Point has uncovered unusual plans by political parties and their candidates to outsmart each other in today's governorship election in Osun State.
It was reliably leant that some of the major parties engaged their party agents, foot soldiers and monitors in oath-taking against any form of dubious acts and activities capable of causing the parties defeat in the poll.
A source in one of the political parties who confided in our correspondent revealed that the foot soldiers and party agents that would be present at polling units were gathered and made to promise to ensure that the money released for the prosecution of the poll is judiciously distributed to beneficiaries.
"We had promised and vowed not to cause the party defeat nor channel the money they would give us to our personal use," the source said.
Findings by our correspondent showed that some party agents had carted away money meant for voters in the past elections and that the need to prevent a repeat of such negligence and treachery necessitated the oath-taking.
Some of them were said to have sworn by holding iron objects while other preferred swearing with Holy Books.
However, stakeholders, including election observers have expressed worry that electorate would be selling their votes to politicians.
Meanwhile, security operatives have taken over some areas earlier identified as flashpoints in order to ensure peace and orderliness before, during and after the governorship election as over 1.5 million registered voters have collected their Permanent Voter Cards.
Already, armed and fierce-looking security personnel have been parading the nooks and crannies of the state and conducting massive show of force in the build up to the poll.
The Inspector General of Police, IGP Usman Baba had disclosed that no fever than 21,000 policemen had been deployed to the state. Also, the Nigeria Security and Civil Defence Corps said it mobilised over 11,000 of its operatives to maintain peace and order.
Though, the Army, Department of State Security Service did not disclose any particular figure of their men for the election, hundreds of soldiers and secret police officers were seen patroling the state while others were stationed in strategic locations including violent-prone areas.
Greater number of security operatives were stationed at the headquarters of the Independent National Electoral Commission in Osogbo where the final results and winner of the contest would be declared.
To ensure free vehicular movement to and from the INEC headquarters, security operatives had barricaded a lane of the busy road for only accredited electoral stakeholders to ply. This development has, however, created traffic snarl around the area.
Some travellers moving outside and inside the state were stranded on Friday along the area as they faced difficulty in boarding vehicles.
Checks by our correspondent revealed that some flashpoints in Osogbo, Ilesa, Ile-Ife, Ede, Iwo and Ikirun among others have witnessed heavy deployment of troops and other security agents.
The Deputy Inspector of General of Police (DIG), Johnson Babatunde Kokumo, the leader of the election police team, has called for collective effort in a bid to have a free, fair and credible poll in the state. He said the presence of policemen at polling units would discourage vote-buying in the poll.

Kokumo, while interacting with accredited observer groups, charged members of the public to alert the security operatives whenever they notice electoral anomalies such as vote-buying.
In his words, "you also talked about vote-buying, to you you feel when you see something or say something that is not applicable to the circumstance, I want to appeal to you: whatever you see that is contrary to the Electoral Act 2022, let us know. Call our attention to it. It is not out of place.
"You know our zeal. You know the security personnel are in the picture of vote buying, they may not. You have a civic responsibility to discharge and what is that? Join hands with us in curbing crimes and criminality. And, of course, this includes electoral offenses. We cannot do it alone. If you join hands with us to do it, you will be equally succeeded in doing your bit.
"And the little things we were able to do collectively and equally are responsible for success we see in those elections we have had in Nigeria," he said.
The police afterward announced restriction of movements from 12am of Saturday to 6:00pm of the day.
"People who are saddled with responsibility with special duties such as INEC accredited press men and women and election observers are free to move as far as they have their tags."
Meanwhile, heavy shooting was on Friday witnessed at Ojurin motor park, Old Garage, Osogbo, around 12:30pm by some suspected thugs said to be loyal to the Chairman of National Union of Road Transport Workers, Oroki Branch, Osogbo, Osun State, Kazeem Oyewale, popularly known as 'Asiri Eniba'
Eyewitnesses around the area revealed that there were exchange of gunshots by the hoodlums and some soldiers before Oyewale was reportedly arrested alongside some armed political hoodlums. Few minutes after, Oyewale was released after some influential political individuals in the state intervened.
Earlier, a Federal High Court sitting in Osogbo, the Osun State capital, had restrained the Osun Security Network, codenamed Amotekun Corps from participating in today's gubernatorial election.
The court order also mandated the INEC not to make use of the Amotekun Corps as part of the personnel to be deployed to provide security in the election.
The order warned Amotekun not to serve as either security personnel or volunteer in the guber election.
Part of the order had read: "That the 1st defendant (INEC) is hereby restrained from requesting the deployment of the second defendant (Amotekun) as part of the security personnel deployable for the purpose of Osun 2022 governorship election pending the determination of the originating summons filed in the suit."
But the Osun Amotekun field commander, Amitolu Shittu, yesterday asked his men to monitor today's election without wearing uniform. He urged them to comport themselves and ensure that they were armed with what he described as "confirmed African Science Materials."
Amitolu in a press statement made available to newsmen in Osogbo, said all Area Commanders and Local Government commanders should make sure men under their jurisdictions are well organised and peaceful.
He said: "You (Amotekun operatives) are to perform your civic right in mufti. Do not go to any polling unit with any material except your voter's card. You must conduct yourself in a peaceful manner devoid of any controversy as the law has no respect for violators.
"Remember to have with you all your tested and confirmed African Science Materials. All your observations and reports must be sent to #AmotekunOsunSituationbase.
Observer groups urge Osun people troop out to vote, shun vote-trading
By Timothy Agbor, Osogbo
Some accredited election observer groups have called on electorate in Osun State to come out en masse today and exercise their franchise.
They also urged voters not to be tempted to sell their vote or be induced in nay form by politicians.
Addressing a press conference in Osogbo while opening its Situation Room for the July 16 gubernatorial election and training of 60 accredited observers, Faith Nwadishi, the
Executive Director of the Centre for Transparency Advocacy (CTA), called on political actors not to trigger violence or heat up the polity.
Nwadishi said: "We call on political actors to ensure that their actions and words do not trigger violence and heat up the polity unnecessarily before and after the election on Saturday.
"We urge security agencies to give assurances and make adequate provisions to protect electorates before and after the election while discharging their duties professionally. We urge citizens to come out enmasse and exercise their democratic rights by voting for candidates of their choice.
"INEC should ensure that the coordination and delivery of the Osun election should be taken a notch higher than the just concluded Ekiti election. Also, that its personnel to be deployed are trained properly on the use of the BVAS machines to ensure free, fair, credible inclusive, and conclusive governorship election.
"Citizens must shun vote trading. It is only where there is a willing buyer that there is a willing seller. We call on parents and youths not to allow themselves to be used as political thugs to disrupt peaceful conduct of the election."
In the same vein, the executive director of Women Advocates Research and Documentation Centre (WARDC), Dr. Abiola Akiode-Afolabi and Chairman, HEDA Resource Center, Olanrewaju Suraju, decried vote-buying and said the trend could not be curbed by election policing alone.
Akiode-Afolabi said, "A good understanding of the Nigerian politics will show that the phenomenon of vote-buying cannot be curbed by election policing alone. Such security architecture can only curb public trading in votes and that is even to a limited extent.
"Vote-buying is done more in secrecy. Therefore, there is need to shine the spotlight and preach the homily to the two key stakeholders in the criminal act of vote-buying-that is the vote sellers which are the electorates and the vote buyers which are the political parties and their agents. We commend the role of Economic and Financial Crimes Commission during the recently conducted Ekiti Election.
"Thus, the Human and Environmental Development Agenda (HEDA Resource Centre) and Women Advocates Research and Documentation Centre are calling on the well-meaning people of Osun State who are the electorate in the governorship election to shun the criminal act of selling their votes.
"We urge the electorate to come out en-masse to cast their votes and be part of selecting their own leader for the next four years through a credible electoral process. This God-given right should be honoured and not traded. It is not a commodity to sell, but a right to be exercised. Selling vote is criminal, casting it is the ideal.
"The implication of vote-buying is far reaching – it makes it difficult to call leaders to account since they paid their ways to the position occupied and beyond that, it affects the economy and living conditions as leaders would have no moral obligation to make life better for the citizens. Making public office holders accountable becomes negatively affected where the processes informing their emergence were largely compromised by vote-buying. Under such circumstances, the grip of corruption becomes quick to sight and preventing such becomes a difficult necessity.
"No doubt, politicians and the ruling class have weaponised poverty to perpetuate themselves in power, however, the citizen must, as a matter of necessity breakaway from the susceptibility to cheap inducement of trading a fortune for short term immediate gain.
"Therefore, we call on the electorate in Osun State and by extension, Nigerians at large, to echo the campaign against vote-buying and other forms of electoral malpractices, not only because it is criminal, but also because it is the root of bad governance, insecurity and corruption, a situation which has pushed the Country to the brink of collapse. Many of the vote-buyers have alternatives and may not be bothered much if the country collapses, however, as a common people, knowing that we have nowhere else to call our own, the need for massive campaign against vote-buying cannot be overemphasised," he added.