Abiodun Folashade Tokunbo is the CEO of Anjy Luminee Couture, also known as House of Luminee, a high profile designer outfit in the heart of Ikeja, Lagos, Nigeria.
Strategically located in Opebi, Anjy Luminee Couture believes in the promotion of indigenous fashion with particular emphasis on the use of at least a touch of ankara fabric in most of her designs.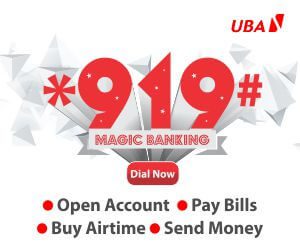 But with the array of celebrities, which she has designed and is still designing for, it is hard to believe that Ms Tokunbo started designing fully in 2013. With the influx of notables in Nollywood, and highbrow social class, turning her place to a fashion Mecca of sort, one is bound to ask what propelled this delectable pretty soft-spoken lady into fashion designing.
The House of Luminee creator reveals, "I started my career immediately I finished writing my final year examinations at Lagos State University in 2013, then with just one sewing machine and a yard of lining."
When she started, she had no machine until about two months later when she was able to save enough to buy her first sewing machine. Born over thirty years ago in Ijesha-Isu in
Ekiti State, Ms. Tokunbo adds that her passion and talent for fashion designing could be traced to her formative years.
She says, "I liked to craft anything, I will cut pieces of old leather bags and craft it into baby shoes. I used to take my dad's clothes (agbada) from his basket and cut it with razor blade then and place it on the chopping board he used to sell meat and use it to sew something nice.
"My dad used to wonder why I was so hardworking as a little girl. At the same time, he would scream out my name in the neighbourhood that I had destroyed his clothes," she recalls. When asked where she trained as a professional designer, the House of Luminee
boss states, "I never learnt this profession; as in I didn't go for any form of training in order to know this job up till now.
I am just planning to go to the United States for training very soon. I know where my designs have reached, even in the US, some designers are already calling me to come
and train them over there." On why she waited till 2013 before starting her business, she says that she went through lots of hardships and suffering, having come from a poor background.
Tokunbo says, "For my parents to even feed us then, was a big problem. My mum was insistent on my going to school. I went to Ibadan Polytechnic for my Ordinary National Diploma, and when I finished my OND, my mum was not happy with that level of education and this prompted me to further my studies at LASU, on part time basis.
"Upon graduation in 2013, I thought of the fact that there were no jobs available out there, and I didn't want to sit down at home. Since I know I wasn't going to get my certificate until after two or three years, I decided to start immediately I finished my final year exams.
"I started going to Oshodi market to buy materials and linings to make clothes. One day, someone in my neighbourhood accosted me and asked me why I always come home late, around 12am at midnight, I told him that I don't have a sewing machine of my own talk less of a shop, that I go to Apapa to borrow sewing machine in order to make clothes for people and take those clothes back to my customers, who live in highbrow Victoria Island and Lekki areas of Lagos.
Tokunbo adds, "One of my customers, called Adunni, used to wear my cloths a lot to events and functions, where other celebrities like Lizzy Gaga saw my designs on her.
"So, the lady that modelled my clothes posted my designs on Instagram, and a popular actress, Mercy Aigbe Gentry, reached out to her and asked for the brain behind the collection of designs Adunni wore, and that was the breakthrough for me in my career."
Tokunbo reveals that Aigbe got her contact from Adunni, called her, they met and she told
her how beautiful her designs were. "She told me to make a cloth for her to wear to an event, which I did, and that dress sparked a lot of praise s from her colleagues and the public.
Since then, I became her designer. "This gave me a sort of breakthrough and I started getting many customers. I believe this is God's calling for me, especially when I didn't learn it; it was just innate. "I had to put in a lot of hard work so that people will accept me, and that is how I arrived where I am today. It is however a pity that my mum died on January 30, 2001; she didn't see what I have become with my career.
When I started, I had no sewing machine let alone a shop. I would go to Apapa to borrow sewing machine to make clothes for people and take those clothes back to my customers, who live in highbrow Victoria Island and Lekki areas of Lagos.
Tokunbo says that because of the support she got from her dad in her career, she started building a house for him in his hometown in Ekiti State, but upon completion of the house, he died.
Asked how she feels having achieved so much within a small time frame, coupled with the fact that her designs are being worn in the UK, US, Australia and other parts of the world, Tokunbo says that having discovered her passion for sewing and designing, she decided to
make a name for herself at all cost. She says that she was focused on her career, not minding the stiff competition surrounding her.
"I had so many challenges, which had shaped me into what I have become today. If not for the challenges, I don't think I would have made it this far. Life cannot be a bed of
roses," she states.
She says what really gave her prominence was the dress she made for Aigbe, which she wore to the 2016 Africa Magic Viewers' Choice Awards, which won her the best dressed award at the event, and which wowed the over 5,000 guests at the Eko Hotel Convention Centre and a global TV audience.
Tokunbo aspires to start her own fashion magazine called House of Luminee, which will start, hopefully, next week. She says apart from working for celebrities, she also works for regular clients, who account majorly for the success of her brand.
On her personal life, Luminee says her husband and her daughter are fully in support of her job, adding, "In fact, my hubby and daughter unconsciously know how to sketch and sew clothes now."
The House of Luminee boss pointed out that she reads a lot of inspirational books to relax and this, she says has really helped her thinking and vocabulary.
Among her customers are Mercy Aigbe Gentry, Mide Martins Abiodun, Fathia Balogun, Iyabo Ojo, Tayo Odueke, all of Nollywood. Bimbola Adenuga (daughter of Mike Adenuga),
Lizzy Ganga and the wife of the CEO of SLOT also wear her label. Ms Tokunbo and her Anjy Luminee Couture have the target of breaking into the fashion stream of Canada and the United States, among other foreign nations.