BY BAMIDELE FAMOOFO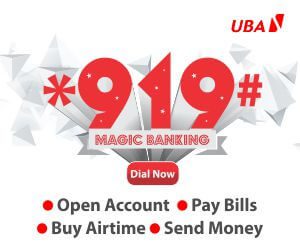 A total turnover of 694.376 million shares worth N8.667 billion in 15,418 deals was traded last week by investors on the floor of the Exchange, in contrast to a total of 1.101 billion shares valued at N11.714 billion that exchanged hands last week in 15,697 deals.
The Financial Services Industry (measured by volume) led the activity chart with 487.150 million shares valued at N4.229 billion traded in 7,527 deals; thus contributing 70.16 percent and 48.80 percent to the total equity turnover volume and value respectively.
The Conglomerates Industry followed with 61.896 million shares worth N77.471 million in 396 deals.
The third place was the Consumer Goods Industry, with a turnover of 40.042 million shares worth N1.243 billion in 2,713 deals. Trading in the top three equities namely Access Holdings Plc, Transnational Corporation Plc and Fidelity Bank Plc (measured by volume) accounted for 232.923 million shares worth N1.237 billion in 1,316 deals, contributing 33.54 percent and 14.27 percent to the total equity turnover volume and value respectively.
A total of 7,014 units valued at N495,893.36 were traded this week in 34 deals compared with a total of 4,379 units valued at N622,934.20 transacted last week in 33 deals.
A total of 58,708 units valued at N58.646 million were traded this week in 21 deals compared with a total of 23,819 units valued at N24.622 million transacted last week in 16 deals.
The NGX All-Share Index and Market Capitalization appreciated by 1.22 percent to close the week at 44,492.73 and N24.234 trillion respectively.
Similarly, all other indices finished higher with the exception of NGX Insurance, NGX Consumer Goods, NGX Oil & Gas, NGX Lotus II and NGX Industrial Good, which depreciated by 1.34 percent, 1.05 percent, 0.84 percent, 0.19 percent and 0.66 percent respectively, while the NGX ASeM, NGX Growth and NGX Sovereign Bond indices closed flat.
Thirty-one (31) equities appreciated in price during the week, higher than twenty-seven (27) equities in the previous week. Thirty-three (33) equities depreciated in price lower than thirty-six (36) in the previous week, while ninety-three (93) equities remained unchanged, lower than ninety-four (94) equities recorded in the previous week.
At the money market, the overnight (OVN) rate returned to the double-digit territory, as it expanded by 367bps w/w to 16.5 percent.
The financial system was under pressure this week, as the outflows for FGN bond (NGN269.22 billion) and FX auctions outweighed the sole inflow from OMO maturities (NGN10.00 billion). As a result, the average system liquidity settled lower this week, closing at a net short position of NGN16.01 billion (vs a net long position of NGN378.28 billion in the previous week).
This week, Analysts expect the system liquidity to remain tight, as the inflows from FGN Bond coupon payments (NGN17.87 billion) and OMO maturities (NGN40.00 billion) may not be sufficient to keep the system afloat. Thus, they expect the OVN rate to remain elevated.
Sentiments in the Treasury bills secondary market turned bearish following the low liquidity in the system this week as participants exited positions across the curve to meet their financial obligations. As a result, the average yields across all instruments expanded by 14bps to 10.5 percent. Across the segments, the average yield increased by 18bps to 10.6 percent at the NTB secondary market, but contracted by 2bps to 10.2 percent at the OMO segment.
Following the relatively slim system liquidity expected this week, Cordros Securities envisages low demand for T-bills and a slight expansion in yields from current levels. Also, we expect market focus to be shifted to the NTB PMA holding on Wednesday (24 November), with the CBN expected to roll over NGN213.43 billion worth of instruments.
In the review week, the FGN bonds secondary market closed on a bullish note as the average yield across instruments contracted by 8bps to 14.4 percent.
"We attribute this week's bullish sentiment to investors looking to the secondary market to compensate for lost bids at the PMA.
Consequently, across the benchmark curve, the average yield expanded at the short (+4bps) end following profit-taking activities on the APR-2023 (+77bps) bond, but dipped at the mid (-8bps) and long (-16bps) segments as investors demanded the APR-2032 (-9bps) and APR-2049 (-39bps) bonds, respectively," experts at Cordros hinted.

Meanwhile, Nigeria's FX reserve recorded another decline during the week for the eleventh consecutive week, dipping by USD14.11 million w/w to USD37.19 billion (16 November).
Across the FX windows, the naira closed flat at NGN445.67/USD at the I&E window (IEW). At the I&E window, total turnover (as of 15 November 2022) decreased by 50.3 percent WTD to USD356.13 million, with trades consummated within the NGN 432.00/USD – NGN468.44/USD band.