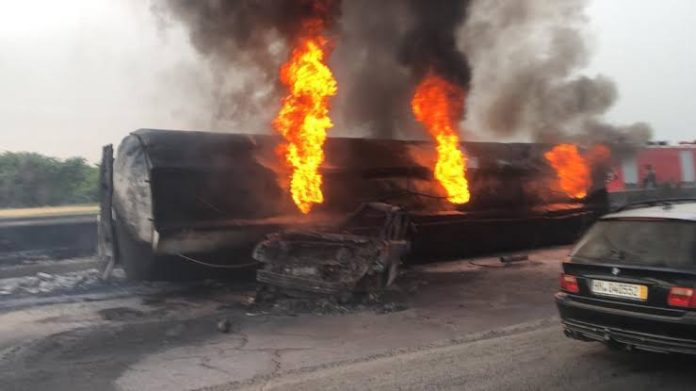 It was another day of lamentation on Sunday by commuters and motorists as a diesel-laden tanker, yesterday, fell and spilled its content around Ibafo Bus Stop, thereby worsening traffic along Lagos- Ibadan expressway.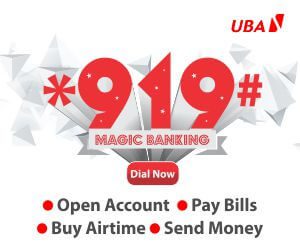 The loaded truck was coming from Lagos when the accident happened.
To avert a fire incident, police officers from Ibafo Divisional Police Headquarters and responders condoned off the road, while the content was being trans-loaded into another truck.
For fear of the loaded tanker bursting into fire, motorists took one way and blocked Lagos-bound vehicles.
The incident caused heavy traffic on both sides of the expressway as motorists driving against traffic took three lanes out of four available going to Lagos, while movement towards Mowe became inaccessible.
Consequently, motorists and residents were held up in traffic for hours, while many commuters resorted to trekking to their destinations.
Traffic hawkers also capitalised on the situation to hike their wares.
For instance, a bottle of table water was sold for N200 against N100, while commercial buses drivers collect N200 from Mowe to Ibafo, the scene of the incident, instead of its usual N100 fare.
The drivers took one-way from Nasrul-lahi-li Fathi Society of Nigeria praying ground at Olowetedo, to drop passengers at Ibafo to avoid traffic that stretched towards Aseese Bus Stop, and make a U-turn to load passengers coming from Lagos.
Those coming from Lagos were forced to trek to Ibafo after the scene of the incident to get a bus to Mowe, while those going to Lagos from Mowe, boarded commercial buses from Mowe to Ibafo, the scene of the incident and trekked to Arepo Bus Stop, where they could find vehicles to continue their journey.
Also, commercial motorcyclists known as Okada riders took advantage of the situation to charge exorbitant fares.
For example, an Okada ride from Mowe to Berger Bus Stop, cost N2,000 per passenger against N1,000.
A commuter, Adenike Ojerinde, said she left the Redeemed City by 9:00a.m for Lagos to attend church service only to reach Berger Bus Stop by 3:00p.m.
According to her, the bus she boarded met the traffic after Ibafo Bus Stop, but vehicles coming from Lagos blocked the road and she was forced to alight from the bus, and trekked up to Punch Newspapers after Magboro, because she boarded a bus to Berger for N500.
Ojerinde said she could no longer attend the service and had to visit a friend to see if the traffic would reduce before going back to Mowe.
Another commuter, Emmanuel Okpe said it is a pity that the traffic was not caused by construction, but carelessness on the part of road users.
Okpe, who said he spent five hours on the road, including trekking, blamed the situation on traffic officers, who, he said, were not on ground to direct traffic on the road.
According to him, if the situation was well managed the travel time would have been reduced and many motorists would have been saved from the pains of spending hours on the road.