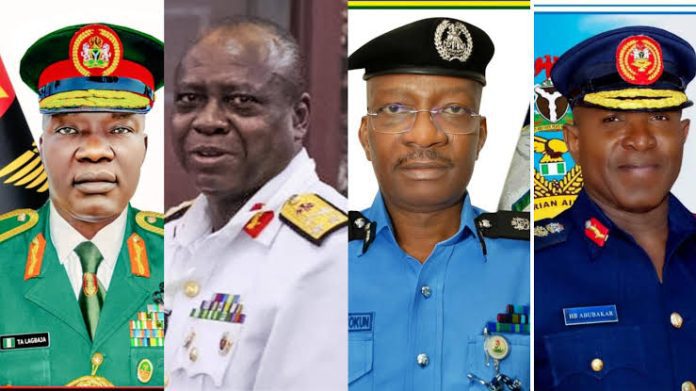 President Bola Tinubu, on Monday appointed new Service Chiefs after approving the immediate retirement of all the incumbent Service Chiefs, Advisers and Comptroller General of the Nigeria Customs Service.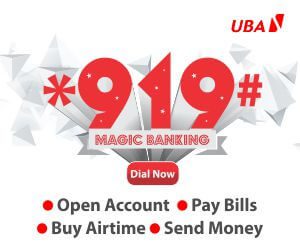 GENERAL T. A. LAGBAJA (CHIEF OF ARMY STAFF)
General TA Lagbaja takes over from Lieutenant General Faruk Yahaya as Chief of Army Staff; Air Vice Marshal Hassan Bala Abubakar takes over from Air Marshal Oladayo Amao as Chief of Air Staff; Rear Admiral Emmanuel Ogalla takes over from Vice Admiral Awwal Zubairu Gambo as Chief of Naval staff.
General Taoreed Abiodun Lagbaja is a member of 39 Regular Course of the Nigerian Defence Academy and was commissioned in the rank of Second Lieutenant on September 19, 1992.
The senior officer has served the Nigerian Army in several capacities and has held several appointments.
Until his current appointment as General Officer Commanding 1 Division, he was the General Officer Commanding 82 Division.
He assumed Command on August 8, 2022 as the 39th General Officer Commanding 1 Division prior to his appointment.
AIR VICE MARSHAL H. B. ABUBAKAR (CHIEF OF AIR STAFF)
Air Vice Marshal Hassan Bala Abubakar was born on September 11, 1970. He hails from Shanono Local Government Area in Kano State. He enlisted into the NAF as a member of NDA RC 39 and was commissioned Pilot Officer on September 19, 1992.
The Air Officer Commanding, Logistics Command has attended several courses. Some of these include: Bachelor of Science Degree from the Nigerian Defence Academy Kaduna, National Defence Course at the Nasser Higher Military Academy, Cairo – Egypt. He holds a master's Degree in International Affairs and Diplomacy from ABU Zaria.
Until his appointment as the 22nd Chief of the Air Staff, AVM HB Abubakar was the Chief of Standards and Operations, HQ NAF.
The senior officer has also held several appointments, some of which are: Admin Officer 16 Engineering Wing, 1 Engineering Group NAF Makurdi, Fleet operation officer – 011 Presidential Air Fleet, Commander 011 Presidential Air Fleet, Chief of Staff, Mobility Command, Director of Policy, HQ NAF, Director of Operations, HQ NAF, Air Officer Commanding Logistics Command, among several others.
Abubakar has earned several awards and decorations, some of these include: Distinguished Service Star, Passed Staff Course (psc), Fellow Defence College, Masters in International Affairs, Member National Institute of Management, Member Chartered Institute of Public Management, and Member Nigerian Institute of Safety Professionals.
Abubakar is happily married with children and in his leisure time, the senior officer enjoys flying airplanes, reading, reflecting and keeping fit.
REAR ADMIRAL EMMANUEL IKECHUKWU OGALLA (CHIEF OF NAVAL STAFF)
Rear Admiral Emmanuel Ikechukwu Ogalla was born on December 20, 1968, in Enugu Ezike Igbo Eze north LGA Enugu State, Nigeria.
He obtained the WASC from the NMS Zaria in June 1987, where he graduated as the best boy in Sciences. He had A1 in all subjects except English language. He is a member of the 39 RC NDA, graduated with a BSc in Mathematics and was awarded the sword of honour as the best naval cadet in his course.
He was commissioned Second Lieutenant on September 16, 1992 and rose to the rank of Rear Admiral with effect from September 16, 2021.

He completed the STC NNS QUORRA, Basic Hydrography National Hydrographic School India in May 2000, Junior and Senior Staff Courses AFCSC Jaji on November 01 and July 06 respectively. He was a participant of NDC Course 22 and was awarded Fellow Defence College on August 14. As part of the Course, he took part in the MSc Strategic Studies programme, University of Ibadan from 2014 to 2015.
Ogalla served on board many ships including NNS AMBE, ARADU, LANA, EKUN, AGU, QUORRA, BEECROFT, DELTA and PATHFINDER.
While on board NNS EKUN he took part in the ECOMOG Operations in Liberia in 1996. Also as the Base operations officer in NNS PATHFINDER, he was responsible for coordinating anti-illegal bunkering operations as well the entire policing duties of the base. During the period there was a remarkable reduction in illegal activities in the maritime area within the base area of operations.
He also served as Instructor, CI and Commandant NNHS, SO 1 Survey and DD Instruments NNHO, ADCP, DD Hydro and DPR NHQ, as well as DS/ DARAS NDC and D Audit NASS NHQ.
Until his appointment, he was the DLL NHQ. During his cumulative six-year tour of duty in NNHS, he taught geodesy, datum conversion, tidal predictions and analysis, satellite surveying, bathymetry, among others.
As Commandant, he linked the School with Teledyn Marines, a reputable OEM in the US, which enabled the NN to procure several survey equipment from the company, leading to improvements in practical training.
He was also instrumental to the review of the School's curriculum to align with IHO requirements. During his tour of duty in the NNHO, the senior officer was instrumental to the localisation of tidal prediction and analysis.
He participated in the FAO sponsored Guinea Current Large Marine Ecosystem survey in 2004 and provided professional inputs during the survey and production of the NNHO charts. During his tour of duty at the NDC, he contributed towards the improvement of the College research package and also led the 2018 participants' research study tour to China and South Korea. As DLL he was responsible for collating and analysing previous NN Operations and activities with the objective of drawing lessons necessary for doctrinal and operational improvements.
Rear Admiral Ogalla is decorated with FSS, MSS, DSS and GSS. He is a member of the Nigerian Hydrographic Society, Nigerian Institute of Management, the International Earth Rotation Services and also a fellow of the Occupational Safety and Health Association of the UK. He is married to Mrs. Ijeoma Ogalla and the marriage is blessed with two children. His hobbies include jogging, reading, listening and researching about science and nature.
MAJOR GENERAL GWABIN MUSA (CHIEF OF DEFENCE STAFF)
Christopher Gwabin Musa was born on December 25, 1967, in Sokoto State in North West Nigeria. He completed his elementary and secondary education there despite coming from the Christian South of Kaduna State's Zangon Kataf Local Government Area.
He was accepted into the Nigerian Defence Academy in Kaduna State in 1986, and for five years, while the Nigerian military ruled the nation, he received rigorous and grueling military training.
He was commissioned into the Nigerian Army in September 1991 as a second lieutenant in the Infantry Corps, one of the most challenging divisions of the army due to its physical and mental demands.
Major General Chris Musa, the Theatre Commander for "Operation Hadin Kai," has helped Nigerian Armed Forces reclaim the upper hand after more than ten years of fighting Islamist insurgents in the northeast.
The senior commander has been at the center of various issues, including the Kaduna massacre, despite the fact that he is revered in the army.
MALLAM NUHU RIBADU (NATIONAL SECURITY ADVISER)
The newly appointed National Security Adviser, Nuhu Ribadu, was born in Yola, Adamawa State, on November 21, 1960.
He attended Aliyu Mustapha Primary School, Yola from 1966 to 1973 and Yelwa Government Secondary School, Yola from 1973-1977. Between 1978 and 1980, Ribadu was at the College of Preliminary Studies, CPS, Yola, for his A-level studies.
In 1980, he gained admission to study law at the Ahmadu Bello University, Zaria, graduating in 1983. He graduated from the Nigerian Law School and was called to the bar in 1984. He joined the Nigeria Police Force immediately after his national youth service.
Ribadu holds an LLM degree with emphasis on the jurisprudence of corruption in Nigeria from the Ahmadu Bello University, Zaria. In 2008, he was at the Harvard Business School where he did a programme on the strategic management of law enforcement agencies.
The name Ribadu has become a household name in Nigeria and beyond on account of his glorious public service record and personal integrity. A trained lawyer and fearless crime fighter, Ribadu has carved a niche for himself as someone who is patriotic, passionate, honest, courageous and compassionate.
He is the pioneer Executive Chairman of the Economic and Financial Crimes Commission, the government commission tasked with countering corruption and fraud which he literally transformed into one of the most effective and renowned anti-graft agencies in modern history. Yet, his major contribution to the anti-corruption crusade was his selflessness, resilience and exemplary conduct in his spirited fight against the cankerworm.
With uncommon commitment and dedication to duty, Ribadu worked assiduously to clean the Augean stable created by graft and fraud.
He courageously brought to book hundreds of fraudsters, scores of high profile looters and economic saboteurs in spite of temptation, booby traps and threats to life.
In three years, the EFCC, under his leadership, built the now most celebrated Crimes Training and Research Institute in the West African region. The agency also recorded over 200 criminal convictions under his leadership.
In acknowledgement of these rare achievements, Ribadu was promoted to the rank of Assistant Inspector General of Police in March 2007. The African Union put him on its advisory board on anti-corruption matters; and he was invited to join the advisory board of the Friends of the World Bank/UNODC initiative on Stolen Asset Recovery.
Ribadu is a recipient of several awards as a police officer, prosecutor and chairman of the EFCC. He received the Inspector General of Police Awards in 1997, 1998 and 2000, and the Special Commendation of the President in 2005, for the successful prosecution of several advanced fee fraud cases, banking fraud and sundry economic crimes. He was also specially commended by the Accountant General of the Federation for successfully prosecuting some corrupt public servants in 1999.
In 2008, Ribadu completed the senior executive course of the Nigeria Institute of Policy and Strategic Studies where he was conferred with the Membership of the National Institute. In June 2010, Ribadu was awarded the Doctor of Laws (honoris causa) by the Babcock University, Ogun State, in recognition of his "resolute courage" as well as his "fierce stance against corruption in the face of sponsored disgrace and certain death that has resulted into positive changes and global acclaim hitherto considered impossible."
In 2012, Ribadu left a United Nations assignment in Afghanistan to take up a special inquest into government's revenue from the oil sector, an assignment he handled with his characteristic passion and dexterity, turning in a report that has since become a reference point on reforming Nigeria's oil industry.
In his quest for higher call to service, Ribadu has since 2010 been involved in active politics. He was named NSA on June 19, 2023, days after he was appointed the Security Adviser to the president.