The recent vilifications of the immediate past National Chairman of All Progressives Grand Alliance, Chief Victor Umeh, by Mr. Austin Ndigwe, did not come to us or any sane member of the party as a surprise, knowing the antecedents of Ndigwe.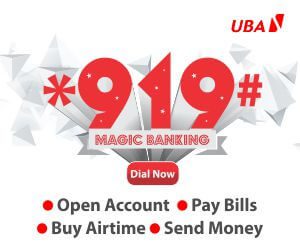 To start with, one cannot easily forget how Ndigwe was shown the way out as the traditional Prime Minister of Awka Kingdom, a position he got through his "gidigbam-gidigbam" way of life and his penchant for bulldozing his way into any position he so wished to occupy in Awka as an indigene.
We therefore woke up recently to read to our dismay, publications in some national newspapers that Ndigwe accused Umeh of inappropriate spending of party funds, among other frivolous claims, querrying Umeh's leadership of APGA and alleging that he ran the party like a private enterprise.
One is tempted to ask where Ndigwe was at the time Umeh ran APGA like his private business. Was he in the train? If he was, and his claims are true, what did he do to stop this train from derailing or was he part of the 'conspiracy?' It is rather funny that Ndigwe also claimed that he was a member of APGA's Board of Trustees and a founding member of the party.
Let us briefly accept that this man was a BoT member of APGA and yet exhibited such ignorance of the party constitution and what obtained almost as a law guiding INEC operations as the body conducting elections in Nigeria. Ndigwe appeared ignorant of the simple fact that INEC audits accounts of all political parties in the country and that such audited accounts must be published in at least three newspapers in the country. At what party convention was Ndigwe sworn in as a BoT member and where and how was he elected a member of the National Executive Committee of APGA?
He was never a BoT or NEC member of the party and is therefore in no position to know the workings of the party, not to talk of having access to the party account books or records. Ndigwe was like a pariah to every member of the party and he was always kept at arms' length. Even as he seemed close to every high-ranking member of the party, everybody treated and related with him with caution; he appeared to be everybody's friend and yet, nobody's in the real sense of it. He was tolerated by all simply because of his nuisance value.
For Ndigwe to have descended on Umeh is indicative of the negative values in him. In the course of his relationship with Umeh, everybody who knew Ndigwe's antecedents, cautioned and warned Umeh of the grave consequences of his relationship with the man. At such times, Umeh assured that he was very careful, that he would never allow Ndigwe to know what his true plans were for the party.
Of course, this proved lethal as Ndigwe's tirades and allegations against Umeh were totally based on his imaginations and hearsay gleaned from his co-conspirators. Had Ndigwe had a modicum of decorum, he should have threaded cautiously in his all out efforts to tarnish the image of Umeh, his benefactor, knowing full well that those who live in glass houses do not throw stones.
Ndigwe forgot so soon that during the campaigns for the National Assembly elections, he said very unprintable things about those he has today joined to crucify Umeh and the yeoman's job he did as APGA national chairman.
He said at that time that Victor Umeh was the best thing to have happened to APGA, that Umeh was a visionary leader and God-sent to APGA. Ndigwe had maintained that those standing on Umeh's way to the National Assembly would be crushed. And that those fighting Umeh were agents of darkness and would be summarily dealt with through supernatural forces.
Today, he is singing a new song. Perhaps, he realised that time and later developments do not favour his plans to become APGA National Chairman. His ambition to take over APGA leadership from Umeh was gradually but steadily fizzling out.
His only credential for this vaulting ambition was his closeness and friendship with Umeh. As the possibility of achieving this tall dream continued to varnish, Ndigwe's first betrayal of Umeh was to withdraw from Umeh's campaign train and immediately join forces with his opponents, after compromising himself.
• Okeke is the Senior Special Adviser to Chief Victor Umeh, the immediate past National Chairman of APGA.