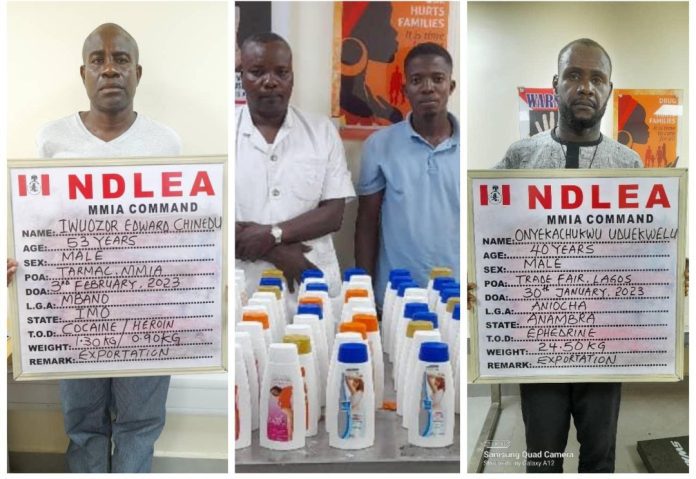 Operatives of the National Drug Law Enforcement Agency have frustrated attempts to export large consignments of illicit drugs concealed in various disingenuous modes by desperate drug cartels via the Murtala Muhammed International Airport, Lagos.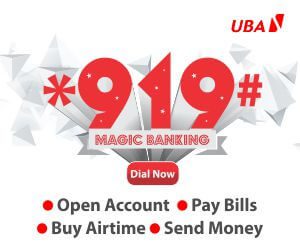 A statement on Sunday by the spokesperson of the anti-narcotics agency, Femi Babafemi said that among the illicit drugs intercepted were cocaine, heroin, methamphetamine and ephedrine which were to be smuggled to Dubai, UAE and Europe.
He noted that top on the list of those so far arrested in connection with the seizures was a Nigerian based in Athens, Greece, Iwuozor Chinedu, who was debarked from an Ethiopian airline flight last Friday after officers in the tarmac team of NDLEA intercepted two bags during a secondary check exercise at the foot of the aircraft.
Babafemi said when the bags were searched in the presence of Chinedu and other airport stakeholders, two big pellets wrapped with foil papers and some sprinkles of pepper were recovered from each of the two sides of one of the bags.
The pellets were used to construct false walls at the sides of the bag. He said the two parcels contained substances that tested positive to cocaine and heroin with a gross weight of 1.30 kilogrammes and 900 grammes respectively, disclosing that during preliminary interrogation, Chinedu claimed he came to Nigeria three months ago to do a surgery, which he was not comfortable doing in Athens, and further claimed he was given the bag to deliver in Greece for a fee of N2 million.
Babafemi also said NDLEA operatives at the NAHCO export shed of the airport last Monday arrested a pregnant woman, Mrs. Sylvester Onome after 800 grammes of skunk were discovered concealed in two small radio sets she was sending to Dubai, United Arab Emirate.
He said the same day, operatives also intercepted a consignment going to Congo Kinshasa, containing 111 bottles of body cream that were used to conceal 24.5 kilogrammes of ephedrine, a chemical precursor and active ingredient to produce methamphetamine, adding that the cargo was later traced to a trader at Alaba trade fair complex, Ojo area of Lagos, Onyekachukwu Uduekwelu after the initial arrest of two freight agents.
The NDLEA Spokesperson said another housewife, Mrs. Okpara Chizoba was arrested at her residence at 37 Obashola street, Ijesha area of Lagos on Friday 27th January following the seizure of 300 grammes of skunk hidden in a bag of crayfish she was sending to Dubai, UAE through a freight agent.
Babafemi also disclosed that operatives at the SAHCO export shed of the air- port on Thurs – day, 26th January intercepted a sack of new clothes going to Sierra Leone, and during a thorough search of the consignment, a parcel of white crystalline substance that tested positive to methamphetamine with a gross weight of a kilogramme, as well as 300 grammes of skunk and 100 grammes ecstasy (MDMA) were recovered, a freight agent, Mfonabasi Victor was already arrested in connection with the seizure.
He also disclosed that no fewer than 255,500 pills of tramadol and diazepam were recovered from an Italy based suspect, Duru Josephat who concealed the drugs in two of the bags he was travelling with to Milan, Italy on an Ethiopian airline flight.
He confessed he bought the drugs in Onitsha, Anambra state and was taking them to Italy to sell. Babafemi said barely a month after operatives at the Tincan seaport intercepted a consignment of 24.5 kilogrammes of cannabis indica concealed in used vehicles imported from Canada, they have again seized 75.75 kilogrammes of the same substance, which came from Montreal, Canada, hidden in a container of four used vehicles with number MSCU 5336680.
He said coincidentally, the consignment had also been traced to a suspect already in custody in connection with the earlier seizure, Steve Adigwe and his accomplice, Cedrick Maduweke who was still on the run.
In Bauchi State, a suspect Clement Ekweozor, was nabbed at Rafin Zurfi area, Bauchi town with 28,088 pills of tramadol and other opioids, while 12,000 capsules of the same drug were among others recovered from four suspects when their commercial bus marked UGH 978 KS was intercepted at Koka junction, Asaba, Delta state by NDLEA operatives last Wednesday.