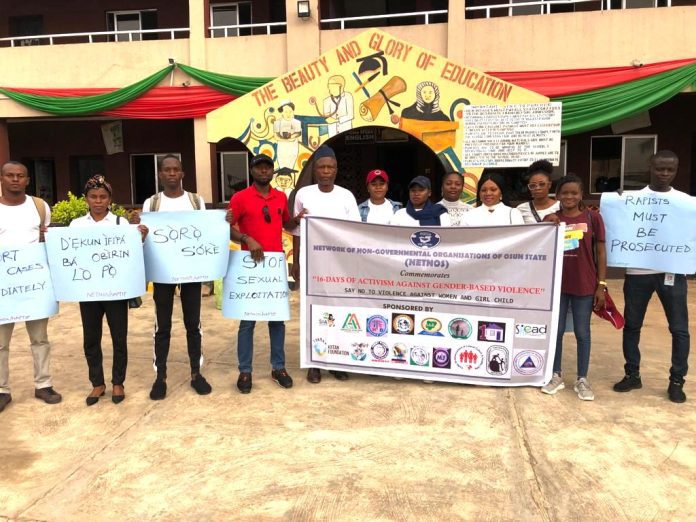 BY TIMOTHY AGBOR, OSOGBO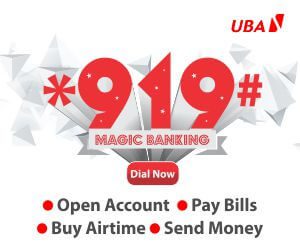 The Network of Non-Governmental Organizations in Osun State in collaboration with the National Agency for Prohibition of Trafficking in Persons, Osogbo Zone have joined other stakeholders across the globe to mark the 2022 United Nations' 16 days of activism against Gender-Based Violence in the state.
The event tagged: "UNiTE! Activism to End Violence Against Women and Girls," was celebrated in style by the groups who stormed some streets and three schools in Osogbo to create awareness in curbing GBV in the society.
The intervention, which was sponsored by some organisations in the network provided the students of Tender Love Secondary School, Behind Baptist Church, Oke-Okanla, Osogbo, Good Tidings Nursery & Primary School, Onward, Osogbo and Good Tidings Standard Collegiate, Behind K-Royal Apartments, Dada Estate, Osogbo the opportunity to know how to curb sexual related abuses and violence in the society.
The students were engaged during their morning assemblies and were privileged to learn protective strategies and reporting skills in averting sexual harassment, and when in danger.
Having concluded the school outreaches, participating members and NAPTIP team converged at Oke-Fia for a roadshow as the general public were being sensitised through display of placards on how to shun gender based violence and other forms of harmful acts.
The placards bore inscriptions such as: "Say No To Rape", Stop Gender-Based Violence Against Women and Girls", "Rapists Must Be Prosecuted," "Stop Female Genital Mutilation of Girls," "Speak Out," "Report Rape Cases Immediately," "Stop Sexual Exploitation," "Rape Victims Must Get Justice," "Gender-Based Violence Often Happens Behind Closed Doors," "Help Victims of Gender-Based Violence," among others.
Speaking during the awareness programmes, the Chairman of NETNOS in Osun, Comrade Michael Olusesi Ebofin, said elimination of GBV is possible, adding that members of the public should desist from stigmatising victims and survivors of sexual and gender based violence.
Ebofin said, "the United Nations 16 Days of Activism against Gender-Based Violence, as an international campaign, is being commemorated from 25th November to 10th December every year since it started by activists at the inaugural Women's Global Leadership Institute in 1991.
"The International Day being set aside for the prevention and elimination of violence against women and girls has been awakening non-state actors and other human/women rights organisations to constructively engage the government and relevant stakeholders to curb sexual related abuses in the world.
"In order to end violence against women and girls by 2030, the United Nations Secretary-General called for global actions to increase awareness, galvanize advocacy efforts, and share knowledge and innovations. In marking the annual event, people around the world do unite to raise awareness about gender-based violence, challenge discriminatory attitudes and call for improved laws and services to end violence against women and girls.
"For us in Network of Non-Governmental Organizations in Osun State (NETNOS), we decided to take out awareness programmes to schools and members of the public on the streets and market places. We engaged school children and educated them on the dangers of SGBV and the red flags they would discover before the raise the alarm and expose abusers. Later, we converged at Oke-Fia area, Osogbo, in collaboration with NAPTIP and embarked on road awareness which we concluded at Akindeko Market after an hour.
"Some of the messages we gave to the people were that victims of Sexual Gender-Based Violence should be encouraged to break the silence by avoiding stigma against them. Elimination of Violence Against Women and Girls is possible and that together, we can achieve the elimination of the menace in our society. Gender-Based Violence is a serious violation of human rights and the illegal acts are life-threatening.
"We also warned people against the practice of Female Genital Mutilation for girls or they face the wrath of the law. The programmes were successful and the sponsoring organisations are Initiative for environmental health development, Peniel Global Foundation (PFG), Mowalek Centre for Sustainable Community Development, Shepherd For Health, Environment, Advocacy & Development, Abiodun Adegoke Foundation,
Couplet Children Foundation Against Gender-Based Violence, Centre for Advancement of Liberal Culture and Health, and Matildalape Foundation.
Others are Kiitan Foundation
Sustainable Impacts Aid, Caring Hands International, Brighter Future Initiatives for Women & Children (BFI), Assist Women & Develop Children Initiative, Family Advancement & Sustainable Development Initiative, Centre for Life Support Mission (CELSUM), Development Watch Network
Champion Helpmeet Foundation (CHF) and
EIN House Initiatives.