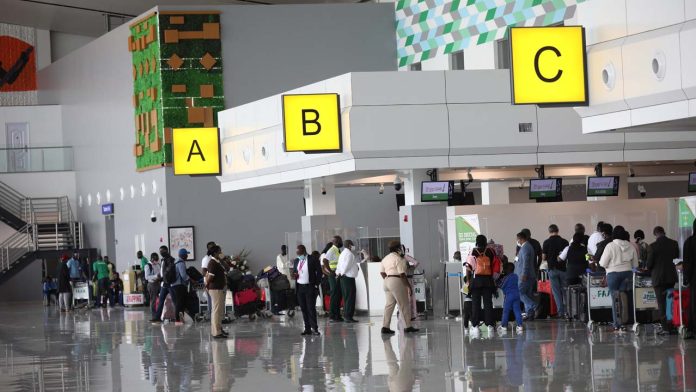 Families sell businesses for graduates to relocate abroad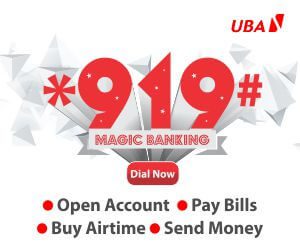 Don't blame us for migrating, Nigeria is frustrating – Professionals
It's of great concern, says FG
BY TIMOTHY AGBOR, OSOGBO
Visa applications by Nigerians to embassies of the United States, United Kingdom, Canada and the United Arab Emirates have increased dramatically in the past 12 months, as citizens flee the country in search of greener pastures abroad, investigations by The Point have revealed.
The worrisome trend has been linked to lingering economic crisis in Nigeria amid worsening insecurity, which has left many with no choice than to seek better standards of living for their families outside the country.
Desperate applicants besiege the embassies of economically-prosperous countries on a daily basis, according to our correspondent's findings.
Many of those who were interviewed said it was time to 'japa', a new Yoruba slogan, which means 'to flee.'
A research report by the World Bank revealed that in the Human Capital Index, Nigeria ranked 150 out of 157 countries in the year 2020. Income inequality and disparity in economic opportunities continue to remain high and have consequently affected the government's efforts on poverty reduction.
According to the United Nations Department of Economic and Social Affairs, the number of international migrants from Nigeria in 2020, the latest year for which figures are available, was 1.7 million, up from 990,000 about 10 years ago.
Data from countries that issue work visas gives an idea as to where Nigerian emigrants are heading.
Most stay within sub-Saharan Africa but the numbers heading to Europe and North America have increased considerably in recent years.
British statistics show that in 2019, the year before Covid-19 struck, about 14,000 UK study and work visas were issued to Nigerian nationals.
Investigation shows that the number, which includes dependents, almost quadrupled in 2021.
Skilled workers from the healthcare sector were the largest recipients with more than 16,000 visas out of about 22,000 granted since January 2021.
In Canada, more than 15,000 Nigerians were granted permanent residence in 2021 compared to about 4,400 five years ago.
It was gathered that visas to countries like the UK, Canada and the US are very expensive and often require applicants to show they have enough funds to take care of themselves for the duration of their stay.
A post-graduate course in Canada, for example, including expenses and compulsory insurance, costs about $22,000.

"There are 9,000 Nigerian doctors practising in the United Kingdom alone and there are some others who opted for another job in other countries and abandoned their medical profession. We also have other professionals including lawyers, lecturers, engineers, and journalists, among others, who are into this mass exodus"
PARENTS SELL PROPERTIES, FIRMS
"I have friends whose parents have sold their properties, their land for their kids to go," said Chuka Okeke, a 33-year-old who is applying for schools in Canada and whose parents are providing support for him and his family to move.
Insiders say it takes months or even years to complete the paperwork and meet all the requirements before the coveted visa is issued.
A young Nigerian graduate who simply identified himself as Feranmi, said since he moved to Canada last year, he has not had any reason to regret auctioning his properties to achieve the exit requirements.
Feranmi, a law graduate of the Obafemi Awolowo University, Ile-Ife, revealed that he sold his piece of land, a POS firm and household items such as fridge, furniture, mattress, and other electronic gadgets to be able to raise the sum of N7 million he used in processing his visa abroad.
In an interview with The Point, he said he had spent three years after graduation before he could raise money to start up the POS business in order for him to gather money for his Law School.
"Along the line, I saw the opportunity to relocate to Canada to live and work there. I knew it was not going to be easy for me and that was why I took up the risk of selling my properties including a piece of land I inherited from my father and my POS business. I was able to raise N4.5 million after this.
"To complete the money I needed, I had to borrow the sum of N2.5million from someone with interest. I am about to complete the payment and the interest but I prefer staying here (Canada) to staying in Nigeria. Yes, I know I am really struggling here but it's far better than Nigeria where life means nothing to anyone."
When asked if he had any plan of relocating to Nigeria very soon, he retorted, "For what? Such thought has never crossed my mind and I don't think it would in the next 30 years. The government here knows the worth of human existence and it's doing everything to make it easy, unlike Nigeria."
Some healthcare professionals have warned against tagging those who migrate from Nigeria to foreign countries as unpatriotic citizens, saying that Nigeria is becoming more frustrating to live in.
The National Association of Resident Doctors had said six out of 10 doctors were planning to leave the country.
Ayotunde Fasana, the Chairman of NMA in Oyo State, recently disclosed that with the trend of medical doctors leaving the country, there might be a need to hire doctors from foreign countries to work in Nigeria in the near future.
Nurses, pharmacists and laboratory scientists have been leaving the country in droves.
In an interview with the Chairman of NMA in Osun State, Adedapo Adetoye, he said the number of medical doctors was decreasing daily and the younger ones who were graduating were leaving the country because they couldn't see the hope they wished for.
"They (doctors) are not interested in staying back and the hospitals are not employing new hands. The graduates, instead of writing postgraduate exams, write the exams that will make it easier for them to travel abroad and practise. It's very frustrating in this country that we now have a ratio of one medical doctor to about 7,000 persons.
"There are 9,000 Nigerian doctors practicing in the United Kingdom alone and there are some others who opted for another job in other countries and abandoned their medical profession. We also have other professionals including lawyers, lecturers, engineers, and journalists, among others, who are in this mass exodus.
"You won't blame them for exiting, we are losing the younger ones daily and all cadres are moving because things are not working. They have to train their children and they need to seek greener pastures. Having paid so many prices and spent so many years in training, we can't even afford three square meals not to talk of affording quality education," he lamented.
On the way forward, the medical practitioner said, "The government needs to fix the economy, provide security, provide equipment at our hospitals, provide a conducive working environment and fix education and many others. People are frustrated in Nigeria. Doctors and other professionals feel they are wasting away in Nigeria and they need a better life elsewhere.
"It's not true that doctors or other professionals are not patriotic. It's unfair and unjust to say they are not patriotic."
Speaking on the numerical strength of registered doctors in Osun, for instance, Adetoye said, "The financial members that we have in Osun are over 700 including those who have retired."
Echoing a similar view during an interview, a Nigerian nurse living in the United Kingdom, Yetunde Daudu, said healthcare professionals were leaving Nigeria because of the poor payment and pathetic condition of work.
Daudu, who left Nigeria to practise in the United Kingdom 18 years ago, said the UK pays medical practitioners massively higher than Nigeria and that the work environment had been very motivating and conducive.
"In Nigeria, patients buy everything they need and this challenges the efforts of healthcare providers. For instance, during an operation in Nigeria, there was no light. It was frustrating. The salary is not good and the prices of things are increasing daily. So, it's extremely difficult for professionals to cater for themselves. There is also insecurity in Nigeria. These are some of the reasons why I and a host of others left.
"I have been in the UK for about 18 years now and here in the UK, they provide an environment for you to flourish. When you have job security and good pay, you would not want to leave Nigeria," she noted.
Revealing the difference in the salaries paid in Nigeria and the UK, the nurse said, "There is a huge difference in terms of payment. As a nurse in the UK, you earn about 1,800 pounds and as a doctor, you will be looking at 2,000 pounds to start with, depending on your level and experience and as you progress in your career, definitely, your salary will increase. They actually increase it every year. I am sure that in Nigeria, they don't earn that close. If you are going to convert that money to the Nigerian naira, you will be having about a million naira for nurses and over a million naira for doctors as only salary and I have not added other monetary benefits."
"Recently, I met a Nigerian who just moved to the UK. He is a physiotherapist and he was talking to me about how the salary here is very enticing. And then the Nigerian government even owes workers," she said.
A travel agent in Ibadan, Oyo State, Samuel Oladitan, disclosed that the number of Nigerians making efforts to migrate abroad was increasing on a daily basis.
He said, "I operate a TOEFL (Test of English as a Foreign Language) centre in Ibadan and I can tell you that the number of students enrolling to take the exam for studies in Colleges in the United States is increasing very fast. Many of the people had tried migration and it has been difficult. They converted to studies, just to leave Nigeria. To carry this out, one must have at least N5 million to N7 million.
"Some other Nigerians also use Tourist visas but they may end up in deportation because many refuse to return to Nigeria after the expiration of the period stated on their visas."
Ayo Aroloye was holding his newborn son when a power cut plunged the delivery room of the Lagos hospital into darkness.
The 34-year-old had to turn on his phone's flashlight so that the doctor who was about to stitch up his wife could see what he was doing.
Even though he earned an above-average salary as a banker, Aroloye saw the traumatic event as a sign that his country was broken.
"The Nigerian dream died in me," he said.
Like many other Nigerians, Aroloye decided it was time to 'japa'.
After a two-year wait to get visas, he moved with his family to Canada, where he has now been living for four months.
Chuka Okeke is a Lagos-based project manager with a degree in Computer Science who earns around N650,000 a month.
"Three years ago, I would call myself middle class but now I'm just a privileged poor person," he said.
"I'm considering 'japaing' via the study route," said the 33-year-old father of one, adding, "It's a whole mess and I didn't create the mess. So I don't think I owe the country any loyalty to stay and fix it."
For Stella Ohemu, a 30-year-old pharmacist living in Abuja and who earns around N110,000 a month, life is "a merry-go-round."
"I've been working for three years. I had two jobs at one point, but it still wasn't enough," she said, abandoning at least for now her dream of opening her own pharmacy.
She is applying for visas to work in Europe or in the US, where she is "sadly, open to doing anything."
Even among those who earn much more, 'japa' is enticing.
Augustine Ugi, a 36-year-old CEO of a software development company based in Lagos, earns "between N5 million and N10 million" a month and employs more than 50 people.
"I am leaving because I have to sustain what I have built," said the father of twins who is moving to London but will continue travelling back to Nigeria to maintain his operations.
"A lot of people who are rich in Nigeria tend to be involved in things that are illegal, and you're here trying to follow the law, to be a good citizen, so you get frustrated," said Emmanuel Jimawo, who arrived in Canada recently on a skilled worker visa.
The 32-year-old, who earned around N180,000 a month as a business analyst at a utility company in Benin City, said he already had five interviews since moving, boosting his hopes of a brighter future.
A civil servant in Abuja who asked to be identified only by his first name, Victor, also cited graft as a factor for leaving.
"They (politicians) are keeping what they have for themselves and it affects everything else," said the 34-year-old who earns about the same as Ohemu and is applying for a visa for Canada.
For Aroleye, moving to Canada with his wife and child was "like being born into a new world."
"Nigeria is where I was born, it's who I am. But I had to run," he said.
A Nigerian graduate who has moved to the United Kingdom said he, just like many other Nigerians, took loans with interest, to study and work abroad.
He said to migrate to the United States of America, UK and Canada, one needs to have between N6 million and N20 million.
The UK-based Nigerian, in an interview with The Point on the condition of anonymity, said he was a freelance travel agent and had assisted many Nigerians to migrate to the UK, USA and Canada.
He said the rate at which Nigerians had been moving abroad had been skyrocketing and that by 2030, the number of youths remaining in Nigeria would have decreased drastically because "the system is not working in Nigeria."
He said, "The money needed to travel out of Nigeria varies and it depends on the country one is traveling to. For instance, I left Nigeria for the UK last year through a two-year Engineering Masters Programme. I spent over N6 million. I borrowed the money from my friends and with the social support work I have been doing here, I have been able to raise the interest and I am paying back gradually. They pay us here per hour and some days I work for three straight days without sleep. It's not easy.
"There are some that cost more than N6 million, especially if one could not do forex in CBN. If one exchanges Naira from Aboki, it will be higher. Here in the UK for instance, you don't evade tax. I pay tax on the house I rented, I also pay work tax, and why I have not bought a car here is because I will be paying car tax and insurance. The expenses will be so much. But it's still better by far than Nigeria."
He said there were neighbouring African countries Nigerians should not migrate to because of the shady human parts business going on there. He added that many Nigerians who migrated to these dangerous countries had been killed, abused and dismembered for money.
"For me, there are some countries that Nigeria is better than. These are our neighbouring African countries. I don't want to mention names but those who go there know how dangerous they are. In Dubai, I have seen how Nigerian girls are being raped and abused for money. The rate of human trafficking is increasing and many Nigerians are suffering for it. So, it is better they remain in Nigeria if they cannot migrate to better countries like the UK, USA and Canada," he noted.
The Director of Operations at National Agency for Prohibition of Trafficking in Persons, Daniel Atokolo, disclosed that the situation in the countries to which Nigerians were rushing was not palatable, blaming the development on multifaceted factors.
To stem the tide of emigration, a lawyer and Public Notary, Lawrence Ndukwe, said the government needed to reassure the youths, create jobs and build infrastructures comparable to those abroad.
"The government needs to seriously tackle insecurity in the country because people relocate as a result of insecurity. Even ex-governors and other politicians are on the run. Almost all the politicians have their first home abroad and use Nigeria as a tent," he said.
"Nigeria is a country that has tremendous economic potential, and we feel that one of the main reasons for our country being in the position in which we are today is bad governance. And so tackling those issues are real priorities for us"
IT'S A GREAT CONCERN – FG
On what the Federal Government is doing to stop the flow of migrants to Europe, the Minister of Foreign Affairs, Geoffrey Onyeama, said it was a question of governance and development.
He told The Point that the economic and security conditions were responsible for the younger ones moving to Europe.
"This particular government is focused very much on the causes of this outflow of Nigerians, especially the Nigerians who are prepared to take inordinate risks to reach Europe, and a lot of them meet their end, either in the Mediterranean or in the desert. This is a great concern to the government, and we feel that it really requires a holistic approach.
"So for instance, the three priorities of this government are security, the issue of governance, including corruption and so forth, and also job creation. We know that if we can deal with the question of security, and once we can really get the economy moving, lifting people out of poverty, providing jobs for our youth and so forth, there should not be that 'push' factor to emigrate, especially irregular migration.
"We understand that we really have to get our house in order. We face enormous challenges, but it's our firm belief that it's the job of the government to really tackle those fundamental problems. Nigeria is a country that has tremendous economic potential, and we feel that one of the main reasons for our country being in the position in which we are today is bad governance. And so tackling those issues are real priorities for us," Oyeama said.
On her part, Abike Dabiri-Erewa, chairperson of the Nigerians in Diaspora Commission, said recently that despite the number of Nigerians aiming to leave the country, there was also a significant number returning to the country.
Dabiri-Erewa cited a number of persons in the agricultural and healthcare sector coming into the country to invest and contribute to the development of the country.
She said the Duchess International Hospital where Vice President Yemi Osinbajo had surgery was established by Nigerians in the diaspora.
According to the NiDCOM chief, "there are many Nigerians doing great things".
"We speak of "japa" as a one-way phenomenon, but we also have Nigerians constantly returning home. There are examples of Nigerians returning home, occasionally or permanently, to do interesting things, in agriculture, healthcare," she said.
"The hospital where the VP was recently treated was set up by diaspora doctors. I'm not saying Nigeria is not a challenging environment, but we must also acknowledge those who are coming back home to do impactful things," she added.
The Nigeria Immigration Service could not give information on the actual number of Nigerians who had recently moved out of the country as the data had yet to be collated.