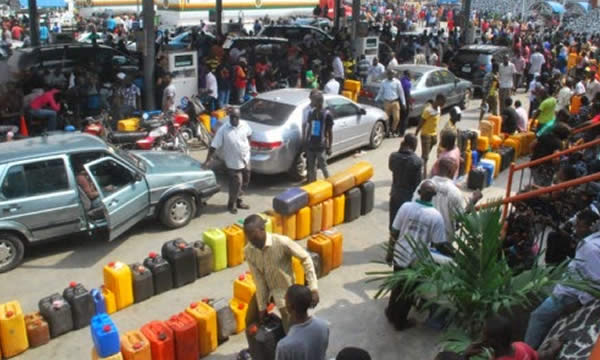 Chaos, fisticuffs in banking halls as customers protest
Fuel rises to N400 per litre in major cities
BY AUGUSTINE AVWODE, TIMOTHY AGBOR, BAMIDELE FAMOFOO, BENEDICT NWACHUKWU, MAYOWA SAMUEL, BRIGHT JACOB, FESTUS OKOROMADU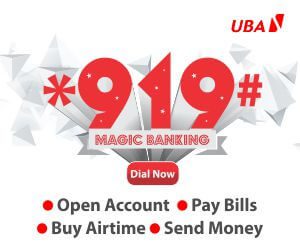 Nigeria appears to be on a standstill as citizens have lamented hardship following crises of fuel hike and scarcity, non-circulation of the resigned naira notes and skyrocketing prices of food items, transportation fares and other items.
In their separate exclusive interviews with The Point, citizens expressed worry over policies of the government including the naira change, saying they are almost going broke owing to their inability to withdraw money from banks.
Checks by The Point in Osogbo, capital of Osun State on Monday revealed that most of the Automated Teller Machines were thronged by bank customers who struggled to withdraw money.
While some ATMs of commercial banks visited were dispensing amid a tight crowd, others left their customers stranded as the machines were not loaded with cash.
At a branch of Polaris Bank at Fagbewesa area of Osogbo, customers refused to vacate the ATMs' points when the machines were not dispensing.
The Point gathered that the bank management didn't refill the machines after the notes already loaded in the machines finished at 5:40pm when our correspondent visited.
Frustrations were figuratively written on the faces of the customers who had visited the bank to withdraw their money. They were waiting and hoping that the bank officials would reload the machines with cash, but as at 6:30pm when our correspondent left the bank, there was no respite in sight.
One of the bank officials at the premises told our correspondent that the machines can't be reloaded. "There is no point waiting, my brother, I don't think anything will be done again today," the official informed The Point correspondent who approached him for inquiry.
One of the customers of the bank, who simply identified herself as Bolanle, told The Point that he had spent an hour at the ATM but could not withdraw cash.
"I came to this ATM at 4:30pm and over an hour later, I have yet to withdraw any cash. As you can see, the people that I met here have been sitting for a long time. The worst is that they (pointing to the bank security officials) are not even telling us anything. I have returned all the old money with me to the bank and that's why I decided to visit the ATM, now, I am stranded because there is no money with me to even transport myself home," she lamented.
In his remarks, another customer, who did not want to be mentioned, said, "It's sad that people will toil and suffer to get money, save them in banks but now face another hardship to withdraw their money. What kind of a country is this?, he queried.
Aggrieved by the continuous scarcity and rise in the prices of Premium Motor Spirit, popularly known as petrol, commercial motorists in Osogbo down tooled in protest last weekend in Osogbo.
The drivers, most of whom are 'Korope drivers' refused to work and accused fuel marketers of selling fuel at exorbitant rates, while other retailers hoard the commodity.
The protest brought more hardship on residents of the city who had to trek long distances to their destinations.
When The Point visited one of the fuel stations in Osogbo on Monday, De-Oduwoye, the fuel attendant said a litre of petrol cost N400.
"We sell for N400 per litre. They just brought fuel to us and that's the price the manager asked us to sell," the attendant at the station told our correspondent.
Meanwhile, Nigerian citizens have called on the Federal Government to look into the crises and alleviate their sufferings.

Lamenting the crises and explaining how fuel hike has affected him, in an interview, a contractor, Olalekan Lawal, said, "I and others around me have been encountering a lot of problems on the swapping of the old naira notes. It has been a total confusion as traders have been rejecting the old notes even before the deadline was extended. People go to the ATM as early as 5am, yet they meet a lot of queues. It has been a problematic experience and it is traumatizing for many.
"The problem is also coming from banks. They are only collecting the old notes without paying back with the new ones. That's why ATM points are crowded and people don't get to withdraw money. The Federal Government should do something urgently and save us from this hardship.
"Because of the queues, many fuel attendants are ripping innocent masses off with bribery. Some will collect stipends from you before they open the gate for you to buy fuel at costly prices and this is because there is a queue," he said.
In his own remarks, a businessman, Sunday Nwabuoku said many Nigerians are hungry and urged those in authority to explain to the masses why the nation is experiencing the crises.
"It has not been a palatable experience. Just recently, I bought fuel for N330 and it wasn't easy for me. Poor man can't even afford to buy fuel anymore and no one is telling us what is responsible. The Federal Government has refused to find a solution to the fuel scarcity. Nigeria is a big country, we can't be exporting crude oil and yet we don't have fuel in Nigeria.
"So, I think the government should do the needful. Up till now, no one has even told us the reason why we are having fuel scarcity. We don't know what's wrong with our refineries and we don't know whether the fuel products they imported are not enough. Those in authority should tell us why there is fuel scarcity. We are just approaching the election season and yet, things are as difficult as this, what will now happen if we get closer to the election?
"About the currency change, customers have been coming to me and lamenting that they don't have money to eat and that they don't have cash and we say we are in a country? I think what the government would have done is that if they know they don't have enough money to push into circulation, they shouldn't have contemplated changing the old naira notes. They (Federal Government and CBN) said they have a reason why they are changing the money but we the masses are at the receiving end of the pain this naira redesigning is causing.
"We are suffering. The Federal Government should push out money in circulation so that people should be able to withdraw money and spend it. We can't just remain like this. Hunger is killing a lot of people," he lamented.
While seeking urgent solutions to ameliorate the harsh effects of the happenings, Nwabuoku said, "I plead with the government to do something because we voted them in, we love them; this is our country, we can't run away from this country, but what we are asking them for is that they should make it easy for us. This was not what we bargained for. We beg the CBN governor, we beg the President and we beg all those in authority that they should find a way to alleviate this suffering so that we will also enjoy it."
However, a food seller in Osogbo, Friday Onu, said Nigerians were suffering for voting bad leadership.
"We will continue to complain because we are reaping the results of the N1000 we got from politicians during elections. That's all I will tell you," Friday told our correspondent during an interview at his shop.
Truly, Nigeria lacks leaders with empathy
John Unene told our correspondent that Monday was a chaotic day that loudly supports the claim in some quarters that Nigeria lacks leaders with empathy for the people.
Unene, who lives along the Lagos-Ibadan Expressway just before the Redemption Camp, narrated what he described as a "day full of harrowing experiences".
According to Unene, "I waited for power to be restored by IBEDC till about 8:00 am to no avail. I decided to go hunting for fuel to start the generator to iron what I will wear. There was only one filling station selling for N350 a litre. The chaotic situation was so distressing that I wished I never left home."
He said the "war" between vehicle owners and people clutching kegs of various sizes, the general bedlam and intense struggle just to get the stuff seriously discouraged him. He went back home.
"On my way home I decided to use the POS to withdraw some money. I was literally transfixed to the place I was when I was told it's N500 to N5000.
"I left in annoyance. After going through about four other operators and being told the same thing, I decided to just take N2000 and was to pay N200. Unfortunately, my account was debited twice without payment because of a poor network. I lodged complaints. By 6 pm, only one transaction had reverted.
"It was a terrible day. Honestly, Nigeria has no leaders who care for the people," he lamented.
The Point investigation showed that banks in Ogun State, specifically in Mowe and its environs have refused to pay out cash to their customers.
Adebisi Isaac, a PoS operator told our reporter that he had resorted to scavenging for cash to keep his busy afloat.
His words: "The situation has remained the same and now it is getting worse as all the banks in the Redemption Camp and those outside the camp are not paying at all. There is now no cash for people to carry out their daily transactions."
Isaac lamented that PoS business operators now depend on filling stations and other high net worth business owners to source for cash to service their customers.
To worsen the plight of residents of the state, market women and motorists now refuse to collect the old notes despite the 10-day extension given by the CBN on Sunday for people to deposit the old notes to banks.
At the electricity department of the Redeemed Christian Church of God, customers who wanted to pay for their electricity bills were denied the opportunity to do so as they could not pay with cash. Ironically, the Point of Sales was not also functioning and customers were compelled to use the online payment platforms to settle their bills.
Mrs. Jumoke Obafemi , a shop owner at the Redemption Camp told our reporter that her experience at the electricity office was frustrating, adding that the situation in the office was chaotic as customers like herself could not pay due to the unavailability of cash and failure of available payment to function properly.
Meanwhile, the chaotic situation at petrol stations in the state is calming down as residents have accepted a new fuel price of between N310 and N320 per litre for petrol. Filling Stations who hitherto refused to sell fuel at the N185 per litre stipulated by the Federal Government and had resorted to hoarding, now open their doors to motorists who are now willing to buy at the prevailing market price.
This is a government of pain and sorrow
Long queues have taken over most parts of the country, particularly filling stations which has caused huge traffic gridlock on many roads across the country, as well as at bank ATMs and counters where customers struggle to access their own monies.
Sharing his experience, human rights lawyer, Ken Eluma Asogwa lamented that he had to pay a commission fee of N1, 000 to withdraw N10, 000 from a PoS agent. He also called on security agencies to call the oil marketers to order.
Asogwa said, "It's been a very difficult situation. As a matter of fact, just this afternoon, I went for a meeting in a hotel in Abuja where I needed cash to pay for the gate fee when I was leaving the hotel. So, I approached a PoS agent, I had to pay N1, 000 commission to get N10, 000, that is, they literally charged me 10% of the amount I was to get. You know what N1, 000 means for an ordinary Nigerian who wants to collect N10, 000 but has to part with N1, 000? It means a whole lot.
"I don't want to toe the line of the National Assembly that suggested June 30 as the deadline because if those were actually the reason why the CBN did this, then maybe it's altruistic and of national interest but they should've found a way around this. I don't think they should have visited this kind of suffering on the average Nigerian who may not even understand the reason for the policy.
"This appears like someone trying to chase a rat but you put your whole house on fire just because you want to catch the rat. It appears like it is just one politician that's being chased on account of this. And I even understand that the politician even had the guts to come out on national television to tell everybody that he's the reason why this policy is in place now.
"On the fuel crisis, it is very pathetic because in the next two or three days in February, it will clock one year that this began, it didn't just begin now. Nigerians have been living with this fuel crisis for the past 12 months, yet every day, they keep assuring us that there's enough fuel. The only time we had little reprieve in the last one year over this fuel crisis was when DSS issued a warning and in the next 48 hours, it ended. That means some people are deliberately inflicting pain on Nigerians.
"I enjoin the president, if it is that warning from the DSS that will restore normalcy, please do it, because Nigerians need fuel. They've not even removed the fuel subsidy, I don't know whether this is a ploy because I understand that each time the government wants to increase the fuel price, they always try to inflict injuries on Nigerians, so that Nigerians will buy it at high price, that's what they're trying to do. They'll know that they're in for deeper trouble because Nigerians are going to resist any fuel increment at this time," he added.
Former Secretary General of the Organisation of African Trade Union Unity and human rights activists, Owei Lakemfa, stated that the crisis in the country means the country is grounded and businesses are starting to pack up "because you can't get money from the ATM easily, it's actually not there."
"If you enter the banking hall, you are still given the old notes. Yet, it was this same government that willingly decided to change the currency and fixed date, so there's no excuse at all for what's going on now, unless you don't know what is going on.
"People have the right to their money, businesses are gradually grinding down in various markets, since the new notes are not available and people are not accessing the old notes. What this government is doing does not make sense, it's not logical at all."
On the fuel queues, Lakemfa is of the view the crisis is being perpetuated by the government to frustrate Nigerians, because the government has been unable to apprehend those keeping the fuel and the new notes from getting to Nigerians, also wondering why the government has been unable to refine petroleum products.
He said, "The queues at fuel stations, we all know, have been going on for a long time. This, in my view, are planned by the government, so that people will get frustrated and buy fuel at high price, because if you claim you're a government and there's a price for the cost of fuel, but marketers are either not selling the product they have or are selling above the official price, what has been done to call them to order? Nothing. So, there's a big problem in the country and the problem is self-inflicted or planned by the government.
"Why can't we refine fuel? There's no reason. In the Niger Delta, up till tomorrow, people produce their own petroleum products. In the riverine areas, across the waters, fuel tankers don't cross, where the people have diesel, kerosene, petrol. Where do they get them from? They get them by refining it. So, there's no reason why we can't refine petroleum products in the country.
Narrating his experience, human rights lawyer, Yomi Ogunsanya, said he was unable to get cash as PoS agents and bank ATMs are without cash, making him unable to make transactions as he lamented the situation in the country.
He said, "I had to queue for about four hours before I could get fuel, even as we speak now, I have only N200 in my pocket. All PoS are not dispensing. I am in Maitama now, we are waiting for the PoS agent, and there are a lot of queues here. They are not loading the ATM machines, the few ones that are loaded, there are so many queues there.
"In fact, on Friday, I saw two people fighting because they wanted to get the new currency. It's their money, but the government is not giving them, it's very bad and I'm still experiencing it right now because I'm going round to see where I can just get a little cash. The truth is, you can't just do without cash for now. How do you buy things from the market women? Are you going to pay them through transfer? This government is just a government of pain and sorrow. During the elections, Nigerians are going to take a cue from this and massively vote out this nonsense party, they should be thrown into the dustbin of history.
"It's a very sad thing that the country is like this. You have to queue for everything, to get money, to get fuel, and so on. The country is almost grounded and you have the party in power still contesting.
"What they ought to do is to go round the country begging Nigerians, having put them in so much pain. This government is at the tail end, at the eleventh hour but they are still misbehaving, putting people under unnecessary pressure. You can't be suffering people, how much more can we go? They keep saying bear it, but how long are we really going to suffer?
"Go to the ATMs, the new notes are not there; go to the fuel stations, the fuel is not there; you have money but you can't even access your own money. This is happening less than a month to the presidential election, a very decisive one, people are suffering, I've never seen this type of government before. Everywhere you go, it's the same story, it's like nobody is in charge of the country, we are going through a lot.
This country is finished, Abuja residents cry out
The persistent long queues at all the filling stations in the Federal Capital Territory, Abuja and its environs have taken a toll on the residents as most of them try to no avail to get the product which has become completely out of reach even after spending days on the long queues.
A visit to all the major and minor filling stations in the city centre and the adjoining villages by The Point shows that the citizens have given up hopes with a belief that the country has completely finished.
Adolie Kingsley, a public servant who spoke with The Point at the Total filling station in Abuja said he has spent over three hours on the queue and yet had no hope of getting into the station, let alone of buying fuel.
"It's terrible. All my life, I have not experienced this kind of thing. I made up my mind to come and queue to buy fuel. I managed the little quantity I bought from the black market and drove down here. It's already bad news because there's no hope of getting into the filling station let alone to buy and the fuel in my car cannot take me back home. All you see are these boys doing brisk business by taking vehicles that gave them bribes into the station but those of us who are here on the queue are neglected. The operators of the stations are conniving with them. We have shouted and complained yet nothing is changing. Even with the hike in pump price nobody can get fuel to buy but everywhere in front the filing stations you see black marketers with their Jerri cans filled and selling. My brother, you people should help us. Nigeria is completely finished."
Anioma Peter, a tricycle operator in the outskirts of Abuja lamented that operating a Keke Napep this time around is hellish. He said the situation Nigerians now find themselves is between the devil and the deep blue sea.
"This fuel problem has made riding Keke Napep very difficult. I spend N4, 500 on fuel every day because I buy from black marketers. Any day there is fuel in any of these filing stations and you want to buy from that station be rest assured that you will not work that day. You will spend the whole day on the queue, so how will somebody deliver the agreed amount to the owner?
"In fact it is like we are operating in hell. I don't even eat these days and even to feed my family is a problem because the little I would have used to feed my family goes into buying fuel. And the worst is that the owner wants his money every week and I must not give him excuses. So, it's me and my family that are suffering from it."
He lamented that even some of the fuel they are buying are adulterated and have destroyed their carburetors.
"I have changed my carburetor two times since December because of the bad fuel. I don't know if they mix the fuel with anything. You buy it the next thing is the Keke will start shooting and before you know it, it's off and to start it becomes a problem. Honestly this APC government has shown us pepper. A litre of fuel in the black market is N350. Before now I used to fill my tank with N1, 200, but now it is N4, 000. How can we survive in this situation? Instead of things getting better, it is getting worse every day yet there is a government."
He also lamented that as they are grappling with the fuel crisis, the old and new naira problems came up.
"We are crying because of the fuel crisis, new naira and old naira joined. These black marketers are now refusing to collect old naira notes. If you don't have new naira notes they will not sell to you and if we say we will not carry any passenger who does not have the new notes, we will ride empty cars. This is very serious. No money, no fuel. Passengers will tell you they queued for many hours in the banks yet did not get the new notes and what do you want them to do? There is confusion everywhere. The suffering is too much. Thank God they said the government has extended the deadline, at least the black marketers will collect the old naira for this week. It's very bad."
The endless long queues at filling stations are seriously affecting traffic flows in some areas of the satellite towns as motorists fix themselves in any available space not minding whether they obstructed traffic or not.
Residents of Jikwoyi, Karu along Nyanya Karishi road where there are over 15 filing stations are subjected to hours of heavy traffic. At times they spend two to three hours at a place as if they are also on the queue when any of the filing stations is selling.
A passenger who spoke on the ordeals commuters are facing on this road on a daily basis said the country has finally collapsed. Giving his name as Ebam Tor, he said "Nigeria has finally collapsed. The country is finished because with these two major problems in addition to the insecurity we are lamenting about, I don't see how we can come out of it.
"There is no money, no fuel and even when they want to sell the fuel, disorderliness at the filing stations cannot be described. Do you know that some days like last Friday, we spent almost three hours just because a filling station was selling fuel? Those who wanted to buy fuel covered the road forcing vehicles to take one way and everywhere was locked up. Some of us came down from the vehicles and trekked so that we would not have problems in the office. How long will this continue? What is the hope of the ordinary Nigerian? This government wants to finish us before they leave."
Lawrence Amaechi, President of the Nigerian Civil Service Union, revealed that his members were also feeling the pinch caused by the scarcity of fuel and naira notes.
He said he was also not exempted from the sufferings. According to him, the standstill in the country was the focus of the meeting called by his Union when our correspondent called to speak to him.
"I am also feeling the pinch. Everyone is feeling the discomfort and pain. We are feeling it badly and that is what we are even discussing right now (in our meeting). We want to ensure that the APC does not return in February.
"Things have gone up. There's no food, no money. I don't even have N2, 000 in my pocket as I'm talking right now, because when you go to the ATM, you stay in the queue but will still not get any money," he said.
Amaechi also countered those who peddled false information about the salaries of civil servants.
He said civil servants were paid N30, 000 (minimum wage) which "cannot take us home".
He said the situation in the country meant that the hardship faced by his members had increased, but that his Union was making a case to the government for "salary adjustment".
"Civil servants are not well paid. Is it N30, 000 that cannot take us home? In this kind of economy? We are not well-paid. In fact, we are trying to make a case for salary adjustment," he said.
Also painting a gloomy picture of the current situation, clergyman, Emeka Onwuha, said that "only a man who wears the shoe knows where it pinches".
Onwuha said it was unfortunate that Nigeria "with an abundance" of oil and gas, was experiencing scarcity.
He also said he would not act like he was a "super-man" as the hardship was also getting to him. He noted that the scarcity of naira notes had led people to trekking long distances as money was "not available to buy things".
Onwuha, who is a pastor at the Church of Faith Bible Ministry, also disclosed that transporters had begun to instruct their passengers to pay their fares with the new naira notes.
"It's only a man that wears the shoe that knows where it pinches. Nobody can tell me how my shoe feels to me. Indeed, I must say that it's unfortunate that there's no fuel supply in the country even though we have it in abundance somewhere, and money too is not in circulation anymore.
"No ATM dispensed money for people. People are just trekking on the roads because there's no money to buy things.
"Indeed, for me as a person, I will not begin to act like 'super-man', because I also feel the pain. We just try to believe in God that He'll help us go through the pains and overcome them.
"Like the vehicle I entered, you will hear vehicle owners screaming that those with the old notes mustn't enter their vehicles. They are now saying you must make payments with new notes that are not available," he lamented.
Onwuha also said that Nigerians were suffering emotionally and psychologically. He said Fela Kuti was right to have described Nigerians as "people who will be suffering and smiling at the same time."
Furthermore, he noted that the current situation Nigerians were facing was a recipe for "fights, quarrels and anarchy", because people were walking about with hate and pains in their hearts.
Banks witness large queue at ATM
Meanwhile, residents of the Federal Capital Territory on Monday called on the government to come to their rescue as the challenges they face in accessing premium motor spirit and the redesigned Naira notes remain difficult.
Although a remarkable improvement was noticed in some filling stations in the Abuja municipal area in terms of those seen dispensing the product, a motorist who spoke with our reporter said most stations were selling above the government approved price of N145 per litre.
A taxi driver, Achie Todo, said he bought fuel at the Mobil Filling stations in Jabbi area for N250 per litre. While comparing the situation to last week, he said there is an improvement in terms of product availability.
"The queues are getting less only that we have to buy at a higher price, although not as high as what we pay for it in black market.
"I just bought fuel at N250 per litre from Mobil Filling stations in Jabbi this morning but my friend who bought at A. A. Rano's new Jabbi garage said they sold at N245 per litre."
A civil servant, Matthew Adewale, said the AYA axis where he bought fuel at noon witnessed a light queue while he bought for N245 per litre.
But the situation along the Abuja airport road was quite different as a number of filling stations in the Lugbe axis monitored in the afternoon didn't have the product.
The few stations that were seen dispensing sold the product for N250 per litre.
A manager at one of the filling stations who spoke with our reporter on the condition of anonymity, said products have started coming in only that they bought at a higher price from the depots hence they can't sell at the government recommended price.
He therefore called on the management of the Nigerian National Petroleum Company Limited to save the situation by ensuring that depot owners sell at the recommended price.
"As long as depot owners sell above the government recommended price there's no way we can do better. We have a cost to settle, staff to pay," he said.
However, one new development noticed was that most filling stations no longer use Point of Sale machines. While some out rightly advise customers to make cash payments, they equally charge different prices for those making purchases with the new Naira notes and those using the old notes.
A PoS operator, Mariam Abah, who went to a first generation bank in Maitama district came out wailing as she was paid with brand new N50 notes and only offered the N20,000 maximum.
"How do I carry out my business today with this meager amount? Look at the queue, I have been here since 8 O'clock, as a customer I went inside to see how I can get some new notes but they asked me to go join the queue all they can do for me inside is to give me the old notes," she cried.
Narrating a similar fate, Andrew Akodo, a resident of Gwarinpa, told our reporter that the banks' ATMs in the area on Monday were dispensing money. According to him, operators of PoS are charging N1, 000 for N10, 000 for the either old or new notes.
In the Wuse Zone 5 area, our reporter observed that there were long queues in banks' ATMs as customers struggled to collect new notes.
Meanwhile, in an effort to overcome the daily restrictions on withdrawal limits, many people now go to ATMs with multiple cards from different banks.
Oluwatoyin Ayeni, a PoS operator, told our reporter that he had to use multiple accounts to be able to withdraw enough for him to remain in business.
"As you are aware, most banks now restrict withdrawal limits to N20, 000 per day. The only way I can continue to operate my PoS business is to use different cards of different accounts to withdraw. That way if I manage to use 10 ATMs, possibly twice I can get what I have to use for the day."
He noted that though it was challenging, he stated that the reward is encouraging.
"We charge 10% for any transaction now. If you're withdrawing N10, 000 we charge N1, 000 and N500 for N5, 000.
"It is not our fault, you can see that it is tough to queue up and make withdrawals, sometimes you have to fight with other people in a bid to make withdrawal from the ATM as others usually quarrel over the use of multiple cards. But we have to continue doing our business," he said.