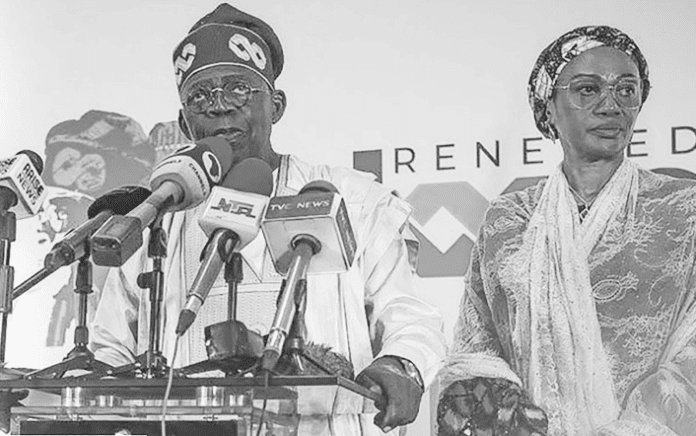 BY BRIGHT JACOB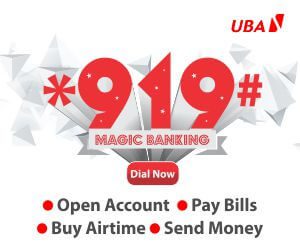 To my lovely wife, Oluremi Tinubu…you the Senators, don't expect her back (in the Senate). "She's going to be my housewife and First Lady," says former Governor of Lagos State and now Nigeria's president-elect, Bola Ahmed Tinubu, about his wife of 36 years as he gave his acceptance speech after he was announced as the winner of the February 25, 2023 presidential election held in Nigeria.
In the view of Nigerians, human rights should be taken seriously by the incoming administration and also factored into the president-elect's agenda for his first 100 days in office. And not only human rights activists, Nigerians generally are interested in the agenda of the incoming administration. After suffering untold hardship, with an economy perpetually bugged down by hyper-inflation and with about 133 million of its citizenry multidimensionally poor, the desire for a new captain able to lead them is imperative.
While Tinubu was disclosing what his wife's status would be when he becomes Commander-in-Chief, his supporters who gathered with him burst into rapturous laughter, likely agreeing with the "City Boy" on the need to have his wife at his beck and call. On her part, Remi was obviously happy with the new arrangement postulated by her husband. In fact, while Tinubu was still speaking, Remi had humorously interjected, saying to a roar of approval that she would also be "in the other room".
However, not all of Tinubu's listeners were pleased with his position regarding his wife. That those in the human rights community took exception to Remi steering the affairs of a hapless nation is understandable. Therefore, from health, education, economy, agriculture to every other sector and aspects that impact them, human rights inclusive, Nigerians want the "renewed hope" Tinubu and his team ran with during the campaigns.
They came out en masse to elect who they felt had the panacea to run a successful government and effect positive change, and they expected that Tinubu would set the ball rolling on rescuing Nigeria. National Coordinator of the Human Rights Writers Association of Nigeria, Emmanuel Onwubiko, in setting an agenda for the president-elect, told our correspondent that women in Nigeria were "marginalised a lot" and Tinubu's utterances about his wife could suggest that his government would also be guilty of relegating women to the background.
"STRIKES ARE A PRODUCT OF TRADE DISPUTES. IT IS TRADE DISPUTES THAT LEAD TO THE DECLARATION OF STRIKES, AND IF HE SAYS THERE WON'T BE STRIKES, WHAT WE EXPECT HIM TO DO IS TO RESOLVE ANY TRADE DISPUTES OR CONTENTIOUS ISSUES THAT COULD LEAD TO A STRIKE"
"Women are marginalised so much. The number of women that even ran during the last election is quite few," Onwubiko said while hoping that the incoming government would bring some reprieve. But, he still nursed some fears.
"So, Tinubu's government…it looks like he may not even respect the issue of women representation, or gender equality. "Because he was saying that his wife is not going to go back to the Senate. And if he is saying that his wife will be a housewife…he shouldn't look at women from the prism of being housewives. "Women are meant to be like every other person. They're equal to men. So, this government has to stop giving the impression that the wife has to be in the other room," he said.
Onwubiko also said that as Governor, the human rights situation in Lagos State was quite poor. According to him, Tinubu's era ushered in the imposition of high taxation on the people. Many petty traders were also chased away from their stalls and poor Lagosians who built shacks in some areas of the state were evicted.
Still speaking, Onwubiko said that members of Tinubu's Presidential Campaign Council "didn't look like people who were tolerant". He feared they might advise him to be a dictator. And though Onwubiko also said that a lot of Nigerians didn't accord any legitimacy to Tinubu as president-elect, there was a need for him to prove his opponents wrong about not being a drug dealer many years ago, by funding the National Drug Law Enforcement Agency and retaining its present leadership.
He equally noted that before his first 100 days in office, Tinubu should address the poor conditions of correctional institutions, or prisons, which he noted were "not good enough to keep criminals out of circulation". Others Onwubiko listed include human and child trafficking, baby factories, gender equality and the police, whom he noted were the greatest violators of human rights.
HIT THE GROUND RUNNING
The February 25 presidential and National Assembly elections may have come and gone, but a popular line from Shakespeare's King Henry the Fourth which states that uneasy lies the head that wears a crown, will undoubtedly be the reality of Tinubu as he goes into overdrive for his inauguration as the 16th president of Nigeria on May 29 and set agenda for himself in office.
Thus, even if the kingmakerturned-king may have served meritoriously as Governor of Lagos State during a sensitive and thoroughly demanding period in Nigeria's chequered political history, the office of the President would be a different kettle of fish for the political juggernaut as he is expected to bridge the divide between Nigerians.
In 1999 after Tinubu was inaugurated as the Governor of Lagos State, the cosmopolitan city had great expectations of what the then-returnee former National Democratic Coalition chieftain would bring to the table. And being a former Senator, too, raised those expectations a notch higher.
Lagosians also wanted a Governor who would hit the ground running. But it wasn't to be as Tinubu took a considerable while before inaugurating his State Execute Council. For the first few months after he took the exalted governorship seat in Lagos, the machinery of governance didn't grind a great deal in the state at the beginning of his tenure, and the eyesore that was the refuse dumps that had been associated with Lagos grew more appalling in the very eyes of distraught Lagosians.
Not too long, however, there was a "pop" that jolted those in the corridors of power in Lagos State out of their reverie, and this was followed by a sudden boom in developmental projects across the state. The social contracts Tinubu signed with the electorate began to come to fruition. And the rest, as they say, is history.
As president-elect today, Nigerians may not accord Tinubu the luxury of time he may have enjoyed in Lagos before the members of his State Executive Council were inaugurated and roared to life. Nigerians have been languishing under the hardships imposed by the scarcity of naira notes and lingering fuel crisis.

As such, they are demanding from the Asiwaju lasting solutions to the festering problems they suspect might see out the current administration. And Tinubu's unflinching desire to salvage Nigeria, notwithstanding, analysts agree that Tinubu would have his work cut out for him as he begins to put modalities in place to guarantee he hits the ground running after the May 29 handover ceremony.
Perhaps to dispel fears about his ability to deliver on his electoral promises, Tinubu was asked during one of his presidential campaigns what citizens should expect from him in his first 100 to 200 days in office, and to the admiration of his supporters present, he said, "Day one, hit the ground running.
Day two, continue running. Day three, don't rest." But as invigorating as Tinubu's response sounded, Nigerians have nevertheless continued to express fear over the health status of the almost 71-year-old political generalissimo.
While not a few of them think that Tinubu's health challenges would affect his performance in office, his diehard supporters have used his activities during the electioneering campaign season to gauge his physical fitness, giving him a clean bill of health.
PAST EXPLOITS AND FUTURE PLANS
As Governor of Lagos State between 1999 and 2007, Tinubu was perceived to be the blueprint for good governance. For instance, in the education sector, he blazed a trail with new innovations that helped shape education in the State. Apparently, the Lion of Bourdillon also scored many firsts as he tried to reform and resuscitate an already comatose education sector in Lagos State.
Many programmes that concentrated on retraining teachers were put in place, WAEC and NECO fees of every senior secondary school student in Lagos State were paid in full, millions of naira in bursary and scholarship awards to students in tertiary institutions were disbursed, and the Millennial classroom blocks he constructed, all stand as testaments to his leadership sagacity.
On a national scale, Tinubu has told Nigerian youths that he hears them loud and clear. And true to himself, he has prioritised education, promising at every turn to bring back the glory days of student loans and put an end to the incessant strikes in the nation's university system, if elected into office.
During one of his presidential campaigns in Abeokuta, Ogun State, he said, "There will be a student loan, nobody will drop out of university because of school fees, I guarantee you that. "Nobody will have to repeat one class for eight years and not graduate (because of strikes). We are too smart, we are brilliant, we are courageous, we will make a four-year course to be a four-year course," Tinubu said.
And it gets better. Shortly after being declared the winner by INEC, Tinubu reiterated these promises, adding an outright ban on the sale of handouts this time around. "I will pay attention, undivided attention to your education. We will be creative. Credit will be available. Education loans will be available.
Four years course will be a four years course…no more strikes. "Your universities will have the autonomy to be able to upgrade your syllabus and be creative. No more selling of handouts. They (lecturers) must be authors. They must write and create for the nation," Tinubu promised. As expected, Nigerians commended Tinubu, but asked how he would walk his talk when his predecessors had all failed to tackle the monster that is strike actions.
Answering this poser, the President of the Academic Staff Union of Polytechnics, Anderson Ezeibe, said that strikes were a product of trade disputes. According to him, the solution to ending strikes doesn't rest in mere word of mouth, but is tied to resolving issues that lead to them. He said that the sale of handouts was an issue of regulation within the purview of respective institutions to legislate and shouldn't concern the president-elect. About Tinubu ending strikes, Ezeibe said, "The ball is in his court.
Strikes are a product of trade disputes. It is trade disputes that lead to the declaration of strikes, and if he says there won't be strikes, what we expect him to do is to resolve any trade disputes or contentious issues that could lead to a strike. "In the education sector, these issues are there and are already defined. The issues are cut out for him. So, it's not a matter of saying there won't be strikes. It's a matter of resolving the issues that would lead to it. It will be good if he resolves these issues," he said. Continuing, he said, "I don't know what he means by 'there won't be sale of handouts'.
I will just assume that he is doing campaign…because I don't see how he will get himself involved to that level. This is an issue of regulation or decision that lies within the purview of respective institutions to legislate. "For instance, in the universities, they have their senate and governing councils. In the polytechnics, they have their academic boards and governing councils. So, I think that the work or what is on the desk of the president-elect would be too serious for him to be talking about whether there would be the sale of handouts or not. Because I know that a lot of schools have banned sales of handouts on their own," he added. Ezeibe also urged Tinubu to hit the ground running by having a team of competent persons with the right level of capacity, experience and passion in place. He frowned at what transpired in 2015 when Buhari came to power and took several months before announcing his cabinet.
"We'd like to see a team that would be put together and can address the issues in the economy, education sector and security, as well as the different agitations in different parts of the country. "If he can provide some concrete direction in the first 100 days in these areas, I think that it will be soothing for Nigerians," he concluded.
THE GREATEST ECONOMIC AGENDA
Lending his perspective to the subject of an economic agenda for Tunubu's first 100 days in office, a legal practitioner and general policy commentator, Fred Aigbadumah, told The Point that the greatest economic agenda Tinubu could bequeath to Nigerians in his first 100 days in office was to address the level of suffering and pauperization of Nigerians. According to Aigbadumah who is knowledgeable about micro and macro-economic developments in the country, rescuing Nigerians from impoverishment would be "a real, genuine and sincere palliative" to ameliorate the sufferings of the common man.
Aigbadumah also observed that the pauperization of downtrodden Nigerians and the inability to access funds (naira notes) had led to many businesses becoming comatose and in some cases moribund. He added that there were many businesses that rely on cash for survival but were put in dire straits by the cashless policy.
"So, that should be a starting point (for the president-elect) in his first 100 days in office…redeeming the situation, revamping the economy and thinking of refocusing on the trust that should have been there, which is the essence of government," he said. On the naira swap policy of the Central Bank of Nigeria, Aigbadumah said it was "yet to make any difference". He called for the reintroduction of the old N500 and N1, 000 notes if such action would mitigate the sufferings of the common man, either on an interim level or permanent basis.
In addition, Aigbadumah said, "Let Tinubu give priority to the common man on the streets. He should not behave like some others would…that this state or that didn't vote or voted for me. The beauty of democracy is that some people are bound to differ with you."
A DYING HEALTH SECTOR
On the health front, a medical practitioner, Matthew Sani, said that a road map for discouraging medical doctors from migrating to foreign lands for greener pastures would show that Tinubu and his team were "serious" about addressing Nigeria's health challenges. Sani said that it was unfortunate that health institutions in the country were in a sorry state, with their facilities outdated and over-stretched.
He urged the president-elect to make funds available to revitalise what he called "a dying sector". Sani said that just like tertiary institutions, the health sector has also had its fair share of strikes. He reminded Tinubu to also do everything he can to ensure that the sector didn't experience any strike action again.
"Without our doctors, our health sector would be like a sinking ship. Unfortunately, the best minds in the field are moving out and the country seems helpless to address the situation. Tinubu, as part of his agenda for the first 100 days in office, should produce a road map to show that he's serious about tackling the situation. "Funds are needed to revitalise this dying sector. Our health institutions are a sorry sight.
"I heard the president-elect promising to end strikes in the universities. Well, if you ask me, we've also had protracted strikes in the health sector, and I think Tinubu would be doing the sector a world of good if such a promise was also extended to us here," Sani said.