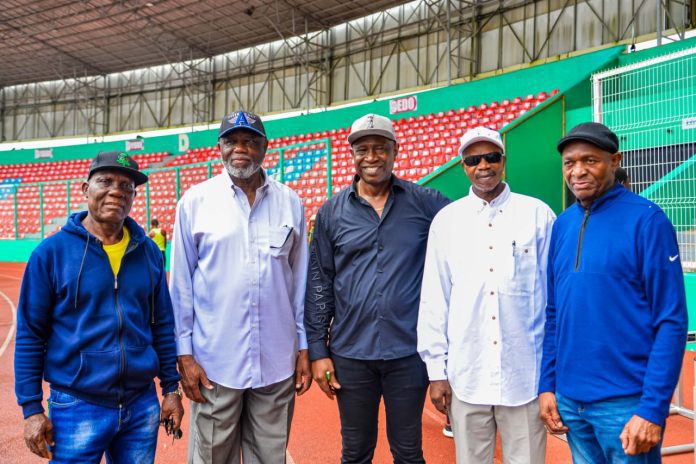 Legends of the Samuel Ogbemudia sports revolution in the old Midwest/Bendel State and Olympians, Godwin Obasogie, Charlton Ehizuelen and Bruce T. Ijirigho, have assured that they will support the Edo State Government in grooming athletes in the state.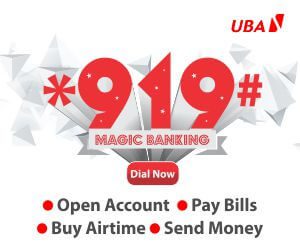 The trio gave the assurance after touring the Samuel Ogbemudia Stadium in Benin City on Wednesday.
They commended Governor Godwin Obaseki for transforming the stadium into a world-class complex.
Obasogie said: "The Governor has done a fantastic job. What I have seen in this stadium is unbelievable. This stadium has been transformed to a very high level. I never expected this. I was watching the roof on the television in the United States.
"I was grading and comparing the roof and can confirm that this is the same roof we have at Yankee Stadium, the newest Stadium in the U.S. I was watching it on television. Now seeing it, coming here, I can confirm that this is a fantastic job.
"If we had this when we were running, most of us could have set world-class records. The children need to come. We came out in our time without any of these. Some were running barefooted.
"We ran on Cinder tracks here in Ogbe Stadium. Look at these facilities. This is the Olympic standard. I have travelled widely. I have run across different countries. I have seen the facilities and this is truly fantastic."
According to him, "Like I saw those children training, I love what they were doing. If an event is happening here, we have to encourage the parents to let their children come out. Let the children take tours.
On his part, Ijirigho, said, "All the facilities we have seen are of world-class standards. We started our careers in this stadium as little boys. That was 53 years ago and we are back now to see what is here; it is amazing."
He added, "Edo people should be grateful for this and what we have to do now is to get the young children out of their comfort zone. Get the parents to encourage the young children to bring them out.
"Let them come and take advantage of these facilities and rise to the top because this is all that is left to be done. We believe we can produce great world champions from this place.
"We have done it in the past. We can do it even in greater numbers right now because there is no excuse not to achieve greatness at this point, considering all of these facilities the Governor has put in place. We are impressed.
"We will work in partnership with the Governor. He has sports and youth at heart. He is the man who will make wonders happen in this stadium.
"We are coming to develop sports, particularly athletics. For now, we want to organise some competitions in the very near future. There will also be a major reunion for our team of 1971, which dominated this whole country in athletics.
"The competition will be organised with Edo and Delta States. The greatest team in athletics is in this country. We believe that more than 50% of the athletes that will represent this country in the future will be coming from that competition.
The Executive Chairman of the Edo State Sports Commission, Yusuf Alli, said: "If you look at the statistics of Nigerian sportsmen and women, probably about 20 to 25% of Delta and Edo in the national team. In those days, it was over 95%. That is what we are trying to replicate.
"I am glad that the three Olympians want to help us and contribute to what we are doing. The Governor has also given me the mandate that I must put one of them each in the Sports Associations as patrons."