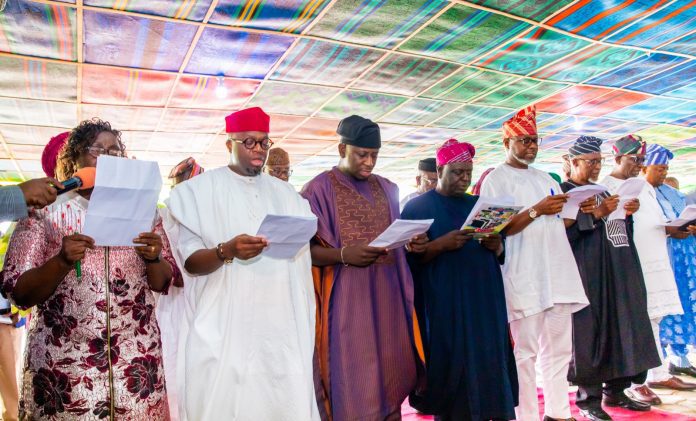 BY KAYODE FAUSA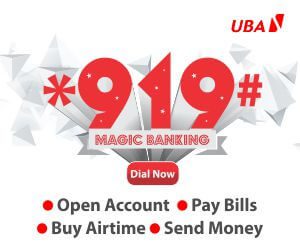 Ekiti State governor, Biodun Oyebanji, on Tuesday inaugurated a new set of Oyebanji inaugurates new Commissioners, Special Advisers and Special Advisers to have a full compliment of members of the state executive council .
A total 19 Commissioners and 14 Special Advisers were inaugurated at the carnival-like event witnessed by current and past office holders, traditional rulers, community leaders and the general public.
The governor used the forum to debunk allegations in some quarters that he had been running government without cabinet members since coming to power on October 16 last year.
Oyebanji also disclosed that it took him time to form a full cabinet because of his resolve to keep to the promise he made that the people in the grassroots would be involved in the formation of the State Executive Council.
Addressing a mammoth crowd that thronged the Osuntokun Pavilion inside the Government House, Ado Ekiti, Oyebanji explained that his cabinet had been in place since November 2022 with the appointment and inauguration of the first set of Commissioners and Special Advisers who had been holding executive council meetings on a regular basis.
Those inaugurated in November 2022 included the Attorney General and Commissioner for Justice, Dayo Apata; Commissioner for Finance and Economic Development, Akintunde Oyebode; Commissioner for Health and Human Services, Oyebanji Filani, and nine Special Advisers.
Oyebanji said: "We inaugurated Commissioner for Finance, Commissioner for Health, Attorney General and Commissioner for Justice and many Special Advisers in November last year and yesterday was our 8th exco meeting and the exco had approved the 2023 Budget and Supplementary Budget.
"It was our agreement that we will not do (more) appointments until the end of the general elections which ended in March. The Committee on Political Appointments submitted its report May 31, the old Assembly ended on June 5 and the new Assembly began on June 6 and the screening of the nominees was part of the first assignment they undertook.
"I can't understand why party members are alleging that the Governor has refused to form his cabinet. We had one in place. What we are doing today is to expand the state executive council membership in line with understanding we had with the leadership of the party. I want to be remembered as a governor that tells the truth, and does the right thing."
The governor enjoined the new appointees to be connected to the grassroots, pay attention to their political environments and not be a "political moonlighter who is rarely seen at home."
The state chief executive further urged them to develop the right socio-political skills and emotional intelligence to manage expectations with tact and empathy.
He disclosed that the entire cabinet would proceed to a retreat that runs from Thursday, August 10 to Saturday, August 12 "to give them opportunity to share ideas and get educated about the call of public administration procedures and properly understand and dissect the six pillars of his administration.
The new Commissioners and their portfolios are: Ebenezer Boluwade (Agriculture and Food Security), Oyeniyi Adebayo (Budget, Economic Planning and Performance Management), Taiwo Olatunbosun (Information), Adesola Adebayo (Works), Kehinde Ajobiewe (Transportation), Kofoworola Aderiye (Education), Folorunso Olabode (Local Government Affairs), Gold Adesola (Youth Development), Mrs. Tosin Aluko (Environment and Natural Resources) and Mrs. Peju Babafemi (Women Affairs and Social Development).
The rest are Mrs. Tayo Adeola (Industry, Trade and Investment), Patrick Tedela (Capacity Development and Training), Seun Fakuade (Innovation, Science and Digital Economy), Kayode Fasae (Wealth Creation and Empowerment), Femi Awe (Rural and Community Development), Dolamu Adeniyi (Special Duties), Ojo Bakare (Arts, Culture and Creative Economy), Kareem Akande (Regional Development and Intergovernmental Affairs) and Ojo Atibioke (Chieftaincy and Home Affairs).
The new Special Advisers and their portfolios are: Tade Aluko (State Capital Development Authority), Gbenga Oloniyo (Housing and Mortgage Development), Gbenga Agbeyo (Human Capital Development and Allied Matters), Mrs. Kemisola Olaleye (Gender Empowerment and Mobilisation), Abiola Olowookere (Legislative Affairs), Femi Ajayi (Independent Project Monitoring), and Mrs. Yemisi Ayokunle (Social Investment Programmes).
The rest are: Mrs. Remi Ajayi-Babington (Rural Mobilisation), Mrs. Adetoun Agboola (Special Education and Social Inclusion), Ekundayo Moyo (Transformation and Delivery), Odunayo Ayeni (Governance), Niyi Idowu (Legal Matters), Olatunji Akinyele (Business Development) and Akeem Azeez (Tertiary Education).
Responding on behalf of other commissioners, Olabimpe Aderiye thanked the Governor for the confidence reposed in them, she said they were fully prepared to put in their best in the service to the state and its people.

Other dignitaries at the event included the wife of the governor, Olayemi Oyebanji, husband of the deputy governor, Lawrence Afuye, former deputy governor, Biodun Aluko; Secretary to the State Government, Habibat Adubiaro, Head of Service, Dele Agbede;
Tony Adeniyi; former and serving members of the state House of Assembly, among others.