Pa Adeyemi's mother died when he was a baby. This made growing up for him very rough. To earn a living after over two decades of hunting and farming in his village, therefore, the Igbo-Ora, Oyo State-born Octogenarian moved down to Lagos shortly after Independence in 1960.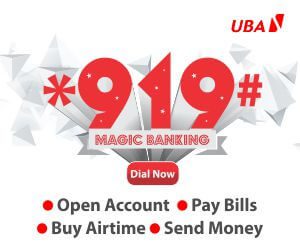 "I have been in Lagos since independence. At that time, I was working with the Red Cross. I also worked at various places before I started working at the Ikeja Local Government in the early 80s. I retired in 1999. I got married at over 30 years of age, had my first child, who should have been my last, 15 years later. My wife passed on about 20 years ago," he said.
He moved through diverse occupations before finally settling down to the unfortunate act of begging. Though there are many beggars lining specific areas in Lagos, Adeyemi's case is particularly pathetic because, at 0ver 80 years, he is still curiously responsible for the upkeep of children and grandchildren.
ONE ROOM, EIGHT OCCUPANTS
Pa Adeyemi has been staying in his one-room apartment at Agege, in Lagos for 12 years. A look at the room, which also accomodates his children and grandchildren, reveals biting poverty. Aside from the foul smell and cracks in the walls and on the ceiling, the plastered floor, which had given way in several places, played host to rodents.
The room, which costs N2,500 per month, is 'adorned' with a 'dead' old television set, lots of junk items, a broken wooden bench and an olden wooden bed, supported with broken planks.
Papa Adeyemi sleeps on the bed, while all the other occupants sleep on the floor.
WHY BEGGING?
Begging, according to Pa Adeyemi, is not a hobby. Some strange cirmcustances led him into it. "As you well know, I am quite old now. But that is not just the reason. When I was still working as a security guard at the Dopemu market in Agege, I unknowingly stepped on some diabolical item, which affected my legs and hindered my movement. I went for treatment for some time, and since it was not a medical issue, the doctors tried their best all to no avail.
"The management of the market had no choice but to advise me to retire. I had to begin to beg to eat because my children were not doing well financially. Most of them are women; they are not around and are even still struggling to feed themselves."
Pa Adeyemi calls his situation unfortunate, saying it is unusual for a Yoruba man to beg, "I'm in this situation because of circumstances beyond my control. I only started doing this late last year. I would be grateful if I could get people to assist me with something to do. I can sit in front of the house to sell and my grandchildren can help me out too and maybe move me from my house to another place, so long as my family are with me and their education will not stop," he said.
FAILING HEALTH
Going out to beg, according to Pa Adeyemi, is getting more stressful. "Most times, when I go out to beg now, I won't be able to move or go to the toilet with my two walking sticks. The leg muscles even would just be pulling me back. As you can see now, I am in pain presently due to the fact that I went out to beg yesterday," he lamented.
HELPLESS CHILDREN
Anyone would rightly wonder why an Octogenarian should go through so much stress to feed, particularly one that has children. But Pa Adeyemi defends them, saying they are helpless. One of his daughters, who claimed she was staying with her father because of a quarrel with her husband, said "I did up to Primary 6 at Igbo-Ora, before coming to Lagos. When I got to Lagos, I worked as a salesgirl before I started selling petty things like polythene bags and sugar on my own. Now, I hawk food. I am not educated enough to be employed but I can be buying and selling if there is help for me and my siblings."
The lady, Ayo Adeyemi, who earns N500 daily by hawking food for canteen owners, said, "Baba is a very good father to everyone of his children. He refused to re-marry when our mother died and he has been taking good care of us, even training us, in spite of his ill health. He always tries to console us anytime we have problems. He cares for his grandchildren like his own. There is nothing that he sees as too big to give. He even gets angry at times when we try to buy food for the grandchildren."
OLD ASSOCIATES

The Secretary of the Dopemu market, Mr Akanni Ajayi, said Pa Adeyemi was a good man who deserved help. "Baba was a dutiful worker while he was with us at the market. There was no bad report about him at all but he was asked to go home because of his age. It would not be fair on him to work till that age and still die on the work. I didn't know about his bad leg. A motorcyclist used to bring him here and take him back home," he said.
SOCIAL WELFARE
When our correspondent visited the Ministry of Social Welfare, Alausa, Ikeja, a top official of the ministry said the Government could only put Pa Adeyemi in the old people's home. "But if the man is insisting that he would like to stay with his family, then you would have to write to the ministry, stating the man's situation and the kind of help that could be rendered to him," the official, who spoke under anonymity, said.