THE ECONOMY WILL PICK UP, BUT SLOWLY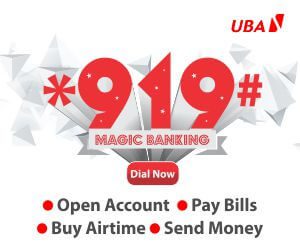 In 2008, approximately 20 years after the economic crisis swept Africa like a bushfire, Asia was itself overcome by a financial crisis. Around that time, I remember reading a Financial Times article that described the long lines of South Koreans who were turning in their gold to their banks so that their government could pay the country's debt to the IMF and secure its economy. It's hard to imagine a similar situation in Nigeria where people are more likely to be trying to get their gold out of the country so it can be stored until the storm clears. However, what we may lack in patriotism, we make up for in common sense. When we find that all roads that we would have travelled have been closed, graciously or more likely churlishly, Nigerians will take the less travelled roads.
And so slowly, if restrictions on foreign exchange remain in place, we should see Nigerians begin to produce for ourselves the things we used to buy abroad. The more we do that, the more quickly the economy will set itself to rights. The pace at which we make that shift will set the pace of our economic recovery.
FARMERS WILL BE THE NEW CELEBRITIES IN 2016. 
About 20 years ago, when I was in uni, a very close friend came to see me. She had a problem. There was a nice guy 'chasing' her. She liked him well enough but was embarrassed by him. He was a farmer, a commercial farmer, true, but even so, he was far from cosmopolitan. His clothes were functional, not trendy. He was so far from the standard that she felt a relationship was out of the question. In the end, she chose a banker instead.
Well, I foresee a time in the not so distant future when women and men will be actively pursuing spouses that can talk authoritatively about perennials, integrated agriculture and crop yields. Those that studied agricultural science will be as sought after as Nollywood stars. You just watch!
MADE IN NIGERIA ANKARA WILL BE 'IT' ASO-EBI FABRIC. 
Did any of you catch the President's passing comment during December's Presidential Media Chat, that lace wasn't a priority import item given the country's current foreign exchange constraints? Lace sellers are already facing challenges getting the forex to buy and then import the party fabric of choice into the country. I suspect that the problem will not ease as the year unfolds and since Nigerians, being Nigerians, must mark every commemoration with an event, party-goers will rely more and more on locally produced Ankara, adire and aso-oke. One can only hope that the challenge of importing lace will lead to the revival of the old lace factories in Ijebu Ode and other parts of the country but that can only be in the medium term. In the next 12 months, made in Nigeria Ankara will be the 'it' aso-ebi fabric.
Obudu Cattle Ranch will overtake Dubai as the exclusive destination for weddings among Nigeria's elite.
Nigerians have oju kokoro (a covetous attitude). While we have incredible, beautiful spots in-country, we blithely bypass our own tourist sites for places abroad. True, most of our sites are still to be developed but even those that are ready for visitors don't get the attention that they should.
This is about to change. I foresee our wealthy turning places like Obudu Cattle Ranch, the luxury resort in Cross River, into one of the most sought after event destinations in the country.
A LAST WORD ABOUT MAKING A SUCCESS OF 2016 
For 16 years, we have been conducting ourselves as individuals, each person doing what is in his own interest with little regard for others. However, we are part of a system, and our actions affect that system. Especially now that the system is in crisis, it is necessary to put in feedback loops that connect our individual actions to outcomes at the system level. The transition will no doubt be painful, but the good news is that if we seize this opportunity, it will ultimately be good for us, individually and collectively. I, for one, always distrusted the 'success' that was touted over the last 16 years, which witnessed economic growth that failed to create jobs or improve lives. Now we can actually spur the growth of our real economy, which is the only way to ensure prosperity for 170 million people.