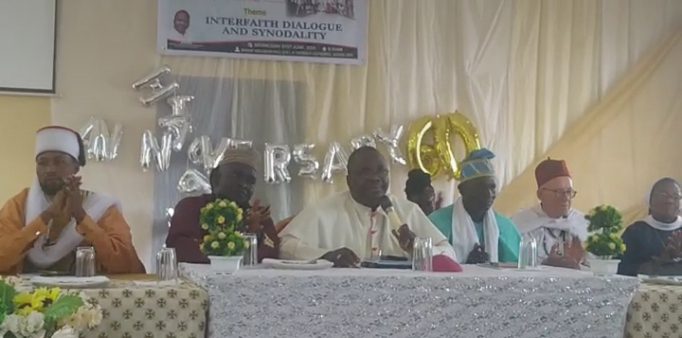 BY
TIMOTHY AGBOR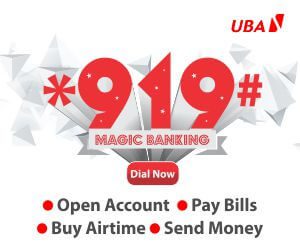 Leaders of the Christian, Islamic and African traditional Religions have renewed their solemn promise for continuous peaceful coexistence among them and their adherents.
They made this vow at an inter-religious dialogue organised by the Catholic Diocese of Oyo as part of its weeklong three-in-one celebration including the 60th creation anniversary, 50th Episcopal Ordination anniversary of Most Rev Julius Babatunde Adelakun and Priestly Ordination of three deacons.
The symposium and interactive gathering was coordinated by the Ecumenism/Inter- Religious Dialogue Commission of the diocese and was held at Bishop Adelakun Hall, Asogo Oyo, with the attendance of various religious leaders from non-Catholic Christendom, Muslim and ATR on Wednesday.
In his opening remarks at the programme themed: "Inter-Faith Dialogue and Synodality", the bishop of the Catholic Diocese of Oyo, Most Rev Emmanuel Badejo, said the traditional religion accommodated Christianity when it came into existence, saying that it is obligatory for the Catholic Church to seek good relationship amongst people of other religions because it has great impacts for peace, unity and development of society.
Making a presentation on the theme of the interface, a Catholic priest, Rev Fr Francis Oladipo, said the Church doesn't segregate nor leave anyone behind in his evangelization and added that religious leaders have roles to play to ensure that the unity of the country is prioritised.
He said, "The process of synod and synodality actively seeks the participation of non-Catholics and even non-Christians for several reasons. First, as the diocesan vision and mission attest, the Church cares for all the people, not only those who currently identify as Catholics. As Pope Francis has said on multiple occasions, we are all in the same boat; we are one human family living in our common home. (Laudato Si and Fratelli Tutti).
"Secondly, those who are not practising Catholics have interactions with the Catholic Church at the Institutional, local and personal levels that can provide insights to the church that come from the perspective of distance. Most importantly, the history of the people of God shows time and again that the Holy Spirit often moves in unexpected ways. For example, the story of the centurion in Matthew 5:8-13. We should be open to discerning movements of the Spirit from the most unlikely of resources."
Speaking from the Islamic perspective in relation to the theme of the event, a Muslim cleric, Tairu Olamide Mustodah, said all people of the world are one irrespective of their different religious inclinations and adherence, stressing that there is no compulsion on religion.
Part of his paper presentation reads, "God our creator is for all and not only for the Christians or the Muslims or the Traditionalists, so why can't we behave like our creator because we have one father? So, irrespective of our religions, we are one. Anyone who does good to another has done good to God and to himself and if we all practice this, it will bring peaceful co-existence amongst all which will promote love because God is love and love is God. And out of love we should show mercy to the poor, widows, and the handicapped. Quran 2, chapter 256 says there is no compulsion in religion, so, we are free to worship God based on our faith," the cleric noted.
He added, "We worship God but don't know him because we don't have faith and we must not condemn other religions because we didn't create them and so we can't close them."
For a leader of the ATR, Orotokun, "The traditional religion came to existence and gave birth to Christian religion and Islamic religion. So, there is a need to be united since we are from one source and we should remember that all that God created is good and the Bible and Quran have asked us not to judge one another. When God created us, there was no division, so we shouldn't be discriminating against ourselves because when there is unity there is peace."
Speaking further, Bishop Badejo urged religious leaders and adherents to promote love through their attitudes, saying, "All who spoke have spoken about love, then, we should ask ourselves who are those spoiling the society. It is our duties as families, individuals and as children of one God to promote love through our attitudes towards one another. We should also promote peace by always wishing peace to all because that was the mandate God gave us when he said in Luke 10:5-6, "Whatever house you enter, first say, 'peace be to this house."
He thanked the retired Archbishop Ayo Oladigbolu of Methodist Church, Rev Fr Joan Miltenburg M. Africa, one of the first evangelisers in Oyo Diocese and other dignitaries at the event.