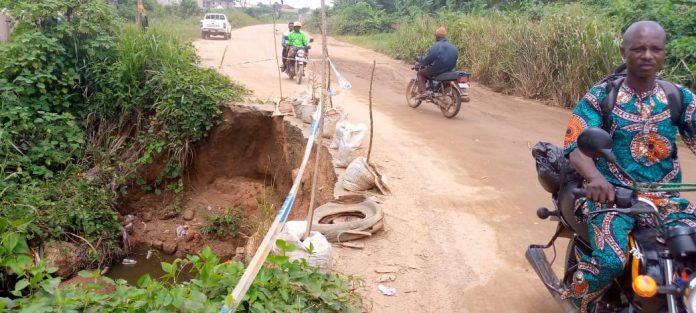 BY TIMOTHY AGBOR, OSOGBO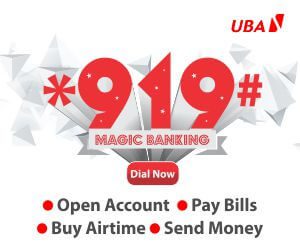 Residents of Ile-Ife and its environs have called on the Osun State Government to come to their aid over the deplorable network of roads in the area.
They also lamented the hardship motorists and other road users have been confronted with since an age-long bridge along the road collapsed.
The residents also complained that some of the bad roads have worsened since the commencement of this year's rainy season, saying that they had become death traps.
According to them, no fewer than two road users had died after their vehicle and motorcycle fell inside a ditch caused by the collapsed bridge.
In an exclusive interview with The Point, the traditional ruler of the affected area, Oba Olusegun Taiwo Makinde, Olu of Kajola, Akile Eleweran, in Ife Central Local Government Area of the state, said a driver and a commercial motorcycle rider fell inside the ditch and died in March, this year.
He said armed robbers have been taking advantage of the poor road network to rob motorists and passengers, saying it was high time the state government rose to their rescue.
The monarch said between Ooni Layout and Eleweran area which started junction Modomo till Mayfair roundabout, the road has been in deplorable condition with big pot holes that have been causing accidents.
According to him, "some suspected Fulani robbers have been robbing people on the bridge.
Taking The Point correspondent round the affected road, the monarch said, "This Ede road has become a death trap for all of us living in Ede Road.
There is no road for us to pass again. It is affecting our journey in this area. Most commercial drivers refuse to enter our community because of bad roads. They prefer taking Ibadan road and we have to spend extra money to get home.
"The state government should come to our aid. This bridge is old and it has collapsed. We have to show danger signs by tying a rope around it. Notwithstanding, motorists, who are new in the area, have been falling into the ditch there.
"At least, two persons died in March this year inside this collapsed bridge, a motor driver and a commercial motorcyclist. Some people now take advantage of the bad road to rob road users. Government should come to our aid," he pleaded.
A trader at Mayfair roundabout in Ile-Ife, Gabriel Adesanya, said the road had been impassable adding that some motorists who had been daring it had their vehicles damaged due to bad spots.
He said the poor condition of the road has been causing traders in the area low sales as drivers and motorcyclists now take passengers to alternative routes.
"We are calling on the state government to help us fix this road. These continuous rains have worsened its condition. Drivers now take other routes because the road has been damaging their vehicles.
"I am a seller of phone accessories and I can tell you that the market has not been moving well. Our customers don't want to pass this road again to come and buy something from us. We are tired, we need the government to intervene urgently," Adesanya added.