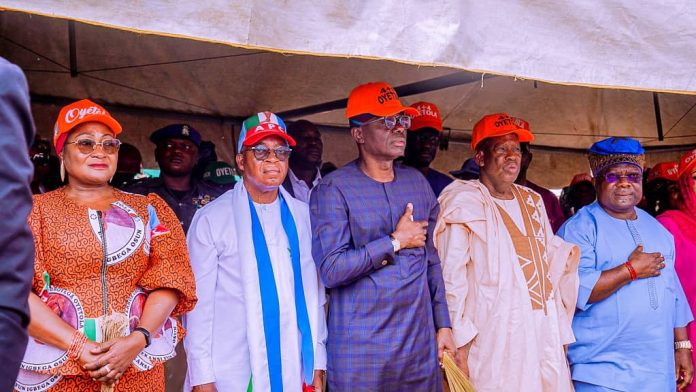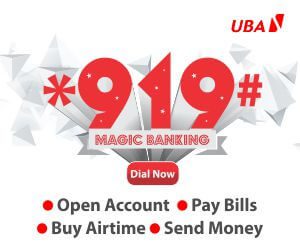 BY TIMOTHY AGBOR, OSOGBO
The re-election campaign train of Governor Gboyega Oyetola for the July 16 governorship election in Osun State Monday received a boost as the Lagos State Governor, Babajide Sanwo-Olu and his Kano counterpart, Abdullahi Ganduje joined and canvassed support for Oyetola, the candidate of the ruling All Progressives Congress in the state.
While speaking in Okuku during Oyetola's campaign, the two governors urged the people of the state to ensure the party's candidate wins with wide margin.
For Sanwo-Olu, Oyetola has earned the confidence and trust of Osun people and that he deserved second term in office. He said Oyetola has impressed APC and would be getting enough support of all APC leaders and stakeholders ahead of the poll.
The Lagos governor and Chairman of the APC National Campaign Council for Oyetola's re-election bid said, "This is just a test for a better things to happen and before we come for our presidential rally. My brother, Ganduje and I felt the need to come and cheer and support a worthwhile product, a man that has earned the trust and confidence of the people of the Osun State. So, we felt that we should come and support him (Oyetola) because it is proper, fit, right and to also feel the mood of the state, we have seen it.
"We have been inside and out of the rain and with what we have seen, we have seen a tremendous troop of the crowd from the traditional rulers, trade unions, and even religious leaders throwing weight behind Oyetola to be reelected.
"We are going to have bigger rallies next week which will further confirm that APC is on ground in Osun. We are not here just to win but win big as a precursor to bigger election that is coming up in 2023. Oyetola has impressed us as a party, more of our colleagues are still coming even from today in solidarity," Sanwo-Olu added.
Speaking in the same vein, Ganduje said there would be overwhelming victory for APC and urged electorate to vote Oyetola.
The co-chairman of the campaign council said, "We were here three years ago for an election which we won even though it was inconclusive on the first ballot. From what I have seen, this time around, there will be an overwhelming victory for APC in this coming election.
We are here to support, encourage and create an enabling environment for the state to vote Oyetola. We are appealing to the state that they must ensure landslide victory for our party," Ganduje noted.
Oyetola described the presence and support of his fellow governors as a booster to winning the poll.
According to him, "I want to thank my colleagues from Kano and Lagos who are here in solidarity. I am happy to have them around to support me for my reelection. They are my good brother, Governor Ganduje was my campaign Chairman in 2018. Their presence give me courage of winning the election."
Speaking, the National Secretary of the party, Senator Iyiola Omisore expressed hope for victory saying, "We are here to show our strength, the governors who are the chairman and co-chairman of the campaign council are here to show unity of purpose and show that we are committed in winning the guber poll. We are going round the state to campaign unlike other parties which adopted one way approach."