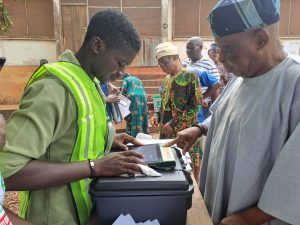 A former Governor of Ogun State, Olusegun Osoba, could not cast his vote on Saturday in the Presidential and National Assembly elections following the rejection of his finger print by the electoral machine.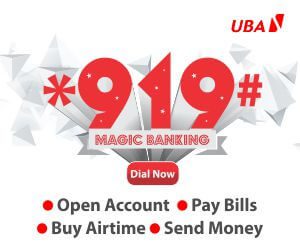 Osoba had earlier arrived at 11.30am at the polling station at Omololu Polling Unit 15, Ward 14 located in Government Reservation Area, Ibara, Abeokuta in Abeokuta South Local Government Area and could not be accessed for accreditation.
The chieftain of the ruling All Progressives Congress had to return home, and resolved to return at 2pm for a retrial of his accreditation.
Unfortunately on his return at the second attempt, the same challenge was recorded.
In frantic efforts to resolve the problem, the electoral officials, equally introduced a facial accreditation for the former Governor, but the problem persisted and had to leave at that stage.
The veteran journalist speaking to journalists over the ugly development described the experience as disturbing and worrisome, recalling that as at the time he was there about some few other persons had similar experience.
The Akinrogun of Egbaland said he has to accept the development in line with rules and regulations guiding the electoral law, adding that he felt sad about the technological failure
"I have been here twice today and the BVAS failed, the BVAS captured my details, I have refused to vote, because it may lead to the cancellation of the huge turnout of voters in this polling unit if I decide to vote, in spite of the fact that my name and pictures were on the voters register, and the card I used in 2019 successful is the same card and this same unit.
"I don't want to vote because I don't want the BVAS to go and show that extra one vote cast, that is not captured by the BVAS of this unit, so it is better for me to save hundreds of votes than to use my one vote because I want to insist on voting to lead to the cancellation of the electoral process in this unit.
"I feel very sad, but I am encouraged with the large turnout and particularly many elders, 70 to 80 coming out, give me confidence that APC is close to victory. I have confidence in INEC, it was just a technological failure, only two or three of us could not vote in this unit.
"Definitely we will do everything possible to make sure that the situation is readdressed and ensure that the IT Centre makes sure that things work better. The security performance is okay, INEC did well here. I am appealing to INEC to ensure that it extends the voting period in those places where elections started late.
"In terms of peaceful conduct of the election and security, one is encouraged. I want to thank our people and congratulate them for their peaceful coexistence irrespective of whichever political party they are voting for," he stated.