This riveting true-life story began last week. It recalled a time in the life of a certain manager who was out-going and loved relaxing at a particular pub. There, he boasted, during a group discussion, that no woman could put him under a juju spell. Upon hearing this, the owner of the beer parlour simply smiled and, afterwards, prepared him a special pepper-soup delicacy. After taking it, our friend refused to go home again.…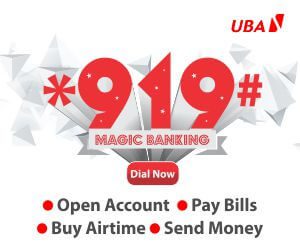 Even though all of us realised that something was definitely wrong by now, we were all helpless. Initially, we were going there trying to see how we could talk to him and draw him out of the woman's cocoon, but he would not even sit with us to talk, much less drink in our company. He was either serving the customers, washing plates or running errands for the madam.
His car had been converted to madam's use and most times, taken to the market to buy what was needed at the joint. He began to call her 'mummy' and nothing could be done by him without her approval. After fearful deliberations, we went with our legs shaking to appeal to the beer parlour owner to please release him. But she told us: "He came here on his own and he would leave when he is ready, at least he's an adult."
From that time, we stopped going to the place; we only went once in a while to check on him and probably give him money and some clothes. But still, he would hand the money over to madam and give the clothes to her children. This is despite the fact that our friend was always in near-rags. By this time, his wife had been told what was happening to her husband and she even went there with one of her children to see him.
But to the surprise of everyone, he did not recognise them and denied knowing them. The news spread and his bosses in the office also got to know about the situation. They were sympathetic and offered to be paying his salary to his wife, thinking that, with time, he would be back to work. But the company soon put a stop to that.
A colleague got angry and asked why the company should be paying the salary of a man who was on 'the lap of a woman, while others are working.' We, as friends, tried all we could to help his family in our own way but the absence of the family head had a serious negative effect on them.
The matter got to a spiritual level one day when some of us went with his wife to check on him and we met him crying on his knees, with his hands raised up like a child being punished. Sitting down in his front was the madam and at her side was one of her sons holding a cane and beating our friend seriously. He was shouting 'Mummy, please, I won't do it again.'' Soon, he was asked to lie down and was whipped again. We could not go closer again as his wife was crying, saying the boy beating her husband could not be older than their first child. When we asked an observer what his offence was, we were told that he dared to eat a customer's leftover food that should have been kept for the madam's dog. The madam's grouse was that "what work has he done today to warrant eating any kind of food?"
We took the wife home and thereafter, everybody embarked on serious prayers for our friend. After some weeks of prayers, the wife was instructed to go and meet the madam and plead that she (the madam) should allow him to come home for a day, just for his children to see him and then he would come back to the joint.
So the wife went and right on her knees, she pleaded with the madam to please allow the man to come home for a day. After a while, with the wife still on her knees, the madam agreed and told the wife to go home that she would send her husband to her later. With gratitude, the wife left and the prayers continued.
After a few days, the beer parlour owner called the man and told him that he would be going home to see his family. To everyone's surprise, he refused to leave the place and the madam had to get people to whip him seriously with a cane to the bus stop. At the bus stop, the fare to his destination was given to the conductor with specific instructions to drop him at a named bus stop and thereafter, his wife was called to meet him there.
The scene at the other end was almost like the one at madam's as our friend refused to go with his wife until he had to be 'bundled' into his house. On getting in, the prayer assumed a new dimension all through the day and for some days later, before he could regain his consciousness. When he came back to his senses, it was as if the scale fell off his eyes.
His wife and friends told him what had happened to him, and he was so ashamed to even face his neighbours and colleagues. He left his job when he recovered from the ensuing shock and shame. With time, he got another job and today, he is a director, living in his own house. Never would you see him argue unnecessarily over any topic again.
Who says there is no love spell? Definitely, not our friend again.