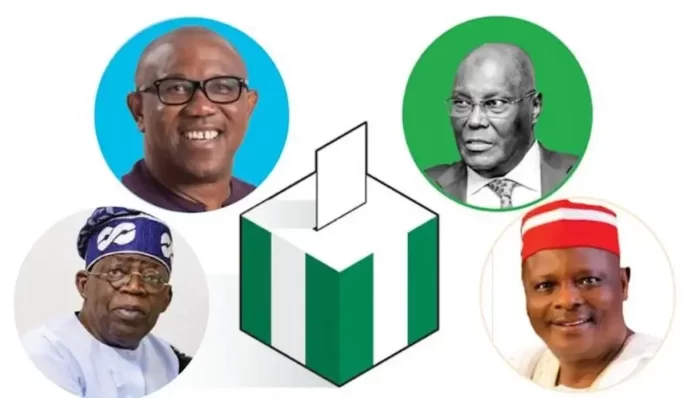 Parties, candidates jittery, APC calls for calm
Oshiomhole, Daniel, Adeola win senatorial seats
BY TIMOTHY AGBOR, MAYOWA SAMUEL AND BRIGHT JACOB
Two days after the Presidential and National Assembly elections across Nigeria, the Independent National Electoral Commission has yet to upload results
The slow progress is another snag in the election process after glitches in a new electronic system that is being used to verify citizens' identities delayed voting on Saturday.
It was reported that ballots were cast late into the night on Saturday as officials either arrived hours late or struggled with the Bimodal Voter Accreditation System.
INEC has 14 days to officially announce the results.
To win the presidency, a candidate must get the most votes but also win at least 25 per cent of votes cast in two-thirds of Nigeria's 36 states.
Lagos has the most registered voters at more than seven million, followed by Kano and Kaduna States.
The competitive race has some analysts forecasting an unprecedented runoff between the two frontrunners if no candidate meets election requirements. It would have to be organised within 21 days.
Consequently, opposition parties have urged INEC to immediately release the results to reduce the chances of the outcome being compromised.
Polling stations were supposed to transmit the counts as soon as they were tallied, but the electoral umpire had published results from less than a quarter of them by 4 pm on Sunday.
Officials in some areas, including Abuja, uploaded notes saying the "election was declared not contested," following attacks by criminals.
"It will be a disservice to Nigerians and a negation to democracy for anyone to subvert the will of the people as freely expressed in their votes," Atiku Abubakar, the presidential candidate of the main opposition People's Democratic Party, said in a statement.
The Labour Party's presidential candidate, Peter Obi, also raised concerns about the process.
"The delay in uploading the results undermines public confidence in the results-transmission process," Yiaga Africa, a non-profit organisation monitoring the election process, said in an earlier statement on Sunday.
However, the ruling All Progressives Congress dismissed concerns about any rigging attempts and warned opposition parties against inciting their supporters.
"The body officially designated to reflect the voices of Nigerians is the Independent National Electoral Commission," the APC said in an emailed statement, saying, "No party can bully them by threats to do its own bidding."
Also, the Centre for Transparency Advocacy has urged stakeholders and the electorate to remain calm as INEC collates results of the elections.
Anthony Olusanya, a member of the team of Experts for CTA, an election observer group, made the call in its preliminary statement.

Olusanya said that as the collation process and election in places where elections were rescheduled continued, all stakeholders should continue to conduct themselves in a peaceful and responsible manner.
He specifically called on INEC to hold itself to the highest level of neutrality and accountability.
Olusanya said the group's preliminary findings from their field observers showed that INEC officials and materials generally did not arrive on time at the majority of polling units observed.
He stated, "Although INEC's proposed commencement of accreditation was for 8.30am, on the average, polling officials and materials did not arrive at the polling units before 10.30am.
"However, reports from our observers across 982 polling units so far reported across the country showed that INEC officials and materials arrived between 7am and 8.30am in 53 per cent of the polling units.
"While security personnel were expected to be on ground before the commencement of the voting process, our observers noted that in most of the polling units, security personnel were not present until about 9 to 10am."
"Generally, observers reported that the security personnel behaved and conducted themselves professionally," he added.
Olusanya further noted that voter turnout was generally impressive, adding that in most cases, voters came out earlier than the arrival of INEC officials, materials and security personnel.
"They mostly conducted themselves peacefully and in accordance with voting guidelines," he said.
On the Bimodal Voter Accreditation System, Olusanya said that in some cases, INEC ad hoc staff demonstrated insufficient familiarity with the operation of the BVAS.
"Observers reported that wrong codes and poor network were some of the challenges faced by the ad hoc staff," he explained.
Similarly, Executive Director of CTA, Faith Nwadishi, commended INEC for creating special polling units for Persons With Disabilities.
She said that on the whole, all stakeholders on the electoral value chain had put in their best to make sure that the country had free, fair and credible elections.
"However, the political parties and actors seem not to be taking a queue. When you go to the field, you see a party agent not wearing an INEC approved identity card.
"We commend Nigerians; a lot of them were out to vote even at centres where there was late arrival of INEC officials. This shows that the Nigerian voters now understand their role in our electoral history," she noted.
Executive Director, Persons With Disabilities Action Network, Ubaka Betram, recalled that before the commencement of the election, INEC had registered no fewer than 5,362 persons with disabilities.
He said that observers discovered that over 95 per cent of PWDs did not participate in the election.
Betram, however, called on governments and stakeholders to educate the populace against stigmatisation of PWDs.
WORRY OVER SLOW UPLOAD OF RESULTS
Similarly, a coalition of Civil Society Organisations has expressed worry over the slow upload of the Presidential and National Assembly election results.
Hamzat Lawal, Chief Executive, Connected Development, who spoke on behalf of the Civil Society Organisations on Sunday in Abuja, said that the INEC result portal currently has result for only 40,000 polling units.
Lawal said, "This is most disturbing as we are aware that INEC created over 50,000 new polling units with less than 100 registered voters in each of them. This is even as elections have since been concluded in most of these polling units at 2:30pm yesterday.
"One would expect that by midnight of yesterday, all these polling units' results should have been uploaded.
"This expectation is coming from the experience we observed in the Ekiti and Osun gubernatorial elections, where we witnessed over 95 per cent of the results uploaded before midnight on election day."
He said that the CSOs were forwarding to INEC some of the reports they got from the field.
Lawal said that with 20,000 community-driven observers on the ground, CODE and its partners using the Electoral Intelligence tool, Uzabe, noticed a worrisome trend across the nation.
He said that these pointed to the gaps and unpreparedness within the structure of the electoral process and which threaten the credibility of this election.
The coalition said that there were several reports which indicated that in states like Ekiti, Cross River, Imo, and Rivers, INEC had their Local Government Area collation centers relocated without adequate information to stakeholders.
"In Ekiti especially, we have it on good authority that all LGA collation centres were relocated, and in most cases, accredited observers were out rightly denied access to where results were being collated.
"This happened in Oru East, Imo State, where our observers confirmed that no election was held and in fact, some voters were asked to vote in a private residential building of a party chieftain, which is clearly against INEC guidelines and the electoral act.
"Yet we have results from that LGA. This is an indictment on INEC and all that our constitution stands for," the group said.
Lawal said that CODE and its partners called on INEC to indeed be independent and serve the people what the constitution had mandated it to serve.
"Therefore we are calling on INEC to address these issues immediately. We are also calling on the Nigerian Police as the lead agency on election security to monitor," he said.
Challenges with result viewing portal due to technical hitches, says INEC
However, INEC has said that issues faced with its result viewing portal (IReV) were caused by technical hitches.
In a statement on Sunday, signed by Festus Okoye, INEC national commissioner, the commission said it is aware the IReV has been relatively slow and unsteady.
Although voting ended in some places on Saturday, the portal was inactive for hours, raising concerns from voters, civil society organisations, and observer groups.
INEC, in its statement, said the problem was due to technical hitches related to scaling up the IReV from a platform for managing off-season and state elections, to one for managing nationwide general elections.
"The Commission regrets this setback, especially because of the importance of IReV in our results management process.
"Consequently, the Commission wishes to assure Nigerians that the challenges are not due to any intrusion or sabotage of our systems, and that the IReV remains well-secured.
"Our technical team is working assiduously to solve all the outstanding problems, and users of the IReV would have noticed improvements since last night," Okoye explained.
The commission also assured Nigerians that results from the polling units were safe on both the bimodal voter accreditation system (BVAS) and the IReV portal.
"These results cannot be tampered with and any discrepancy between them and the physical results used in collation will be thoroughly investigated and remediated, in line with Section 65 of the Electoral Act 2022.
"While we fully appreciate the concerns of the public on this situation and welcome various suggestions that we have received from concerned Nigerians, it is important to avoid statements and actions that can heat up the polity at this time or promote disaffection towards the Commission.
"We take full responsibility for the problems and regret the distress that they have caused the candidates, political parties and the electorate," INEC said.
Oshiomole wins Edo North senatorial seat
Meanwhile, INEC has declared Adams Oshiomhole of the APC as the winner of Saturday's election for Edo North Senatorial District in Edo State.
Benjamin Adesina, the INEC Returning Officer on Sunday in Auchi declared Oshiomhole as the winner of the polls with 107,110 votes.
He defeated the incumbent Senator, Francis Alimekhena of the PDP who scored 55,344 votes.
"Adams Oshiomhole of APC, having scored the highest number of votes, is hereby declared as the winner of the election conducted on the 25th of February for Edo North Senatorial District," Adesina said.
Gbenga Daniel wins Ogun East senatorial seat
Also, a former Governor of Ogun State, Gbenga Daniel, has won the Ogun East senatorial election.
Daniel is the candidate of the APC in Saturday's senatorial poll in Ijebu and Remo axis of Ogun.
The State's Returning Officer of INEC, Christopher Onwuka, announced that Daniel secured 115,147 votes to defeat other candidates in the contest for the National Assembly seat.
Daniel won in all the nine local government areas of Ogun East, defeating the PDP which came second with 58,708 votes and the Labour Party, which had 13,061 votes.
The African Democratic Congress polled 1,716 votes, Social Democratic Party got 1,151 votes while Allied Peoples Movement had 857 votes.
Daniel ruled Ogun State from 2003 to 2011 under the PDP.
Adeola wins Ogun West Senatorial seat
In the same vein, the Chairman of the Senate Committee on Finance and APC Senatorial candidate for Ogun West Senatorial District, Solomon Olamilekan Adeola, has emerged the winner of the Ogun West Senatorial District seat in the National Assembly Election held on Saturday.
Adeola, who is currently representing Lagos West Senatorial District, won the Ogun West Senatorial election by a total vote of 112,887, while his closest rival, the PDP candidate, Ganiyu Dada Obanibasiri, scored 60,189. The Labour Party candidate came third with a total vote of 19, 244.
The result was announced on Sunday by Oluseye Olusegun Onabanjo of the Federal University of Agriculture, Abeokuta at the Oronna Hall, Ilaro, the Ogun West Senatorial Collation Centre at about 7.30pm.
Adeola, who had won all his five previous elections consecutively, made national history by winning again in Ogun West from his present senatorial district of Lagos West, making a senator in a state and a senator-elect in another state until the expiration of his current term in June this year.
Adeola had won his party's primary in Ogun West against the incumbent, Tolu Odebiyi, by a total vote of 294 against zero for the incumbent in an election that had the presence of the incumbent.
The winning votes of 112,887 votes for Adeola marked a departure from the previous senatorial election of 2019, where the winner scored 58, 452 votes out of a total of 150,517 of the three top candidates.
The total vote cast for the three leading candidates in this election was 192, 320.
Expressing satisfaction with the outcome of the poll in his favour and in favour of all APC candidates, including APC Presidential candidate, Bola Ahmed Tinubu, Adeola thanked God and his people for the overwhelming confidence and trust they expressed through their votes, adding that, having gone round the nooks and crannies of Ogun West in his ward to ward campaign tour, he knows where the shoe pinches them and is ready to give effective representation never experienced before in the district.
Gbajabiamila wins Reps seat for sixth time
The Speaker of the House of Representatives, Femi Gbajabiamila, has hailed his constituents in the Surulere 1 Federal Constituency of Lagos State for electing him for the 6th term.
Gbajabiamila emerged victorious during the presidential and National Assembly elections that took place on Saturday.
He polled 19,717 votes and defeated his closest opponent, Bosun Jeje of the PDP, who scored 5,121 votes.
Gbajabiamila said he remained grateful to the people of Surulere 1 for giving him the sixth term mandate, noting that he would not disappoint them.
The Speaker, according to a statement from his office Sunday night, said he would continue to work assiduously and bring more developmental projects to Surulere and beyond.
He said, "I am immensely grateful to the people of Surulere for their overwhelming support. I do not take your support for granted.
"As your representative for the past 20 years, I have always protected your interest. I am proud of you as my constituents. I thank our teeming supporters, our Surulere APC leaders, party members, CDAs and residents for their massive support.
"This victory is not mine alone. It is a victory for democracy. Surulere has made history by this sixth mandate given to me, which would definitely spur me to do more for you."
Gbajabiamila was first elected to the House of Representatives in 2003 to represent Surulere 1 Federal Constituency.
Since then, he has won elections in the subsequent five election cycles, including that of Saturday.
He remained the only lawmaker from the South West geopolitical zone to have been elected six times to represent his constituency.
Gbajabiamila served as Minority Whip, Minority Leader, Opposition Leader, and Majority Leader before getting elected as Speaker in 2019.