One died in school stampede Girls,
despite challenge, excel academically
It's a rare phenomenon, at least not the type that has been witnessed in contemporary Nigerian history. Five daughters, born of the same parents, without any visual impairment at birth, suddenly going blind as they advance from the tot level to girlhood!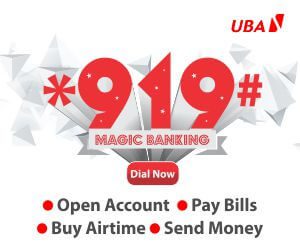 This is the situation of Mr. Charles Okezie and his wife, Otura. As he looks straight ahead in deep thought and sits mindlessly in his compound at Isiegbu village, near Bende Ovu, Abia State, a distraught Okezie clapped three times and suddenly exclaimed, "God, why me, why me?!"
THE OKEZIE FAMILY
The Okezie family is blessed with eight children, seven of whom are girls. While five of the girls went blind at different stages of their early childhood, a boy and two girls are visually sharp, hale and hearty.
Disaster struck in the family in 2005, when the oldest among the five blind girls, Nnenna, 25, passed on under spine-chilling circumstances.
The story was told of how suspected armed robbers raided her school, Ovom Girls High School, Aba, Abia State. She was a Senior Secondary 1 student but was blind, as had been the case since her childhood.
As the bandits were shooting sporadically to scare people away, there was stampede among fleeing students, but blind Nnenna could only grope and totter in her world of darkness.
She was, in the process, trampled upon and sustained life-threatening injuries.
Recalling the incident amid sobs,both Okezie and his wife said their daughter would still have survived if only they had been able to afford the hospital bill for her to undergo treatment at that time.
Now, husband and wife are left with four blind daughters whose needs for care and attention have weighed heavily on the aging couple and their resilient sons who are virtually getting exhausted.
Curiously, however, the four blind girls have found solace in academic excellence as they are striving to get the best education can offer, so long as they get the needed support.
NGOZI
Next to the late Nnenna is Ngozi Okezie, 23, who has registered for her West African Senior School Certificate Examinations and has her mind set on studying Political Science in the future. She said by so doing, she would be in a better position to live out the saying that there is ability in disability and also contribute to lightening the family's financial burden and the stigma attached to the household's unusual plight.
According to her, the delay in the early completion of her secondary school education programme has been due to poverty and the lack of study materials in her school.
She also condemned the stigmatisation of challenged person in the society and extolled the School for the Blind, Umuahia, the Abia State capital, for providing them the opportunity to study.
CHINYERE
Another is Chinyere Okezie, 21, who scored eight Credits, including English Language and Mathematics, in her WASSCE. Her burning desire to study Mass Communication is, however, being challenged by paucity of funds.
She said she got inspired to do so after hearing about an equally challenged female journalist working with the state's Ministry of Information and Strategy, as an information officer.
Chinyere picked holes in the country's education sector for not showing enough concern for challenged students by providing them conducive study environment and other facilities.
Calling for a quick reversal of the condition, she expressed the desire to study up to the highest level of educational attainment available, provided the resources are available.
CAROLINE AND KASARACHI
The others are Caroline and Kasarachi, 16 and 15 respectively. While the former is about registering for her primary school education, the latter had written her first school leaving certificate and common entrance examinations, into the secondary school.
They said, with their parents getting older, they would soon be unable to cater for them; hence, they wanted to make the maximum use of every opportunity available to them now. It is against this background, they argue, that they want to acquire the type of education that would make them self-dependent, rather than begging for alms on the streets.
HOW THE PROBLEMS UNFOLDED
The sisters, according to their father, became visually-challenged after suffering convulsion between the ages of nine months and one year. They are among eight siblings of one boy and seven girls and are all living with their parents without any means of livelihood or hope to further their education.
They solely depend on their parent's meagre resources and charity from well-spirited Nigerians.
Their parents, Mr. and Mrs. Okezie, are a retired Grade Level 12 staff of the state's Local Government Service Commission and Grade Level 04 worker of Bende Local Government Council, respectively.
Narrating their ordeal to The Point in their house, Okezie bemoaned the calamity that had befallen his family, saying they had been living in penury, owing to the condition.

Okezie, who could barely manage his emotions, also disclosed that people had taken them to as many hospitals as possible, where they spent fortunes, to no avail.
APPEAL FOR ASSISTANCE
He noted that they could no longer cater for the children's material and educational needs and appealed to well-meaning individuals, business organisations and the government to assist the family.
He said, "My irregular pension and my wife's meagre salary cannot cater for their material and educational needs; hence we are appealing for offer of scholarship for them."
According to him, at both primary and post-primary levels, the girls have shown extra-ordinary intelligence, which will be wasted if it is not properly harnessed.
Similarly, Okezie's wife noted the enormity of the burden on her as their mother and appealed for financial assistance, so that she could engage in petty trading to augment the family's earning.
She also solicited employment from good-spirited individuals for the grown-up ones among the blind girls, arguing that had it not been for their challenges, they would have been fending for themselves by now.
According to Joseph, the only male among the siblings, the burden on the family goes beyond the financial strain as he laments that he and her two other visually-alright sisters have been guiding the movements of their blind four, in and outside the home.
MEDIC SPEAKS ON GIRLS' PLIGHT
In her reaction, an optometrist practising in Umuahia told The Point that convulsion, if not properly managed and more so, if it is associated with measles, could lead to visual impairment.
The doctor, Dr. Justina Oluchi, said the challenge could possibly be traced to the application of herbal substance to their eyes during the attack as it is common with most people in the rural
communities.
According to the medic, who works with a high-brow eye clinic in the state capital, other factors such as hereditary or environmental conditions could have come to play for the malady. She stressed that parents and caregivers should consult medical experts on any form of sickness in their children and wards, no matter how simple they thought it was, for proper evaluation and attention.