The head, Media and Corporate Communications, United Bank for Africa, Mr. Nasir Ramon Olanrewaju, has emerged The Point Newspaper's Image Maker of the Year 2016.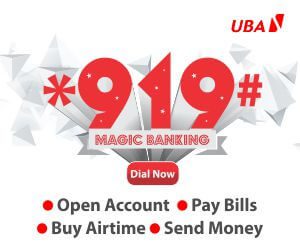 The pioneer award was presented to the Public Relations practitioner by the Award Committee at this year's The Point Annual Leadership Awards and end of year gala, held at the Lagos headquarter office of the medium on Wednesday, December 27, 2016.
Olanrewaju was honoured for his "exceptional performance, and tremendous support and contributions to the growth of PR and the media industry in Nigeria."
The Point's Annual Leadership Awards, which is positioned to become the industry's benchmark for outstanding corporate communication performance, was introduced to recognise Nigerian PR experts who diligently managed the relationship between corporate firms and the media to attain a healthy balance between the financial and media industry.
In his acceptance speech at the event, Olanrewaju said he was delighted to receive the coveted award, noting that it was a recognition of the elevation of UBA to the top of the Nigerian banking industry.
He dedicated the award to the Bank's Chairman and Head, Corporate Communications department, Mr. Tony Elumelu, and Mr. Charles Aigbe, respectively, who have been instrumental in the strides he has made in his career.
He said, "UBA and Elumelu made me who I am today. I had no experience when I was employed before the Chairman handed me over to Aigbe, who adopted and tutored me on how to go about the job. Those tips and training are what has made The Point and others to appreciate me with awards."
While presenting the awardee, the General Manager, Federal Radio Corporation of Nigeria, Edo State, Mrs. Bimbo Oyetunde, emphasised the need for all image makers to emulate Olanrewaju in order to create a mutual understanding between corporate Nigeria and media organisations as it remained the only way both parties could get value for their investment.
The Chief Executive Officer, The Interview and a senior member of the Board of Advisers, The Point Newspaper Mr. Azubuike Ishiekwene, who presented the award to Olanrewaju, explained that given Nigeria's challenging business environment, it takes special effort and dedication for image makers to receive an award from a reputable organisation like The Point.