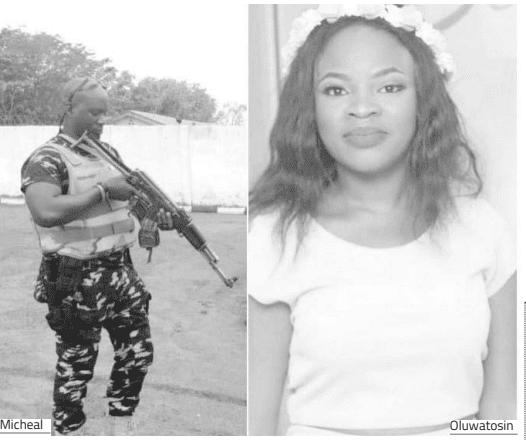 BY TIMOTHY AGBOR, OSOGBO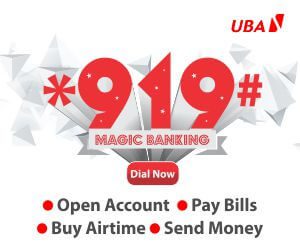 Findings by The Point have revealed why a mobile policeman, Olalere Michael, committed suicide after shooting his concubine, Oluwatosin Cecilia Bamidele, to death at their daughter's school last Thursday. The policeman who was attached to the Kwara State Government House, Ilorin, had chased his lover to the premises of a private school located on Agba Dam Housing Estate, Gaa Akanbi, in the state capital, Ilorin and opened fire on the mother of one. Micheal, according to findings by The Point, was a Sergeant with the Nigeria Police Force with tag number: F/NO 497093.
The killer-cop was from Offa, headquarters of Offa Local Government Area, while his lover, Oluwatosin was from Osi, Ekiti Local Government Area, both in Kwara State. The Point gathered that Oluwatosin, who was in her earlier 30s, studied Accounting at the Kwara State Polytechnic before she proceeded to the Federal Polytechnic, Offa, in 2017. She, however, did not complete her Higher National Diploma programme in the institution after she got pregnant.
According to a former classmate of Oluwatosin, who did not want her name mentioned because of the sensitivity of the issue, Oluwatosin dropped out of school after she got pregnant and had yet to resume her education after she was delivered of a baby girl. The source described Oluwatosin as a friend, saying that the deceased met and started having a romantic relationship with the mobile policeman when her daughter was about two years old.
Oluwatosin's friend further disclosed that the deceased single mother started facing challenges in the relationship a year after. She said Oluwatosin had complained to her severally about how Michael always accused her of unfaithfulness and that the cop would always beat and injure her at every slight provocation. Despite the fact that Micheal was married with two beautiful daughters, he would assault and inflict injuries on Oluwatosin whenever he saw her with any male.
The Point sighted pictures of Oluwatosin having bruises on her face, leg and arm at different locations after alleged attacks by the deceased policeman. She explained that Michael was highly jealous and that he confronted Oluwatosin with accusations of extra marital affairs with other men, especially when he saw her with male individuals in the area.
"My friend had always complained to me that Officer Michael always beat her. I realised that she was even telling me late because she later told me that the domestic violence had been happening for long. At some times, she would send me pictures of bruises on my WhatsApp. There was a day she sent me a picture of wound on her face and on another day, another bandage on her leg after the man injured her. "Each time she told me all she was going through in the hands of Officer Michael, she would tell me not to let anyone know about it.
There was a day she was chased out of the house by this officer. Most times, I got to discover that this Officer slept in her house. Sometimes, she had to come over to my house to pass the night after Officer Michael started accusing her of unfaithfulness and this wasn't as if they were married. They were just lovers because he was a married man with two children. I think my friend never wanted to leave the relationship because of threats and maybe the money she was getting from him.
"On that fateful day (Thursday), what I heard was that they were together and Officer Michael started accusing her of dating one Joshua in their area. When they started fighting, she had to run out of the house to her daughter's school. I think she wanted to pick her daughter and run away with her," she narrated.
The Point gathered that Michael had visited the family house of his lover's friend on Erin Ile Road, Gaa Akanbi, Ilorin, in a bid to attack Oluwatosin with a cutlass. It was gathered that the policeman later sighted his lover, pursued and caught up with her in the school premises and killed her with an AK-47 rifle.
The police sergeant was said to have shot Oluwatosin three times in the chest, after which he corked the weapon, raised the rifle vertically off the ground, pointed it at his throat, and pulled the trigger with his leg, blowing his head off in the process. The cop passed away instantly, it was gathered. Meanwhile, the state Police Public Relations Officer, Okasanmi Ajayi, had described the ugly incident as a case of "love gone sour." Ajayi said the corpses were recovered and deposited at the morgue of the University of Ilorin Teaching Hospital, adding that investigation was in progress.