Residents of Obalaoye area in Ede South Local Government Area of Osun State were thrown into confusion and mourning after a fresh graduate of the Obafemi Awolowo University, Ile-Ife, butchered his mother for allegedly refusing to give him N20,000.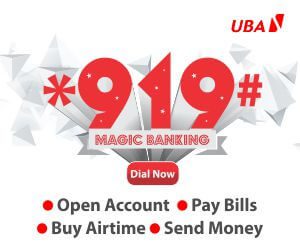 According to an eye witness, the suspect, simply identified as Christian, had locked himself up in the bedroom after killing his mother.
Christian was said to have sat beside his mother's lifeless body that had been soaked in her own blood, after allegedly stabbing her with a knife.
The Point correspondent gathered that the gory incident occurred at about 2:00pm last Saturday, following a disagreement between the deceased and her son.
The victim, whose name was given as "Iya Christian' was said to be a widow, who had striven to sponsor her son's education from primary school to the university.
A neighbor, who pleaded anonymity, told The Point correspondent that Christian had requested the sum of N20,000 from her mother, but she had his request, claiming she was not financially buoyant to give him such a huge amount.
The victim's inability to meet her son's demand was said to have infuriated Christian, who started to beat his mother.
According to the neighbor, "Before the devilish occurrence, I have heard Christian, who just graduated from OAU in March, asking her mother to give him N20,000. But the mother kept telling him that she was not financially capable to release such an amount.
"This led to a lot bickering and argument between them and Christian's younger sister, Folake had attempted to pacify her brother but to no avail. I also tried to appeal to Christian to stop harassing his mother and he appeared calm. So I went out. It was when I got back that I heard he locked up himself with his mother and stabbed her to death. This is horrible!," he lamented.
Another neighbour who claimed to have witnessed the incident, narrated, "I have heard some noise from Iya Christian's bedroom, but did not suspect any unwholesome occurrence.
"Few minutes later, I noticed that Folake was knocking on her mother's bedroom door and was shouting. When I arrived there, I saw blood flowing out of the bedroom. Myself and Folake started shouting and calling for help before other residents joined us.
"We forced the bedroom door open and to our rude shock, we saw Iya Christian lying lifeless in the pool of her blood, as Christian sat quietly beside her. There were very deep cuts on the head and neck of the woman and blood all over her.
"Some of the neighbors rushed out to look for vehicle to convey her to the hospital but Iya Christian had given up the ghost."
The Point correspondent further gathered that the residents of the area informed the Police of the development before Iya Christian's remains were evacuated from her bedroom.
Christian, who was a member of the Deeper Life Campus Fellowship of the OA, was later arrested by policemen from the Ede Division.
The Acting Police Public Relations Officer in the state, Egbedele Ajibade, confirmed the incident.
Ajibade said Christian had been arrested and transferred to the State Criminal Investigation Department (SCID) at Oke-Fia in Osogbo for "thorough investigation."