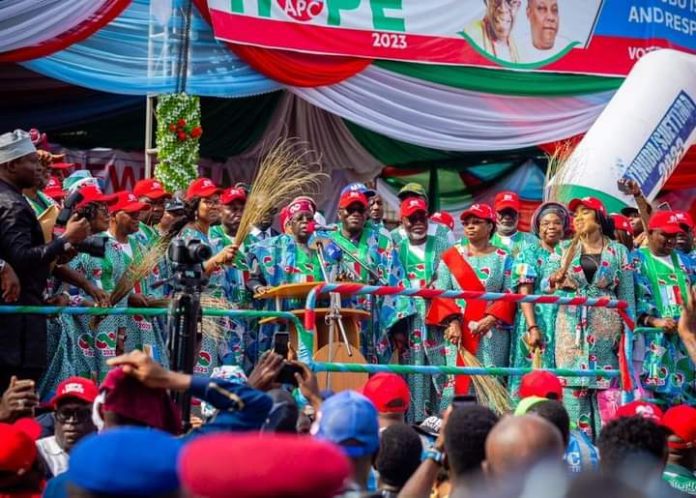 BY WOLE OLUJOBI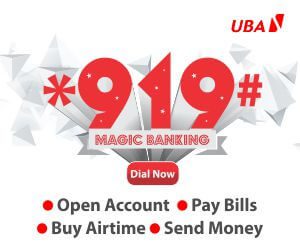 After a week of a busy schedule on campaign trails across the nation selling their development agenda to Nigerians ahead of the February 25, 2023 presidential election, the convoy of the presidential candidate of the All Progressives Congress, Asiwaju Bola Ahmed Tinubu, and vice presidential candidate, Kashim Shettima, rolled into Ado-Ekiti, Ekiti State capital, on Friday 3, 2023 in a blaze of pomp and glory, as members of APC and general public lined the streets to welcome the team they see as the solution to the myriads of problems that Nigerians sleep and wake up with as they struggle to survive the vicissitudes of the current realities imposed by the world's economic turndown.
Ekiti people woke up to a morning that Phoebus, the god of the Sun, had set the whole Orient on fire, unleashing its burning tongues that stoked a huge flame across Ado-Ekiti skylines. But Ekiti people renowned for exceptional courage braced the odds, storming the streets to endure the burning shafts of the angry sun.
By mid-day, King Phoebus, still refusing to run its furnace at half-mast, doubly unleashed the fury of his flaming tongue. Yet, the Ekitiparapo State Pavilion venue of the rally assumed a graceful ambiance and freshness of the month of March, the month the world began, the month the world began for Asiwaju Bola Ahmed Tinubu who was born on March 29, the same month the world began for Chief Obafemi Awolowo (March 6), who shared political bed with his contemporaries, such as Ahmadu Bello, Tafawa Balewa and Zik of Africa.
As early as eight o'clock, human and vehicular traffic choked life out of the ever-busy adjoining routes to the rally venue, as residents and APC members in their bright colours stormed Ekitiparapo State Pavilion amid drumming and dancing to meet the duo of Tinubu and Shettima and other party leaders across the country, who had come to deliver their message of "Hope" that a prosperous Nigeria is possible in the hands of two visionary leaders hailed for their professionalism, scholarship and generous hearts to serve humanity.
The banners of various support groups from across the country adorned the venue, conspicuous among which is APC National Integrity Movement (ANIM) powered by Dr Yetunde Adeniji. The group was ably represented by Ekiti State members at the rally.
In what looked like a crusade that draws people in search of salvation, APC members and thousands of residents struggled to gain access to the venue of the rally, as crowds surged and surged to be part of the history as clock ticks for the February 23 presidential ballot.
Lovely and sonorous music blared from the huge loud speakers provided by the assortment of musicians led by Wasiu Ayinde Marshal and Akayejo Sese Alhaji at the East terrace of the 10,000 capacity venue of the rally, even as heavenly creatures in their masks competed with the earthly beings in dancing and in the waiting game to listen to the message of hope from the APC leaders.
The arrival of Tinubu and Shettima at exactly 2.38 pm in a convoy of party leaders ensconced in an executive motorcade at the rally provided an encore that enlivened the arena, as the huge crowds surged amid singing and dancing to catch a glimpse of the leaders they trust to mend a fractured national soul as a legacy that PDP bequeathed to Nigeria in its ruinous 13 years.
Indeed, the moment for the crowds to roll came when Tinubu and Shettima drove around the arena with Nollywood actors and actresses, including top musicians, on their trail, even as supporters cheered.
In the convoy are Governor Biodun Abayomi Oyebanji and Deputy Governor Christiana Monisade Afuye, former Governor Kayode Fayemi and his wife, Erelu Bisi Adeleye-Fayemi.
Oyebanji urged residents to keep their voter cards to vote for Tinubu and Shettima, including all candidates of APC in the general elections.
Fayemi noted that Tinubu had fought for Ekiti people in the past to secure their political freedom, stressing that it is a pay back time for Tinubu to reap the benefit of his benevolence.
He enjoined residents to keep their voter's cards to vote for Tinubu and other APC candidates on election day.
Tinubu thanked Ekiti voters for voting Oyebanji in the last governorship election, stressing that it was a honour for him that Ekiti people supported his mission to secure victory for APC in the governorship poll.
He said the presidential poll is a freedom election for Nigerians to secure the future of their children through education.
He pledged to deliver on his development agenda to keep Nigeria on the path of growth and development.
Tinubu urged voters to keep their personalised voter cards ( PVC) and vote for APC candidates on election days on February 23 and March 11, 2023.

He thanked Oyebanji and First Lady, Dr. Olayemi Oyebanji, for the warm reception accorded the APC leadership.
Tinubu stated that under his leadership, the Federal Government will be business-friendly, adding that he would focus on tackling underinvestment and ensure effective management of the nation's resources.
In his earlier campaign messages on his campaign trail, Tinubu had said:
"We shall support private businesses in our country and attract foreign direct investment to create jobs, re-industrialise our country and accelerate economic development. Nigerian businesses in sectors like banking and cement have successfully ventured out of the country to build thriving subsidiaries.
"We will build a strong domestic economy, expand the capacity of our domestic market to support growth and encourage export capacity in the areas of our competitive advantage. We have the endowments to be a prosperous country. I will lead a renewed push to move us from the status of a nation of potential into a country of actual accomplishments as an economic dynamo."
He also promised to focus on using his experience of building human capital, which made Lagos one of the largest economies in Africa, to grow the nation's economy to enviable heights.
"Using my experience of building human capital, industries, and institutions, which has led to Lagos being one of the largest economies on the continent, I will reposition our existing industries and make them a competitive source of industrialization and growth not just for the entire country. It is time to fetch water from a dry well and I, Bola Ahmed Tinubu, have done it before and I will do it. We will find a way where there are no roads," he added.
Among the leaders at the Ado-Ekiti event were former APC National Chairman, Chief Bisi Akande; Otunba Niyi Adebayo, Chief Jide Awe, Ekiti APC Chairman, Paul Omotoso; Vice Chairman, Sola Elesin; State Secretary, Garba Arogundade; former Osun Governor, Gboyega Oyetola, Senator Ayo Arise, Senator Bode Ola, Senator Dayo Adeyeye, Senator Tokunbo Abiru, National Women Leader, Dr Beta Edu; Senator Olamilekan Adeola (Yayi) Senator Iyiola Omisore, Senator Olu Adetunmbi, House of Reps candidates, Kolawole Akinlayo, Biodun Omoleye, Akin Rotimi, and Senatorial candidates Yemi Adaramodu, Cyril Fasuyi and Opeyemi Bamidele, including serving House of Reps members, Ibrahim Olanrewaju, Wumi Ogunlola and Sola Fatoba.
Others included Ekiti State former Deputy Governor, Prof Dupe Adelabu; Dr Mojisola Yaya-Kolade, Bunmi Awotiku, former Osun Deputy Governor, Titi Laoye; Ondo Deputy Governor Lucky Ayedatiwa, Engr Kayode Ojo, Hon Femi Bamisile, Dr Adewale Omirin, Taiwo Olatunbosun, Ropo Adesanya, Dupe Ogundipe, Biodun Akin-Fasae, Tade Aluko, Folorunso Olabode, Dapo Karounwi, Lagos Speaker, Mudasiru Obasa; Ekiti Speaker, Bunmi Adelugba; former Commandant of the War College, Ondo APC Chairman, Ade Adetimehin; Oyetunde Ojo, Mrs Folasade Tinubu-Ojo and Bamidele Faparusi.
*Olujobi is Deputy Director of Media and Publicity,
Ekiti State APC Presidential Campaign Committee