…says I made him and his other siblings successful men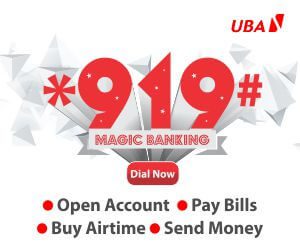 Ordinarily, her name, Madam Florence Asiemo, does not ring a bell, but the mere mention of that of his second son, John Odafe Asiemo, popularly called Daddy Showkey, the Reggae music star, makes her the instant cynosure of all eyes.
Madam Asiemo is also a proud mother of Raphael Asiemo, a businessman, while her last son, Paul Asiemo, is an Assistant General Manager with one of the new generation commercial banks in the country.
Madam Asiemo is a retired primary school teacher, who did not allow the sudden death of her husband, Mr. John Asiemo, in an accident in 1979, to shatter her resolve to see her children through in life. Following the unfortunate incident, she quickly assumed the role of both the father and mother to her then young children.
Showkey was a good boxer called Pako, then. He went into the ring two times and won.  He's also a kung Fu fighter. People said I was not controlling him well. I said they should allow him to gather more experience from others
Born into the family of Mr. Daniel Agha and Martha Agha, at Ilabere Street, off Tokunbo Street, in Lagos Island, in 1939, the "Iron Lady," who hails from Ovurude in Isoko North Local Government of Delta State, says she got married to her heartthrob in 1959. But since her hubby passed on in 1979, she knew it was now her sole responsibility to rear her children, who were then still very young. She also says that though the sudden death of her husband dealt her and her young family a devastating blow, she decided to move on with life.
She says she tried as hard as she could to cater for her three children. Madam Asiemo, who has been living with her family in Ajegunle, Ajeromi/ Ifelodun Local Government Area of Lagos State since she got married, however, says, "Teaching is a very noble profession. I like to teach. If I come back to this world again, I will still want to be a teacher. As a teacher, the teaching profession has taught me how to have motherly love and feeling for people. It taught me how to observe people and know how they behave- people with various characters. You will meet children from different family backgrounds and characters. You will know how to deal with children successfully. You are even able to handle elderly people. I have no regret being a teacher. The teaching profession, as I said earlier, is a noble profession. It will enrich your sense of psychology and self-control. You will also know how to discipline people."
On how she successfully reared her then very young children into adulthood, she says, "I gave general advice to my children. I didn't have to tell them the profession they should go into. They have their own chosen profession. You can study a child to know what he would be in future and from there, you can guide him. Also pray for your children, it's very important."
Asked how she was able to handle an enigma like Daddy Showkey, she says, "Daddy Showkey is a child God gave to me. I was always praying to God to assist me so that I could take good care of the three boys He gave me. Showkey is my second child. I prayed that he would grow and succeed so long as he did not steal or kill. People would complain about Showkey's behaviours. They would say he did this and that; I would tell them to leave him for me, God would take control and what God wanted him to be, he would surely be. He is very talented in various activities. He is well endowed. My own mother, Martha Agha, told Showkey to stick to music, saying he would succeed if he obeyed her advice. And Showkey did. The whole world can see the result today.
"Showkey was a good boxer called Pako, then. He went into the ring two times and won.  He's also a kung Fu fighter. People said I was not controlling him well. I said they should allow him to gather more experience from others. I was giving him the little money I had to support him. He has won many national awards in music. His kind of music is original because he did not copy anybody's music or dance. He respects both old and new musicians."    
Her first son, Raphael, also played the guardian role to his two younger siblings.
"Raphael usually advised his younger ones. But today they are all responsible men and successful in their chosen careers. My last child is Paul. Today, he is an assistant general manager with Access Bank. He is also a footballer. He plays for Access Bank. It is by the Grace of God that I was able to control these three boys that are successful men today. Their father died very early when they were still very young," she says.
Offering advice on how to live a good life, Madam Asiemo says, "Do good. Don't do bad. Don't play evil against your neighbour. Life is a stage. It's a market place where we buy, sell and return home. Don't accumulate wealth at the expense of others. Be helpful to others.  When you die you will give account of how you lived your life to God.
"I went to Israel on pilgrimage. There's a place that old people cannot go. Only young people were able to go there.  But I insisted I would go. God took me to the place and brought me back.  We were over one hundred pilgrims.  We used a rail car to the place. The place is called Mountain of Temptation in Jerusalem.  That's where Jesus Christ fasted for 40 days and 40 nights, after which satan tempted him. I was the only old person that went to the place. We visited many biblical tourism sites. I will want all Christians to visit Israel to have the experience of life."
Madam Asiemo attended Government Primary School, Ibadan, Oyo State, where she finished in flying colours. She attended St Anne's Secondary School, Ibadan. Her educational pursuit did not end there as she later attended Our Lady's of Apostle Teacher Training School at Topo, Badagry, Lagos, from 1956 to 1957. And there, she obtained a certificate in food and nutrition.
She later gained an employment as a teacher and was posted to the Native Authority School, Iba, Lagos.

Recalling her working experience, Madam Asiemo says, "I was later transferred to another primary school in 1959. After teaching in three schools, I was posted to Ajegunle, where I taught pupils of L.A Primary School, Baale Street; L.A Primary School, Olodi- Apapa; L.A Primary School, Ugbenwankwo, Street. Before these postings, I taught at Ladipo Primary School, Orile. I later gained another admission into Government Teacher Training College, Surulere, in Lagos and finished in 1973. I was posted again to L.A Ugbenwankwo Street in 1982.  While there, I was promoted to mistress in 1985.
"In 1995 I went back to school and became a part -time student of the University of Ibadan, Oyo State, where I studied Food and Nutrition. In 1996, I bagged a diploma from same school. As everything that has a beginning must have an end, in the year 2000, I retired from the civil service. Now I'm into petty trading just to exercise my body."