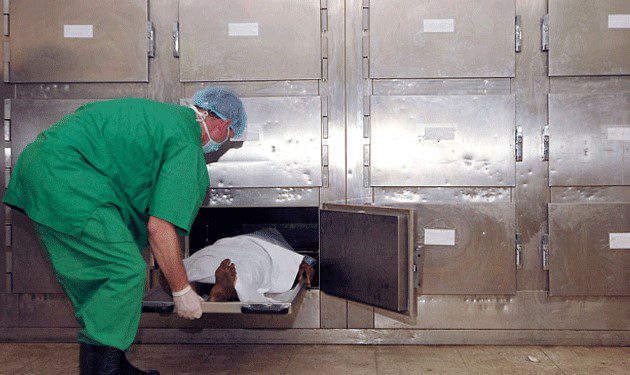 Says 'I fear the living more than the dead'
BY TIMOTHY AGBOR, OSOGBO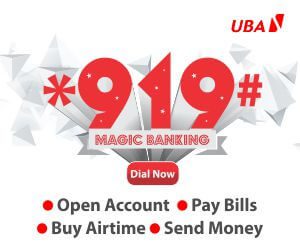 A mortician, simply identified as James Adams, has revealed how he has been emboldening his children by taking them to the mortuary where he works for sightseeing.
Most people dread morgues. But, according to Adams, a middle-aged father of three, his wards have grown so bold that they go in and out of the mortuary without fear.
He said he chose the facility where corpses were embalmed to make his children overcome their fear, brace up to confront difficult situations in life and also be prepared to take up mortuary work if interested.
He made this disclosure during an interview with The Point on his encounter with ghosts and why unemployed Nigerian youths should conquer their fear and embrace mortuary business for huge profits.
The mortician, who also owns a casket firm, said, "I have been working in mortuaries since I was 11 years old. I started by assisting my elder brother who is a mortician. Now, I have 16 years of experience on this mortuary work since I have been deeply involved in it.
He said, "I studied Morbid Anatomy at the University of Ilorin. The issue is that a lot of morticians don't go to school to study this work. Old people used to do this particular work in those days. So, most of the workers nowadays learnt from these old people. Eighty per cent of people who work in the mortuary do not go to school to study it, they only learn it.
"Sometimes, most aspects of the work are not very rigid for someone to know if one puts his or her mind to it. Once you take the fear out of your mind, you can easily learn the job, but you won't be as deep as someone who studied the profession in the university. Someone who studied Anatomy can do postmortem, investigation and a lot of things with corpses but those who only learn the work as a skill won't go this deep."
According to Adams, who works at a mortuary in Osogbo, Osun State, Nigerians frustrate the efforts of morticians who attempt to build mortuaries because of the fear of the dead.
He said this had been worsening unemployment rate in the country and further slowing economic growth.
"To some extent, mortuary work is not competitive because people don't want to learn it. The fear is always in the mind of this young generation. That is why we are not too many on the job. In most hospitals, they draft people from the security unit to work in the mortuary just because people don't want to apply for the work. The job is lucrative if you are good.
"I would advise youths to try and venture into the job by going to school to study it. It is not a skill, it is a professional job. If you are a mortician, there is no holiday for you because you will always be busy and with that, it is more money for you," he advised.
"It is difficult for private individuals to operate mortuary business in Nigeria because people won't allow you to establish a mortuary in residential areas because the fear is always there. Even if you go to places where other business outlets are, some will still kick against it. Recently, I mounted my signboard for sale of casket and a neighbour went there to block it because she was afraid. My brother recently tried to build a morgue for business, but the person that sold the land for him re-sold it to another person just to frustrate him," he added.
Asked wether he could allow any of his children to take up a mortuary job, Adams
said, "Yes. Actually, recently, I brought my first son down here ( the mortuary) and I always take them to the mortuary because they have to learn and they also have to be bold. There are some situations whereby people are in trouble and you are the only person in that place to save the person, you have to do it.
"For instance, if someone is involved in an accident and the victim is in pain, instead of having a phobia for blood or injury, you need to develop the boldness of helping the victims. So, parents must prepare the minds of their children so that they can stand firm in critical conditions. That is the reason I take my children to the mortuary. Imagine seeing a child who doesn't fear corpses, the boldness will be contagious. I also teach them first aid. At their age, they can give first aid so well.
"One is 19 years old, that is my first child, the other is seven years old while the last born is four years old. Because of their innocence, once you take children to the mortuary, they can just be afraid for some time but after a while, they would even want to dare and see corpses themselves and they grow to become valiant and bold in order to attend to critical situations."
He recalled his first contact with corpses at the age of 11 and how he was struck with fear, adding that he later conquered the fear with frequent visits to the morgue.
"I wish I was acquainted with the mortuary when I was younger because I would not have experienced the fear I had for the ambulance. When I was young, I used to fear the ambulance and I did not get close to it. The first day I entered a mortuary, I ran away from the mortuary for three days. I didn't see my brother for these three days. And then, my brother did immersion, so, seeing dead people inside chemical was disgusting for me and the stench was horrible.

But, gradually, I saw other young boys that used to follow my elder brother to work, and I summoned courage,and along the line, I developed the love and passion for it. I dared my fear and conquered it," he revealed.
Commenting on how dead people reportedly "disturb" and embark on vengeance mission after death, Adams said "the dead don't stay dead," adding that he had never used charms to operate in the morgue against insinuations by many Nigerians that mortuary attendants hardly survived encounters with corpses and ghosts without going spiritual.
"Although, an undisputable fact is that the dead don't stay dead. Most of them wander about after they had been taken to the mortuary. While some of them go to deliver last messages to their loved ones, others embark on vengeance mission. But, it is not every dead person that has the grace of disturbing people after death. God has given some people the natural grace of encountering them (ghosts) and they will not talk," he revealed.
"For me, I have never used any charm since I started this mortuary work. In fact, I feel more relaxed with corpses than with human beings who are alive. I fear those living more than the dead. I don't do any juju and I stay in the mortuary all night with corpses," he claimed.