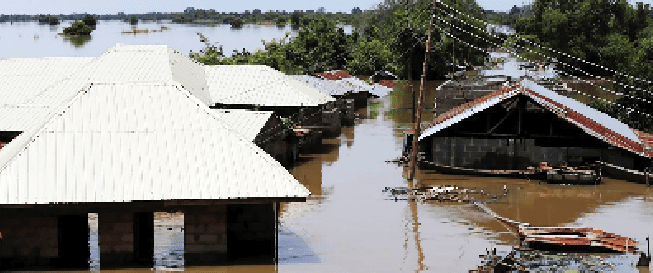 BY TIMOTHY AGBOR, OSOGBO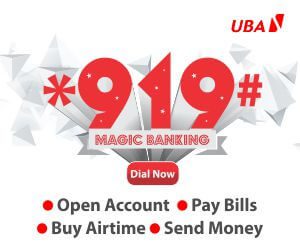 Analysts have observed that Nigeria is currently experiencing the worst case of flooding in recent years.
It will be recalled that the most populous country in Africa was, in 2012, overwhelmed with the problem of flooding, leaving hundreds of people dead with thousands displaced as several properties worth billions of naira were destroyed.
Ten years down the line, the story has not changed as flooding continues to plunder existing structures and infrastructure just as it leads to the death of many in the third quarter of the year. Thousands of those who are rendered homeless continue to agonize without any respite in place.
Records showed that about 500 people were confirmed dead while 46,000 houses were submerged. Approximately 70,556 hectares of farmlands were also reported to have been destroyed nationwide.
Following the torrential downpours being recorded lately, no fewer than 31 states of the federation, from Jigawa in the North-East, Kwara and Benue in the North-Central, Anambra in the South-East, Ondo in the South-West and Delta and Bayelsa in the South-South, battle the problem of flooding.
Many rivers are spilling over their banks and dams are emptying their contents everywhere leaving casualties and submerging homes, farmlands and business premises with lots of internally displaced persons.
According to the National Emergency Management Agency, 31 of the 36 states of the federation have been affected with over 600,000 people displaced.
In total, NEMA disclosed that 1.4million people had been affected so far with a record of 1,546 injured persons.
The agency stressed that torrential rain caused severe damage to human lives, livelihoods, homes, crops and livestock. The disaster also affected thousands of hectares of farmland, thereby raising concerns about the possibility of a shortage in food supply in the country.
Experts opined that some state governors failed to plan ahead in a bid to forestall disaster. They also raised questions about the nonchalant lifestyles of Nigerians such as the indiscriminate dumping of refuse on waterways as potential danger.
A worse scenario was painted on September 15, 2022 when the Lagdom Dam in Cameroon was released, thereby plundering some shelters, facilities and farmlands in neighbouring states.
The Pointlearnt that most state governments failed to take proactive measures to prevent the disaster.
The Director General of NEMA, Mustapha Ahmed, said that the agency identified 233 local government areas in 32 states and the Federal Capital Territory that would experience flooding in 2022.
Ahmed spoke at a national consultative workshop on '2022 Flood Preparedness, Mitigation and Response,' organised by the agency in Abuja. This followed the 2022 Seasonal Climate Prediction released by the Nigerian Meteorological Agency and the Annual Flood Outlook released by the Nigeria Hydrological Services Agency.
Those who spoke with The Pointin the affected communities in Anambra, Kogi, Bayelsa and Nasarawa states blamed governments for not being proactive.
"Over $15 million worth of crops on farmlands were said to have been submerged by flood in Nasarawa State alone. The 4,500 hectares of Olam rice farmland in the state was reportedly destroyed. Other infrastructures such as dykes, canals, and drainage worth $8 million were said to have been equally destroyed"
One of the residents of Ogbaru community in Anambra State, Tony Nnezeanya, a veteran journalist, said that no fewer than 32 persons died in the flood that happened in the community.
He said, "The extent of devastation is incalculable in terms of numbers and size. As I speak, at least six local government areas were affected. They are Anambra East, West, Ogbaru, Anyamelum, Akwa North and Ihala. There are some considerable impacts in Onitsha. Records of human casualties are still being taken as I speak.

But, not less than 50 people would have been dead by now and just Ogbaru alone accounted for about 32.
"There are isolated cases that have not been recorded. It's at the end that you will now calculate who is missing or dead. The death toll will certainly rise. In Anambra West alone, there are about eight. A family lost six at a go. One person died in Akwa North, Anambra East recorded about three. There are so many casualties that have not been accounted for because they have not been seen.
"NEMA will be coming to Anambra State to assess the situation. The animal population is not affected like the human population. Animals get hints before humans.
That's why I think we need to stay close to animals because they are more scientific and communicate faster than humans during a crisis.
"The reasons for this flood are majorly careless disposal of wastes into waterways and rivers by residents."
Nnezeanya disclosed that some people whose houses were submerged by flood refused to be airlifted away from the affected areas to the IDP for fear of losing their properties.
"This is very funny because many people feel they can arrange their own safety. The Anambra State Government has been trying its best to reach out to people and also SEMA and other emergency agencies to evacuate them to holding centres. But, for some reasons, some people refused to be evacuated. They are protecting their houses and farms and other properties. You can be aware, some negative-minded people, thieves, are also around to burgle properties. There is absence of security.
Some others are afraid that they may not be well treated at the holding centres and that's why they have some reservations.
"Many communities have been affected and some people are still trapped; they can't come out. You need boats to get them and there is no electricity in this area. They can't even charge their phones and communicate," he lamented.
In Kogi State, flooding reportedly dealt a harder blow on residents as more than nine local government areas, including Ibaji and Lokoja local government councils, were flooded. Thousands of people were said to have been displaced with the economic fortunes of the state badly affected.
A resident of Lokoja, Olatunde Odumayo, said, "The flood has dealt a terrible blow on the people. Ibaji is a riverine area and there are mostly farmers. Their crops are under the water. There might be food scarcity in the state."
Analysts have expressed concerns over the continuous destruction of farmlands by the flooding.
Over $15 million worth of crops on farmlands were said to have been submerged by flood in Nasarawa State alone. The 4,500 hectares of Olam rice farmland in the state was reportedly destroyed. Other infrastructures such as dykes, canals and drainage worth $8 million were said to have been equally destroyed.
Counting the losses, the Business Head and Vice President, Olam Rice Farm, Anil Nair, said in a statement that the losses were huge but could only be accurately estimated once the water receded.
Olam Rice Farm, which is in Rukubi Doma Local Government Area of Nasarawa State, is seated on 13,500 hectares of land and operates a crop area of four 4,500 hectares. It is the largest rice farm with state of art equipment.
The company recently upgraded its milling capacity from 120 metric tonnes to 240 metric tonnes annually as part of its efforts to ensure food availability and security. Olam reportedly supported its host communities on a consistent basis as part of its social corporate responsibility initiatives.
In an interview with The Point, an economic expert, Ajibola Olaide, said that flooding would affect food security, adding that prices of food may increase in weeks or months to come.
Olaide said, "As much as water is important to agriculture, excess of it is, of course, sabotaging farming. The series of flooding being experienced across the nation poses a great threat to food security in the country.
"Aside from the fact that heavy rain stops farmers from working on their farms, it is also accompanied by the destruction of farmland, most especially food crops. These food crops do not have deep roots to withstand water logging for a long period of time as is being experienced in some cities like Lokoja, Kogi state and others.
"This destruction is not limited to crops alone, animals are not left out. If human beings get drowned in floods, can you imagine what will happen to livestock? In animal science, the life of an animal is as important as the life of a man; even if not more.
"The agro-trading sector is not exempted. Flood has also made it very difficult for farmers to harvest, transport or store farm produce that is ready for market.
Since most farmers do not insure their farms, victims of flooding who have nothing to fall back on may definitely end up quitting farming. Such a decision leads to a decrease in the number of active farmers in the country.
"Since farmlands were destroyed running into large hectares, there is the risk of food shortage," he stressed.
On ways by which the government and other stakeholders could mitigate the effects of flooding, Olaide said, "Though flood is primarily a natural disaster (due to heavy rain) and secondarily artificial (opening of dams from nearby communities), we, as humans, must be prepared at all times. Until our major farming areas/settlements are given priority, the story may continue to be the same.
"Hardly will you find drainages in most of our farm settlements. Our government really needs to take the bull by the horn. In developed countries, farmers in rural areas enjoy in totality basic amenities viz-a-viz good roads, good drainage system, electricity and the like.
"A good drainage system is the primary way of controlling the flow of water. Another way is that governments at all levels should embark on massive construction of dams. This will be our shade in times of excess water either naturally or artificially. This will also serve us during the dry season.
"Lastly, commercial farmers should try as much as possible to insure their farms with reputable insurance companies.
Insurance companies should as well liaise with agricultural extension officers to ensure that farmers understand the benefits of the insurance package."
Apart from economic losses, analysts said that flooded communities face health hazards.
A health practitioner, George Alaba, said that due to water contamination as a result of flooding, those living in the affected areas were at risk of waterborne diseases such as cholera, dysentery, typhoid and malaria, among others.
He said, "The health hazards that would confront victims of this flood are severe if you ask me. The last time I checked, some people were still trapped in the flood. They might be raising their heads above the water level but I can tell you that the water is already contaminated and the fact that their legs and other parts of the bodies are enmeshed in it, they stand the risk of being infected. They risk diseases such as cholera, dysentery, malaria and typhoid among others.
"There is also a mental health implication of this natural disaster. Those who have suffered heavy losses are prone to depression, post-traumatic stress disorder, panic attacks, high blood pressure, stroke and heart attacks. It is even more disturbing that they are not finding the needed succour at the IDPs. It is even worse in most of these IDPs."
Meanwhile, the Permanent Secretary, Ministry of Humanitarian Affairs, Disaster Management and Social Development, Nasir Sani-Gwarzo, has assured Nigerians that the Federal Government is committed to mitigating the impact of flooding experienced across the country.
He disclosed this during a press conference held immediately after a meeting between the Ministry of Humanitarian Affairs, relevant government agencies and stakeholders on flooding in the country and how to mitigate its impacts.