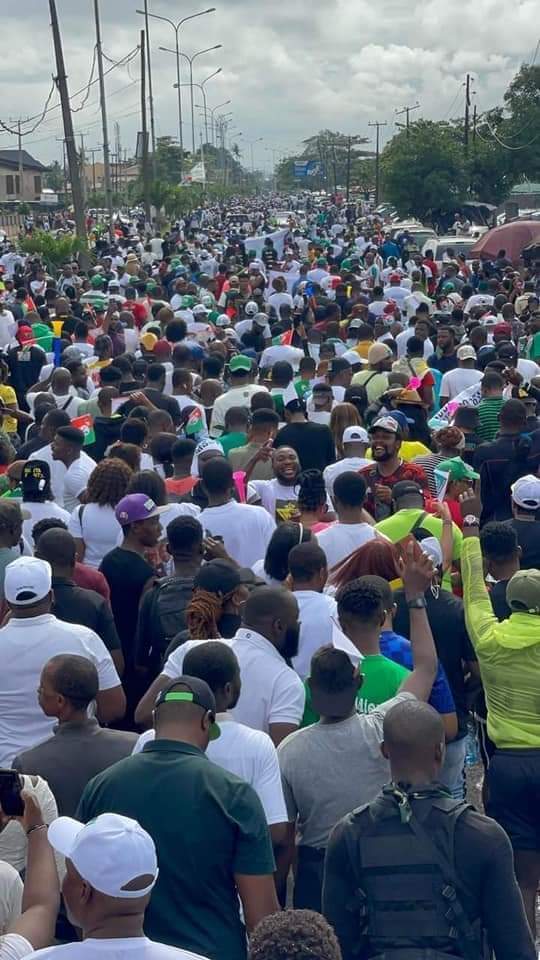 BY TIMOTHY AGBOR, OSOGBO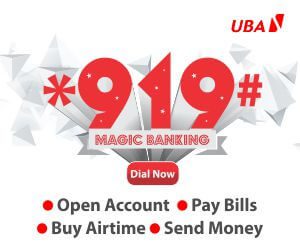 Huge crowds of supporters of the presidential candidate of the Labour Party, Peter Obi, on Saturday, literally shut down major cities across the country and canvassed for votes for Obi.
From Abuja, Lagos, Osun, Edo, Delta, Bauchi, Cross River, the supporters who displayed banners and placards bearing the pictures of Obi and his running mate, Ahmed Datti, described Obi as the hope the nation has to be better.
The supporters, known as the 'Obidients', trooped to streets in massive numbers as they marched along the roads chanting 'Obi! Obidient!' among other songs.
Some of them wore shirts branded with the pictures of Obi and Datti while others held on to the Nigerian flag in celebration of the 62nd Independence Anniversary of the nation.
In Lagos, the supporters caused traffic gridlock as the rally held in many parts of Lagos, like Festac town, Surulere, Ikeja and the National Stadium among others.
At the Lekki rally, persons living with disabilities were spotted. Some of the PWDs were seen holding the Nigerian flag while wearing T-shirts with Peter Obi's face on it.
Speaking, one of the demonstrators said, "all we want is a genuine leader that's ready to serve Nigerians. We're not asking for too much. Just give us Peter Obi.
Another supporter simply identified as Benson said, "Youths defy rainfall to come out in support of the Labour Party presidential candidate Peter Obi because we need a real transformation and Obi is the man God will use."
In Asaba, the 'one million march' by Obi's supporters, disrupted the Independence Day celebration in the capital city of Delta.
The crowd that marched from the Inter-Bua roundabout along Nnebisi road, kept increasing as they shut down the city for over seven hours.
The passion-driven youths came out from different communities of Delta North Local Government Areas around 8 am to embark on the one-million-man march in Asaba.
One of the Obi's supporters during the march, Donatus Ebere said what the group witnessed was more than a one-million-march.
He said, "We are having one-million-march in solidarity with Peter Obi but what we saw today is no longer one million. You see that the crowd here is about two million."
In Osogbo, the energetic supporters, mostly youths, carried banner and walked from Igbona area to the popular Olaiya junction. Those in Ile-Ife had assembled as Mayfair before matching to Lagere area.
Speaking, one of their coordinators, Peter Onoriode, called on Nigerians to mobilise support for the former Anambra State Governor, saying: "as you can see this crowd,we are all Nigerians from different parts of this country. Amidst us we have Yoruba, Igbo, Hausa and other tribes you can think of. What we are saying is that it's time to transform this nation and we have decided to hire Peter Obi and Ahmed Datti for that job."
Meanwhile, the Osun Civil Society Coalition, said the country was still crawling at her 62nd independence anniversary, noting that larger per cent of Nigerians were yet to get freedom from abject poverty.
According to the civil societies group, in a message signed by its Chairman, Waheed Lawal and Publicity Secretary, Ismaeel Uthman, on Saturday, a copy of which was made available to The Point, Nigeria would still grow and develop in spite of its threatening challenges.

"It is disturbing that Nigeria as a country is celebrating her 62-year-old freedom as an independent nation. But Nigerians are yet to get freedom from poverty, hunger, and insecurity, among others.
"Insecurity, poor healthcare service, bad road, irregular power supply, incessant and avoidable industrial action by our tertiary institutions workers still pervade our country. These are signs of underdevelopment which indicate that Nigeria is still crawling.
"We want to use this occasion to call on the Federal Government to, in the spirit of independence, resolve with the Academic Staff Union of Universities (ASUU) and put an end to the strike action they embarked upon," it said.
However, Nigerians living in the United Kingdom, also trooped out and demonstrated on London Street in support of Obi.