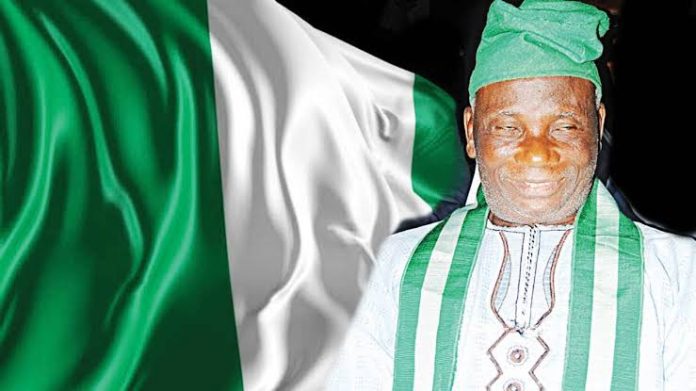 As Nigeria's "Mr. Flag Man" takes a final bow, MAYOWA SAMUEL writes that eminent compatriots are honouring his memory across partisan lines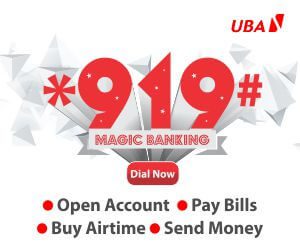 The designer of the Nigerian flag, Taiwo Akinkunmi, died last Tuesday at age 87. The sad news which was broken by his son, Akinkunmi Samuel, on his Facebook page.
Announcing the news, Samuel said of his late father, "Life is indeed transient; I can say boldly you lived a life with a landmark. Continue to rest on, my father! Pa Michael Taiwo Akinkunmi (OFR). (A) Great Man has gone.
"Born on May 10, 1936 in Ibadan, Oyo State where he lived all his life until his demise, the late Taiwo Akinkunmi was a native of Owu in Abeokuta, Ogun State.
After living with his father until the age of 8, Pa Akinkunmi moved to the North where he began his education, but later returned to Ibadan after his father's retirement, and continued his primary education at Baptist Day Secondary School, Ibadan in 1949 and did his secondary education at Ibadan Grammar School in 1950.
He soon joined the civil service to be an agriculturist at the Western Region Secretariat in Ibadan where he worked until he went to the Norwood Technical College in London, now known as Lambeth College to study electrical engineering.
It was while still studying at Lambeth College that he came across a competition in the school library. The competition was calling for designs for the Nigerian flag to be chosen for Nigeria's independence in 1960. He put down the information and took in the competition. Gladly, in 1958, his design was chosen as the best among about 2,000 entries submitted. The government rewarded him with £100 when his design was selected, and on Independence Day, October 1, 1960, the flag he designed was officially raised, signifying the end of colonial rule in Nigeria. He was nicknamed "Mr. Flag Man."
"Tributes from notable Nigerian leaders poured in for the late octogenarian who left an indelible mark on the country's history. The Federal Government, through the Minister of Information and National Orientation, Mohammed Idris, expressed sadness over the news, as the country would miss his contributions"
In 1963, Akinkunmi came back to the Nigerian civil service, returning to the agricultural department at the secretariat in Ibadan where he was before he travelled, until 1994 when he became the Assistant Superintendent of Agriculture.
In 2014, the then President Goodluck Jonathan conferred with a national honour, Officer of the Order of the Federal Republic (OFR) and named him an honorary life presidential adviser. He also unveiled the world's largest national flag in Ibadan in 2021.
Tributes from notable Nigerian leaders poured in for the late octogenarian who left an indelible mark on the country's history.
The Federal Government, through the Minister of Information and National Orientation, Mohammed Idris, expressed sadness over the news, as the country would miss his contributions.
"I am confident that Pa Akinkunmi will continue to live in the mind of Nigerians for generations to come.
"The National Flag, one of our revered national symbols, is an asset for which Pa Akinwunmi has etched his name in the annals of Nigerian history.
"I, therefore, wish to use this opportunity to express my heartfelt condolences to his immediate family, praying that God will grant them the fortitude to bear this great loss," the minister said.
The Director General of Nigeria Orientation Agency, Dr. Garba Abari, in his own tribute, described his death as a loss, because his contributions to nationhood have stood the test of time, adding that his design of the national flag remained one of the most potent rallying charge for patriotism and sovereignty.
He said, "All of us in NOA mourn you. Nigeria celebrates you. Your design has been the rallying icon for nationhood, for patriotism, for courage, peace and identity. We celebrate your life because over the last 65 years, you watched as your brilliant entry became the most important national icon of our country.
"He also noted that contributions from people like him has been what made the Agency continue to mark every September 16 as Ordinance Day in remembrance of our national symbols.
He sympathised with the family, and urged them to take solace in the historical accomplishment of their father who will be remembered for as long as Nigeria remains.

On his part, the Labour Party's presidential candidate, Peter Obi in his tribute said, "I was saddened to hear about the death of a great patriot, Pa. Michael Taiwo Akinkunmi (OFR), who designed our country's National flag. The very special role that this gifted man played in capturing Nigeria's rich identity in the eternal symbolism of the national flag remains memorable.
"The Green-White-Green is now permanently etched in the consciousness of all Nigerians as the banner of our very identity as a nation and one people. I am convinced that living out our true identity as a nation in unity and harmony remains the best way to honour this great patriot. Sometimes, the deep meaning conveyed through the colours of our flag seems lost on us, and sadly so. The green bands on the flag represent the forests and abundant natural wealth of the country, while the white band represents the peace and unity of the nation.
"Therefore, moving our nation from consumption to production for the benefit of every Nigerian is easily the only way we can leverage our rich and abundant natural resources. And in doing this, we will be fostering peace and unity in our now highly polarized nation. By so doing, Pa. Akinkunmi will be deservedly honoured, and his achievements will remain ever memorable.
"I condole with his immediate family, the people and the Government of Ogun State, and the entire nation over his irreplaceable loss. May God who called him home grant him eternal rest. Salute to a great symbolist of a great nation. An even greater Nigeria is POssible and lies ahead of us. -PO," he wrote.
Making his own tribute, the presidential candidate of the Peoples Democratic Party, Atiku Abubakar said, "It is sad to hear of the passing away of Pa Micheal Taiwo Akinkunmi, who designed our national flag, which has become a part of our heritage.
"I wish to join our compatriots not just to mourn but to celebrate one of our national heroes who passed on at the age of 84. I have directed that the Nigerian flag in my residence be flown at half mast in his honour.
"This is why I have always advocated for the study of history so that the youth and future generations will be acquainted with our past and emulate the virtues and heroic deeds of our present and past leaders.
"My thoughts and prayers are with his family, even as I pray that God comforts them and grants Pa Akinkunmi eternal rest. -AA," he noted.
President Bola Ahmed Tinubu, in a statement on Wednesday, by his spokesman, Ajuri Ngelale, expressed his deepest sympathy to the Akinkunmi family.
He said Akinkunmi, "dedicated his life to the service of the nation, sharing knowledge and experience with old and young, and inspiring many to think and act patriotically."
"The President affirms that the Green and White flag is a legacy that has consistently reflected the fruitfulness, resilience, and harmony enjoyed by the nation, and the boldness and uniqueness with which Nigerians characteristically reach for and achieve success around the world.
"President Tinubu believes Pa Akinkunmi lived and worked for the greatness of the country, and rests eternally with a place of honour in Nigeria's history," the statement added.
Oyo State Governor, Seyi Makinde, also mourned the death of the designer of Nigeria's national flag, Pa Taiwo Akinkunmi. He said, "Today, I heard of the passing away of one of our national icons and heroes from Oyo State, Pa Taiwo Akinkunmi, who designed the Nigerian national flag.
"This is the end of another glorious era for yet another creative mind, who made Oyo State proud in his lifetime.
"I express my deepest condolences to the immediate family of Baba and the entire people of Oyo State, while also praying to God to grant repose to his soul.
"He has surely made an unforgettable mark on Oyo State and Nigeria," Makinde said.