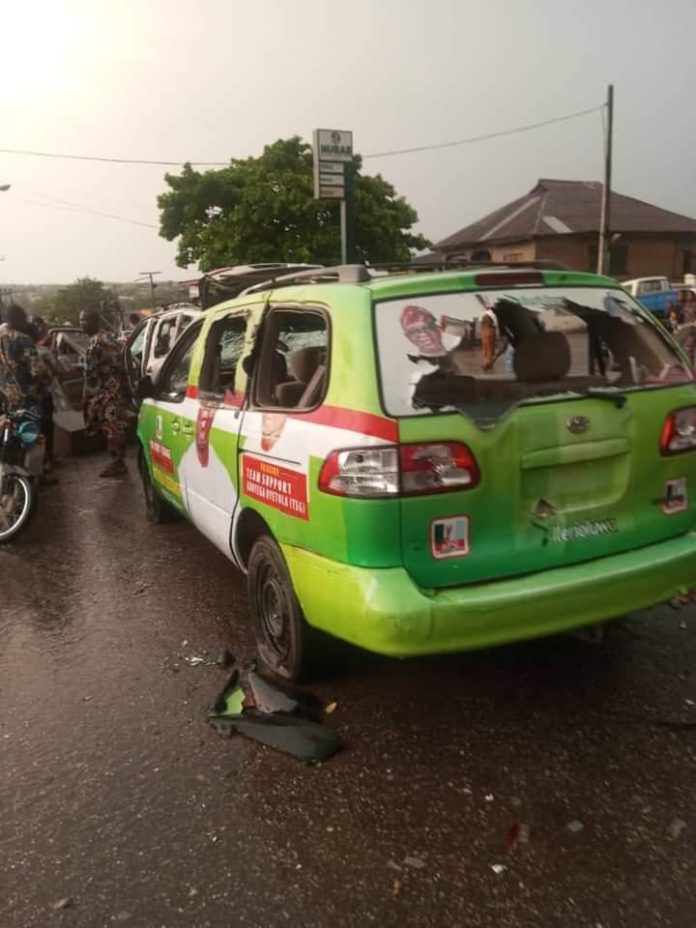 BY TIMOTHY AGBOR, OSOGBO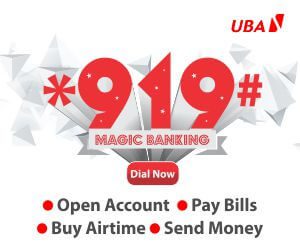 Two persons have reportedly died in a clash that broke out between supporters of the All Progressives Congress and Peoples Democratic Party in Ikire, Irewole Local Government Area of Osun State.
Some other loyalists of the parties and branded campaign vehicles were damaged in the attacks that happened on Tuesday.
While the Osun West Senatorial candidate of APC, Amidu Tadese claimed that he and his campaign team were attacked by some hoodlums said to be political thugs of PDP, the PDP Senatorial Candidate in the district, Lere Oyewumi, alleged that APC hoodlums killed two of his supporters and injured many others.
Tadese, while addressing a press conference on Wednesday in Osogbo, alleged that Oyewumi coordinated the attack on him.
Maintaining that there was an assassination attempt on his person, Tadese said his political opponent, Oyewumi, led fully armed political hoodlums on rampage aimed at assassinating him and attacked his supporters who had already assembled for the rally in Ikire on Tuesday.
He confirmed that the incident occurred around 5:30pm when the hoodlums started throwing bottles and hurling stones at his supporters and shooting sporadically to disperse them at the venue of the Ward rally.
He narrated that the hoodlums who were more than 30 in number ransacked the entire community, vandalised his vehicles and looted personal belongings of the residents in the areas.
"We started our campaign on Monday at Wasinmi in Ward 10, Irewole Local Government Area after which we moved to Ward 11 and later Ward 9. It was when we got to Ward 9 yesterday after our supporters had already assembled that the PDP thugs led by its Senatorial Candidate came to attack us.
"They were more than 30 in number, they starting hurling stones and bottles at us and later shooting from a filling station in Naira and Kobo area. The filling Station is owned by Lere Oyewumi. They attacked our members and destroyed properties including our vehicles and commercial mini-buses and tricycles passing by at that material time.
"A lot of properties were destroyed. I saw Oyewumi himself leading the hoodlums. When they destabilized the whole thing and people scampered for safety, they retreated to Oyewumi's filling station. I managed to escape the assassination attempt because I knew I was their target. They were shouting 'where is he', but I thank God that I manoeuvred my way to escape.
"Though, we had the police permit to hold the meeting and I see no reason such could have happened. But we thank God for His protection and safety. After I managed to leave the venue, I saw Lere Oyewumi and his thugs at the front of his filling station and they started chasing me, they chased me to Gbongan junction, but God saved my life", he added.
When contacted for reaction, Oyewumi condemned the allegation levelled against him by Tadese, claiming that the APC candidate, rather attacked him and his supporters and killed two of them.
He described the allegations as untrue, false and very far from reality.
"Some APC thugs attacked our members while coming from our rally in the night and they have killed two people now while some of our members were receiving treatment in an hospital presently," he said, adding that, "APC started attacking us as we are running for the safety of our lives"."
"APC House of Assembly Candidate in Irewole/Isokan, Bisi Oyegbade, known as Bisi Ilu and their principal thug, Akinkunmi Alabi a.k.a Ojuyobo shot and killed two (2) PDP members at Ori Eeru, Ikire in the midnight of Tuesday while 5 others were seriously injured," he stressed.
Meanwhile, the two parties have traded tackles and blames over growing political violence in the state.
Addressing journalists, the Tinubu/Shettima Presidential Campaign Council condemned in strong terms the alleged assassination attempts on loyalists of the party in the last few months.

The Presidential Campaign Council described as inhuman, diabolic and outrageous the extra-judicial killings and maiming of the members of the party since November last year after the immediate past governor, Adegboyega Oyetola lost his reelection bid.
The Council called on President Muhammadu Buhari, Inspector General of Police and other heads of security agencies, to rescue its members and residents of the State from the sinister attacks being perpetrated by the political hoodlums being hired and sponsored by the members of the PDP in the state.
The spokesperson of the Campaign Council in Osun, Remi Omowaye raised serious concerns over the rising cases of political attacks and assassination attempts being masterminded by the PDP hoodlums since the inception of the present administration in the state.
Omowaye who narrated his ordeals in the hands of the PDP thugs who attacked him and his followers recently in Ilesa, said the fresh assassination attempt on Tadese, on Tuesday night, was a clear indication that PDP and its co-travellers populated with hoodlums and assassins were on the verge to eliminate members of the opposition and perceived enemies in the state before the general elections.
He described the palpable unrests that had pervaded the atmosphere in the nooks and crannies of the state as unfortunate saying it is regrettable that the virtues of peace and unity that Osun was known for had been sadly eroded by the PDP-led government in the State.
"A lot of our party members have been killed by the members of the People's Democratic Party (PDP). We have their names, we can make their names available, they are not less than 10 persons. This is a clear indication that PDP and its loyalists are walking their talks because we could recollect vividly that before the last governorship election in the State, some of the PDP State and National Assemblies candidates threatened to attack members of our party.
"We can recollect that the PDP House of Representatives candidate for Ijesa-South, Sanya Omirin and PDP Osun West Senatorial District Candidate, Lere Oyewumi had once vowed to use explosive device for election and as well attack our members, and I am sure, this is what is playing out now.
"On December 23, I went to Atakunmosa market in Ilesa for a purpose, and in a broad daylight, I was attacked, our vehicles were sprayed with bullets. Few days after, shortly after His Excellency, Adegboyega Oyetola who branched over at our campaign office in Ilesa to address our members left the venue, our campaign office was attacked. As it is now, our candidates and members have been equally attacked to the extent that they couldn't even paste posters in their respective domains.
"Just yesterday (Tuesday), our Senatorial Candidate for Osun West, Dr. Amidu Tadese was attacked. Our candidates could not even campaign again and they kept asking: is this not Osun that we all know, where there was peace? We are peace loving party and we are calling on President Muhammadu Buhari and heads of security agencies to come to our aid.
"There is no doubt that PDP is a party of destruction. As you can see, since Oyetola stepped aside temporarily, the crisis of kidnap has been on the increase. Osun used to be the most peaceful state in Nigeria, but today, the reverse is the case. We don't need further evidence, just yesterday (Tuesday) people were kidnapped in a broad daylight in Osogbo.
"So, we are using this medium to draw the attention of the entire world to what is happening in Osun. We are calling on President Muhammadu Buhari, Inspector General of Police, Director of Department of State Services, and heads of other security agencies to come to our rescue in Osun. What happened in July 16 governorship election was a clear case of manipulation and that is why they are trying to intimidate us and other citizens," Omowaye said.
Also reacting, the state chapter of PDP strongly condemned the reign of violence allegedly visited on its members by hoodlums sponsored by the APC, warning that it would resist any attempt by the erstwhile ruling party in the state to throw Osun in chaos.
The PDP in a statement signed by its Caretaker Chairman, Akindele Adekunle on Wednesday, described as ugly and unacceptable the resort to violence as a tool to pursue power in a democracy, vowing to take every legal steps to get justice for member of the party allegedly murdered by the APC thugs.
Akindele called on security agents to immediately arrest the APC candidate for Irewole/Isokan State Constituency, Bisi Oyegbade Ilu for spearheading the violent attacks on PDP members, urging members to be calm and not to take law into their hands.
"What happened in Ikire, Irewole local government area, where political thugs such as Akin Alabi (Ojuyobo), Saheed SP, Baloo, Yemit, Remi Abass, NOA, among others, acting on the instruction of the APC candidate for that Constituency, Bisi Oyegbade Ilu, descended on PDP members violently to the point of killing two of our members dead, was no longer politics but criminality," the statement noted.
"This despicable act is a vindication of our consistent alarm on the APC proclivity for violence and an orchestrated plan to throw Osun into chaos.
"The political thugs had waylaid the campaign train of our Senatorial candidate, Dr Lere Oyewumi at Olorisaoko in Ikire town while returning from visitation tour of PDP members in ward 1,7 8 and 9, injuring no fewer than eight members of our party. Not done, the APC thugs presumably acting on the directive of their master, Bisi Oyegbade Ilu, mobilized to homes of PDP members in Ikire in the dead of the night to launch an assault on them, and as a result, shot dead two of our members with many others suffering various forms of injuries and receiving treatments at the hospital.
"This is very bad and unacceptable to us, but as a law abiding party, we want to charge security agents to get to work and ensure the safety of lives and properties of our members in Ikire as well as every part of Osun. Also, we want to urge the security agents to go after the criminal elements using politics as a cover for criminality, most especially their backers, who is identified as the APC candidate for the Constituency.
"We want to appeal to our members in Ikire to be calm and be rest assured that we will do everything to get justice over this failed attempt to scare PDP members and supporters from the upcoming election," the statement reads.