BY AGNES NWORIE, ABAKALIKI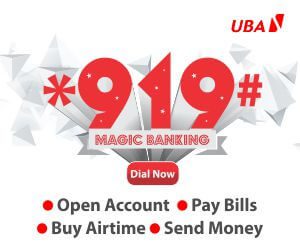 A young female graduate of Educational Administration and Planning from Ebonyi State University, Abakaliki, Ijuolachi Akpa, has disclosed that she left her Master's Degree programme to pursue her shoemaking business because of the passion she has developed for the skill.
Akpa, in an exclusive interview with The Point in Abakaliki, explained that the passion to turn "nothing" to "something" spurred her venture into shoemaking, notwithstanding that it is dominated by the male gender.
To further attest to her desire to make it big in the fashion industry of turning leather into beautiful foot wears of different styles and sizes, Akpa has left her Master's programme in Ebonyi University till further notice.
She said she also had a penchant for lecturing and that she would pursue the career after building her shoemaking outfit to an empire with many workers under her control.
For this female cobbler, who is in her early 30s, everyone should acquire skills as "a second address" and as a way of cushioning the effects of the current negative economic realities in the nation.
On how she acquired the shoemaking skill, Akpa said, "I started shoemaking during my NYSC Skill Acquisition and Entrepreneurship Development (SAED) classes in Oyo State camp. At the camp, a lot of females were going into hair dressing, tailoring and others but I decided to go for shoemaking because it was fascinating. Ialso chose shoemaking because I like turning what people see as nothing into something tangible and useful. You just pick a piece of shapeless leather and turn it to something very beautiful and useful.
"Whenever I see someone, the first place I look at is his or her feet in order to see the kind of footwear the person is wearing. I am fascinated about footwears. So, when I did that training at the NYSC camp, I came out in 2017. After leaving camp, I went ahead to register under a shoemaker; I served in Oyo town but I learnt the shoemaking in Ibadan. So, I had to juggle between service and travelling to Ibadan for the training. After the training, I came back to Ebonyi and started working because I have the passion for creativity."
Asked if she had been discriminated against because of male dominance in the business, Akpa said, "Well, even if somebody had discriminated against me because of the job I do, the love I get outweighs the criticism. I remember vividly how some persons said that I left a lucrative job somewhere to come and be doing dustbin work. They refered to shoemaking as dustbin work. It actually hurt me because some of these people are my friends but I have no regrets venturing into shoemaking."
"Looking back at when I started this work in 2018, it has been love and massive support from a lot of people. When they see me, they want to encourage me. The love is more than the discrimination," she added.
Revealing further how passion for shoemaking made her abandon her academic pursuits, the cobbler stated, "I still have the zeal to practise in my field of study, to become a lecturer. As I came back from service, I could notjust become a lecturer instantly, I needed to fund myself because I wish to go for Master's programme, so I started with my shoemaking work, hoping to go for my Master's.
"After sometime, I got admission for my Master's and started schooling, but then the stress became too much, I could not cope doing my work and Master's in school; so, I opted out to continue my shoemaking work till I have capable workers; afterwards, I will go back to school to pursue my Master's and become a lecturer. But, no matter what I do, I will still be a shoemaker."
She advised her fellow youths to invest in their passion, stressing, "Everyone cannot learn a skill; skill is passion, it will be like I am over reacting when I say go and learn a skill, but my advice is if you have passion for a skill, learn it, look into your self, look for what you have passion for. If your passion is white collar job and you are there, you should strive to excel and go for upgrading, even if you have a white collar job and you see that you love making people's hair, you love seeing women wearing good clothes, go for it, that is a side hustle."
"Presently, in this country, we can't depend on one source of income. The shoemaking venture is lucrative. It is lucrative according to my standard and one of the advantages of shoemaking is that you don't need much to start. You may not need up to N50,000 as you can start up even in your home. As long as you have the talent, little space, internet connection and people that will patronise you, shoemaking doesn't need much heavy equipment to start up," she further urged graduates.