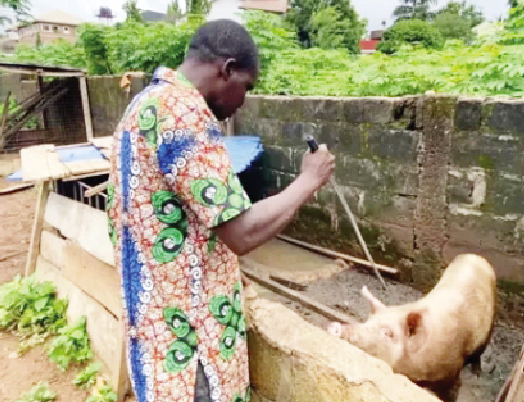 BY TIMOTHY AGBOR, OSOGBO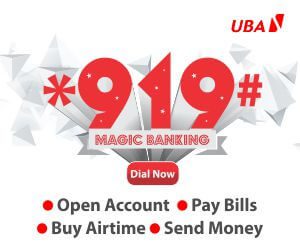 Though, Ozo Augustine Nnamdi is totally blind, he has refused to be held down by the shackles of physical disability. He believes, very strongly, that he has all it takes to be great in life.
Nnamdi, in his late 40s, has not only striven to acquire education up to the tertiary institution level, he has also acquired skills that can put him on a par with others who do not suffer any disability.
Having overcome the imposed limitations of disability, Nnamdi has become a messenger of hope for those in similar circumstances of life and has refused to take to begging for alms for a living.
He has continued to inspire people with disabilities to shake off self pity and other inhibitors of self worth and actualisation by operating different farming methods, including rearing of animals and cultivation of crops.
Nnamdi, a native of Aku in Igbo Etiti Local Government Area of Enugu State, strongly believes that "there is ability in disability" and has continued to demonstrate it through his animal husbandry and other forms of agriculture.
In an interview, the farmer explained that he has a great potential to become great in life and that he would have loved to stay in the city but many landlords he visited for rent refused to lease their houses to him because of his disability.
According to him, he searched for rent after the completion of his National Youth Service Corps to enable him to start life but because he was discriminated against by the landlords he met, he decided to relocate to his community where he now rears pigs, fowls and also farms.
"I started feeling bad because people started showing me unfriendly attitudes because of my disability. When I finished my service year, I went in search of the house I would live in but landlords rejected me, they said they couldn't lease their houses to a blind person," he lamented.
On how he lost his sight, Nnamdi said the immunisation injection he received when he was a toddler affected one of his eyes and that after sometime, the other eye got affected.
"My blindness started after I was born. My mother told me that the immunisation injection given to me affected my eyes. It affected one eye at first and I grew up to discover that I only saw with one eye. But, as time went on, it affected the other eye and that was how I became totally blind. I was 15 years in 1999 at that time," he said.
"I was taken to the Special School for the Blind in Orji River. I started learning dots which the blind use in learning. I ensured I got educated and acquired skills. I have potential and I have faith that I will make it in life," he declared.
Commenting on his activities at a small farm, which he operates at the back of his house, Nnamdi stated, "Farming and rearing of animals give me great joy. I rear fowls, I bought a pregnant pig to start piggery. I started rearing it and I like it. The animal plays with me whenever I come to tend for it unlike what families told me that it bites.
"I have reared rabbits and fowls but I discovered that pigs give more gains and they are more easy for me to rear. Pigs also give birth to more offsprings than other animals and this is a way to make good income."
He sought for financial assistance to make him expand his husbandry business and employ people.
"If I should get financial assistance, it will make me expand and also employ other people. You know our country is difficult, economically, now and I am pleading with government to provide me with land so that I can invest in farming," he pleaded.