For Pa Solomon Alo, an elder of Christ Apostolic Church, Nigeria, economy is no more what it used to be, considering his experience and the good old days which he and colleagues had during their younger age.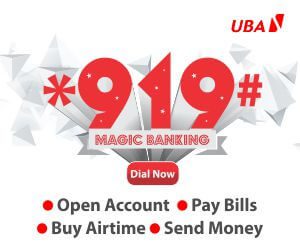 The old man, while recounting his nostalgia experience from his teen age to The Point, said Nigeria as a country, was competing with other countries in Europe and for this, it was rated as heaven of Africa.
Speaking on what Nigerian economy used to be in his younger days, Pa Alo recounted that Nigerian economy was more than normal, as citizens don't grumble about food, clothes and shelter, unlike what is happening currently.
He said, "This is not the Nigeria that we had during our youth days. Nigeria as a country was regarded as heaven of Africa, because our economy was more balanced than whatever you can imagine.
I can recall that at that time, people don't cry of hunger, job and others things like we have today. And because of this, you rarely have armed robbers like what is happening today.
He said, "For instance, at that time, rice that people are now crying about was a food that we used to have in abundance and sometimes it waste away. At that time, we used to plant rice in our village. And as a youth, you must have your own farm where you harvest all different kinds of food at the end of every year.
"In my village, in Osi Ekiti at that time, almost every family have big rice farm. And this rice is the rice they now call 'Ofada rice'. It was a common thing that people barely buy it because almost everyone has it in their farms. And if you are to sell it then, rarely would you see anyone to buy a 'congo' from you at the rate of one kobo.
Food was so cheap at that time, because farming was the only way we knew." He said it was so easy that when he eventually got married, he had no difficulty feeding his family, because "we had more than enough food in our farms and in those days, people don't eat food like vegetables that are not harvested the same day."
He added, "Those times, diseases were far from us, I never heard it from my father that hypertension was affecting anyone or that anyone is suffering from diabetes. "There was not much disease disturbing people then. Life was so interesting that if you were offered opportunity to travel abroad, you will reject it. But look at what the whole thing has turned to now.
Nigeria is no more what it used to be." Juxtaposing what tradition and culture used to be then and what they are now, Pa Alo said Nigerian culture has totally been swept away, and this therefore explains the reason for the setback Nigeria is experiencing currently.
He added, "What is called culture does not exist again in this country. What we are having now is a shadow of our tradition and culture. Back in the days, Nigerians were identified with culture and traditions.
Also, there was unity between Yoruba, Hausa and Igbo. We married one another without tribalism. But today, look at what is happening, you will hear the Yoruba youths saying 'I cannot marry an Igbo woman'. "But during our days, there was love. We don't look at tribe, so long we are Nigerians and life was so good to us.
Apart from that, apprentices respect their bosses a lot, because there was fear. But nowadays, even the boss has to be careful with his apprentice, if he doesn't want to be disgraced or beaten up.
This is not the Nigeria that we had during our youth days. Nigeria… was regarded as heaven of Africa, because our economy was more balanced than whatever you can imagine
We have heard of cases where apprentices beat their bosses mercilessly in this town, and I wondered what our country has turned to." He also added that the Nigerian government, which was the best in Africa, provided all that could be called social amenities.
He said, "As youths, I can recollect that we enjoy what you can call social amenities. Light was very stable to the extent that they announce on radio if they want to interrupt light in certain communities.
Also, water was available, though we were used to going to streams and rivers; education was free of charge, to the extent that they beg some of us to go to school.
I can remember that during our primary school days, some of us were lured to school with gifts, because we prefer going to the farm with our fathers. "And if you go to school, you don't pay a dime, while you will also be given a lot of books free of charge.
Let me tell you, if I flash back at what this country used to be, I sometimes cry for Nigeria. But I pray that one day, you the young ones will have this experience in this country."

Speaking on matrimonial lives in those days, Pa Alo said, "Marriage was very interesting in those days, because our fathers usually guide and give us good orientation before we ventured into it. Ladies were almost all virgins, except the few once who may have defilement cases. But you, as a man will not want to marry a deflowered lady, because it was not a good sign about the lady.
So our parents usually guide us to that extent that we must marry virgins. And any lady that was no more a virgin would definitely bring shame upon her family, and because of this, the ladies themselves don't do rubbish, unlike what we see nowadays," he narrated to The Point.
He said that during his time, marriages lasted longer, unlike nowadays, that marriages no longer last. He adduced the reason for the lasting marriages of his time, "What happened was that before you get married, you or your family would have done what I can call 'due diligence', by consulting the Ifa oracle about the woman you want to marry, to know if you should go ahead or back out.
"Marriages that broke down during our time did not go through local and traditional counselling. Three-month courtship before marriage was not it in our days. You have to know some things about your proposed wife and her family, before proceeding into marriage" Pa Alo also disclosed that in those days, fathers always take up the responsibility of finding out about the wives their sons proposed to marry, in a traditional way from Ifa.
"Because, traditional religion was very common then before we now had Christianity and Islam. All these helped us to have a good marriage, but today, you will see your son telling you he wants to marry someone that he met three months ago," he said.
Pa Alo, however called on both government and parents to be up and doing to ensure that Nigeria's glory is brought back to what it used to be.
"I am using this medium to appeal to both government and parents to help us bring back the glory of this country. Nigeria was a place that everyone dreamt to be, but now look at what it is. I pray that this nation will be healed from this situation. You can imagine that all big companies we used to have in this country have gone," he lamented.