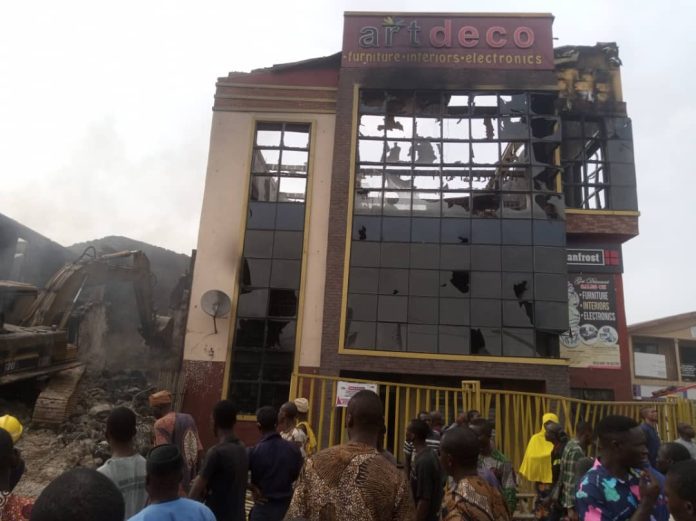 BY TIMOTHY AGBOR, OSOGBO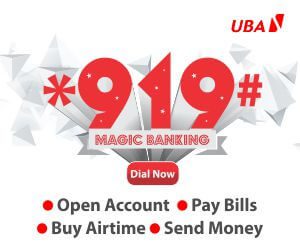 Osun State Governor, Gboyega Oyetola, on Thursday, visited Alekuwodo Area in Osogbo, where two warehouses were razed and commiserated with the victims.
The governor, who visited few hours after the tragic incident in the morning, ordered that one of the two-storey buildings, which was mostly affected by the inferno, be demolished in order to prevent escalation of the fire.
As at the time the governor visited, the fire was said to be raging underneath the building which housed mattresses, furniture materials and other items.
Immediately the governor gave the demolition instruction, excavators moved to the area and started demolishing the building.
The owners of the trapped and burnt wares that have been buried in the debris were seen removing them.
On Thursday evening around 6:10pm, a lawmaker representing Osun Central Senatorial District where the area falls, Senator Ajibola Basiru also visited to commiserate with the victims.
He described the incident as unfortunate as it has affected the livelihood of the people and their properties.
In an interview with The Point during the on the spot assessment of the level of the damage, Basiru, the Senate spokesperson, said, "I got the news that there was fire incident overnight here and so, I came around to see what is happening and I was informed by the Incident manager that the incident happened overnight and that they were able to rescue people, they were able to retrieve a number of property.
"I was also informed that Mr Governor, Alhaji Gboyega Oyetola was here earlier and because the fire was still raging in the building, he had to instruct that the entire building be demolished and that's why they brought excavators to be able to ensure that the demolition is controlled.
"I believe that the government will cause investigation as it requires to know the cause of the incident and prevent future occurrence. I will get across to the owners of the building so that I can commiserate with them.
"I have commended the efforts of the Federal and State Fire Service and supported them with some palliative since they had been here since morning. I believe the incident is unfortunate since it has affected the means of livelihood and property of other people. We will see what can be done to see that this kind of occurrence doesn't happen in the future.
Asked on the plan the state government has for victims whose wares and properties worth millions of naira had perished in the fire, Basiru said, "As soon as I leave here, I will try and see the governor to be able to take a decision on what to do."
He said the other two storey building marked Art deco would not be demolished adding that, "They just need to check its structural integrity."
Meanwhile, victims have said their goods and properties destroyed in the fire are running into multi million of naira.